Find the best way to send money from the Netherlands
Join over 2.8 million customers and save up to 8x more than with your bank
Safety is No.1, we only compare trusted providers we can guarantee are safe
We independently compare 40+ providers to find you the best deals around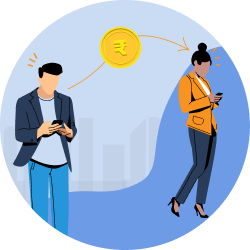 4 of the best companies for sending money from the Netherlands
Major banks can charge over 5% per transfer, eating into the money which should be in your pocket. We want to help you to find cheaper and easier ways to transfer, thats why our team of experts test, review and rate each provider service to find the best (and safest) options out there. Here are 4 of our experts favourite services, don't forget to use the comparison to find the cheapest deals!
Ideal for expats or sending money to family and friends. They offer quick, easy to use online service and mobile app. Their rate is what you see on Google with no margins added. Transfer Fees of 0.45% but if you're transferring more than €10,000, their fees can make them less competitive. 
Best rates up to €10,000
No hidden fees and charges
Super simple and fast to use
With no fixed transfer fees and a better rate the more you transfer, they are great option for sending large amounts. They're also one of few to have a license to give financial advice and specialise in overseas property and international investments. Depending on where you're sending it can take 1-3 days for large transfers to arrive. 
No fixed transfer fees
Quality service
Overseas property experts
Best for customer service
You get a personalised account manager who talks you through every aspect of your transfer — the rates you'll get, how to pay, how long until the recipient gets their money and more. If you want helpful advice for your international money transfer, TorFX are hard to beat.
Exceptional service
Best rates over €1,000
helpful account managers
Good option for those who can wait 1-2 business days as they don't charge a fixed transfer fee. Rates are on average 0.5-2% more than the market exchange rate or that you see on Google. Be aware that final  costs are shown at the end of registration.
No fixed transfer fees
No minimum transfer limit
Better rates over €10,000