4 Smart Ways to Avoid Bank International Wire Transfer Fees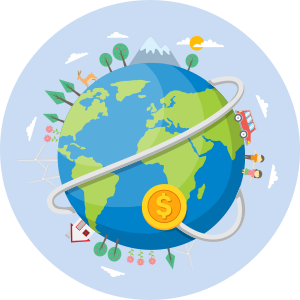 If you've ever sent money overseas using your bank, then you will want to know how to avoid bank transfer fees, as they can really add up. With bank wire transfer fees starting at around $35 and going up from there, that's a big chunk of your cash that you're spending on charges—and that's before you take into account the poor exchange rates offered by most banks. Yeesh.
The question is, what can you do to reduce or remove your international money transfer costs? How can you get the speed, security and convenience you expect from your bank without paying through the nose to send money with them? Fortunately, we've got the answers.
There are several excellent money transfer providers you can use to keep fees down, and we recommend OFX, XE and WorldRemit. Before we get into those details, let's explore why it's not always a great idea to use your bank.
International wire transfers with your bank are expensive
Banks are not an ideal way to get money to your recipient. Why? Well...
Banks charge high wire transfer fees
Here's what some of the most popular banks in the U.S. charge to send money overseas:
That's not the only fee you'll pay. Banks hide other fees in the exchange rate they offer.
Banks also offer terrible exchange rates
A U.S. bank will often provide a worse exchange rate than the base exchange rate, typically between 2-4% worse than you might get elsewhere.
Combine the wire transfer fees with the exchange rate, and you could be overpaying for your transfer by around 5-7%. So on a $1,000 USD transfer, you'll pay $50 to $70 in wire transfer and exchange rate costs. Ouch.
How to Avoid International Wire Transfer Fees
Alright, so if you're not going to make an international money transfer with your bank, what other options do you have? We recommend using a specialist currency transfer provider. These are customer-focussed businesses that let you send money quickly, easily and securely. Because they focus only on sending money overseas, they're very efficient and charge much lower fees than you'd get from your bank.
Using a currency transfer provider is extremely simple, too. You can set up an account and start sending money in fewer than 24 hours. You can normally pay for your transfer directly from your bank account or with a credit or debit card. Specialist providers are fully regulated, and, in many cases, the recipient can get money directly into their bank account, pick it up as cash, or enjoy other ways of accessing their funds.
If you want to avoid international money transfer fees, we recommend three providers, OFX, Wise, XE and WorldRemit. Here's why.

1. Wise, a multi-currency account that sends money using the mid-market rate
Wise (formerly TransferWise) is often recognised for fast international transfers and highly competitive exchange rates. It's a great option if you want a hassle-free and low cost way to send money overseas. They offer an easy to use online service and mobile app and are ideal for sorting out your international money transfer straight away.

2. OFX, a specialist transfer service with personalized services
OFX provides a superb online experience for transferring your money and they provide excellent customer service. Their currency transfers are fast and intuitive, they offer a better exchange rate than the banks and most transfers will be with the recipient in one to two business days. Their fees are also very low, although you cannot pay for your transfer with a debit or credit card.
You can avoid a wire transfer fee by registering through the offer below.

3. XE, a currency transfer provider without transfer fees or minimum amounts
XE have been around for more than 25 years and do not charge any fixed fee for sending money overseas. You can transfer as much or as little as you want, and XE only make money on the exchange rate they offer you. They support businesses and individuals and they provide friendly and accessible customer service.
4. WorldRemit, a currency provider with excellent rates for amounts up to $10,000
If you want to send less than $10,000 USD or equivalent, then WorldRemit are a great choice. They're especially good for transfers to regions such as Asia, Africa and South America, and there's no minimum transfer amount. They provide round-the-clock customer support in over 20 countries and have an online calculator so you know exactly how much your transfer will cost. Recipients will also have some choice when it comes to how they receive their funds, like cash pickup, although not all options are available in all countries.
There you have it, three of the best options for sending money overseas and saving on your wire transfer fees.
Exiap has partnered with OFX to offer fee free money transfers. Click on this offer, register your details and avoid paying a fee to transfer money overseas.
After 20 years, OFX is one of the oldest money transfer companies and they have the expertise to go with it
Their rates are often better than the banks, especially for larger transfers
24/7 phone support
They have a minimum transfer amount of $250
Receiving or intermediary banks may charge fees on transactions
Your currency knowledge centre
How to Easily Receive Money from Overseas
There are 4 main ways most people receive money from overseas. Find out the most common fees, exchange rates and money traps to avoid.
Should You Use Wise (formerly known as TransferWise) to Wire Money Overseas?
Our biggest, most comprehensive look at one of the most popular money transfer companies in the world. All the information you need to make the right decision.
International Money Transfer Comparison and Reviews
Doing an international money transfer with your bank can cost you a lot more than its worth. By the end of this article, you'll find out how to transfer funds internationally without paying too much.