Best GBP foreign currency accounts in US [2023]
If you send, receive, hold, or spend British pounds (GBP) frequently, you could save time and money with a GBP account. Sterling accounts can be useful for both individuals and businesses, to cut the costs of international transactions and currency conversion.
You may find it more difficult than you expect to open a pound sterling account with your regular bank in the US, although some global British banking brands do offer GBP accounts to US citizens and residents. The downside here can be that GBP accounts from banks can be cumbersome, slow, and expensive. Specialist providers like Wise and Revolut can be good alternatives.
In this article, we'll walk through everything you need to know about opening a pound sterling account, including the best GBP account US, the costs, and how to open one.
Go To Wise
Go To Revolut
What is a GBP account?
A GBP account – which can be used to hold British pounds, often alongside other currencies – is a valuable tool for individuals and businesses alike. If you travel frequently or need to send or spend pounds, a GBP account could be particularly useful. It's also handy for anyone who shops with UK based ecommerce stores and pays in pounds. Finally, individuals with recurring payments to the UK, such as mortgage payments for a vacation home, can also take advantage of a GBP account to make payments easier, and often cheaper, too.
For businesses, freelancers and entrepreneurs, a GBP account is useful for receiving payments from UK based customers, and for paying contractors or suppliers in the UK. Plus, use your GBP account to collect payments from payment service providers like Stripe and marketplaces like Amazon. You can then either hold the balance in pounds until you need to make a payment to someone in the UK, or withdraw back to your regular USD account if you'd prefer.
How does a GBP account work?
With a GBP account, you can hold and exchange British pounds. Depending on the account, you may also receive local GBP account details that you can provide to individuals who need to make payments to you, whether it's for an overseas transfer or payment from a client in GBP. You have the flexibility to hold your GBP balance for future spending or convert it back to dollars and withdraw the funds to your regular bank account.
Certain GBP accounts may offer additional features to make life even easier – such as a linked debit card to make transactions even more convenient.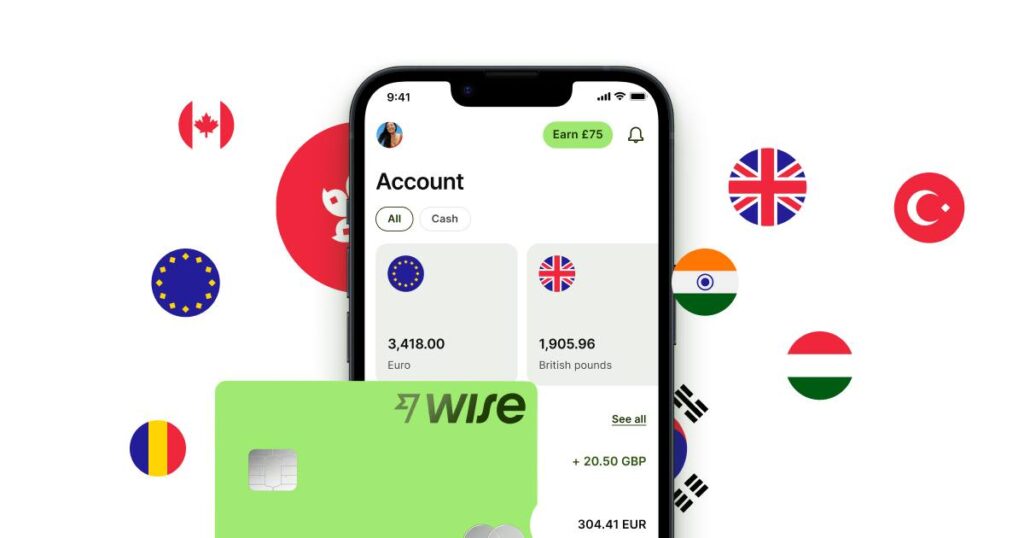 GBP account details
Getting local account details for GBP makes it far easier to get paid by others, either for personal transfers or for your business. Not all GBP accounts offer GBP account details, but one which does, which we'll look at in detail later, is Wise.
To get Wise local account details for receiving GBP, just set up your Wise account online or in the Wise app. Once your account is verified you can tap Open and Balance, and then select GBP to pull up local details to receive pounds to your account. For the UK you'll get a GBP account number and sort code – and if you need account details for other countries and currencies – like your IBAN and BIC for euros – that's also possible.
Go To Wise
Can I open a GBP account in the US?
Few US based traditional banks offer GBP accounts to retail customers. However, you do have a couple of options here. Many UK based banks allow non-residents – including US citizens – to open GBP accounts through their international banking divisions. Eligibility criteria and high minimum balances do often apply, though.
You might find you're better off looking at specialist online services instead, which tend to be cheaper and have less restrictive eligibility criteria. Many online providers also offer accounts tailored to US businesses, freelancers and online sellers who need a GBP account to transact internationally.
A couple to look at in particular are Wise and Revolut. Both have services for personal and business customers, which let you hold dozens of currencies, including GBP and USD. You'll be able to get a linked payment card, and currency conversion which has low or no fees, depending on the account type you pick. With Wise – as we saw above – you can also get GBP account details, to get paid into your Wise account just like a local would.
This guide will walk through some smart options to help you find the best GBP account in the US for yourself or your business.
Go To Wise
Best GBP accounts
There are a few great providers both in the UK and internationally, which offer GBP accounts for US based individuals and businesses. Picking the best one for you will depend on your specific needs and the sort of transactions you'll want to make. Here are a few options to consider:
Provider
Availability
Fees
Debit card
Other features
Wise
Personal and business customers

No opening or monthly fees for personal accounts
One time 31 USD payment for business account

Yes

Multi-currency account to manage 40+ currencies
Local account details for 10 currencies
Send payments to 70+ currencies
Open an account online

Revolut
Personal and business customers

No-fee standard accounts available for personal and business customers
Paid plans available for up to 16.99 USD/month for personal customers and 149.99 USD/month for business clients

Yes

Accounts available in 25+ fiat currencies
Good range of account features like budgeting and saving tools

HSBC
Personal customers in eligible states

No account opening fees
No transfer fees – exchange rate markups will apply

No

Hold 8 currencies in the same account
Mobile only account
No global transfers to Mexico

Natwest
Personal and business customers
Up to currency equivalent of  8 GBP/month
Yes

Accounts available in 25 major currencies

Airwallex
Business customers

No fee to open account
Relatively low 0.4% – 1% currency conversion fee

Yes

Send in 30+ currencies
Receiving accounts available in 11 currencies
Not available to personal customers

Barclays International
High wealth individual
No fee if you maintain the 100,000 GBP minimum balance
Yes
Full range of banking services available including mortgages, loans and financial advice
Go To Wise
Go To Revolut
Wise
Wise accounts are designed for personal and business customers and can hold GBP as well as 40+ other currencies. When you open a Wise account for free online you can get your own bank account details for 10 different currencies including GBP, as well as a linked debit card for spending and withdrawals at home and abroad.
Hold and convert currencies in your account, or send payments to 70+ countries – all currency conversion uses the mid-market exchange rate with low, transparent fees.
Wise fees: No fee to open a personal account, 31 USD one-off fee to open a business account. No monthly fee for either personal or business accounts
Currencies covered: Hold and convert 40+ currencies, get local receiving accounts for 9 currencies
Wise currency conversion: Mid-market exchange rate
Other notable features: Receive payments like a local from 30 countries, send money to 70+ countries, spend with your linked debit card in 170+ countries
Go To Wise
Revolut
Revolut accounts for both personal and business customers can hold 25+ different currencies including GBP. Standard plans are no-fee or you can choose to upgrade to a paid plan for more features and no-fee transactions. Even the no-fee Standard plans offer up to 1,000 USD/month currency conversion which uses the mid-market exchange rate, meaning you can top up your account in USD and switch to GBP when you need to with no exchange rate markup. Paid plans offer higher no-fee limits.
Fees: Standard accounts are no-fee. Upgrade to a fee paid personal account for up to 16.99 USD/month or a fee paid business account for up to 149.99 USD/month
Currencies covered: Personal accounts can hold and exchange 25+ currencies, for business accounts, 28+ fiat currencies available
Currency conversion: Mid-market exchange rate to plan limits, out of hours and fair usage fees may apply
Other notable features: Broad range of account services including budgeting tools, savings and investments
Go To Revolut
HSBC US
The HSBC US Global Money Account can be opened in 8 currencies including GBP. There are no fees to open the account, and you'll be able to manage your money entirely from your mobile device. You'll need an HSBC deposit account to link to your Global Money Account.
HSBC US recently announced it would stop serving some states – double check the details for your state before you begin the application process.
Fees: No fees to open account or send global transfers – an exchange rate margin will apply when you convert between currencies in the account, or send to a different currency
Currencies covered: USD + 7 foreign currencies offered for holding and exchange
Currency conversion: Exchange rates are likely to include a markup
Other notable features: Not available in all US states – check the details before you apply
Natwest
Natwest's International Select Account lets customers hold and manage 25 currencies including GBP. If you're a US resident and can place a minimum opening deposit of 25,000 GBP to open your account, you may be eligible to get your International Select Account, which can also be paired with a Cash Management account for foreign currency savings.
Businesses can also open a Cash Management account to hold, grow and manage their foreign currency balance, including holding GBP.
Fees: Currency equivalent of 8 GBP/month
Currencies covered: 25 major currencies covered
Currency conversion: Exchange rates have a markup which varies by currency
Other notable features: Minimum deposit of 25,000 GBP. Cash Management savings and fixed term deposit accounts also available in GBP
Airwallex
Airwallex has business accounts which are designed to hold GBP, USD and up to 9 other currencies. Integrate your account with online stores if you're an ecommerce seller, or use your local bank details to get paid in GBP from international clients. Currency conversion is available with a competitive exchange rate. Debit cards are available for account holders and their teams.
Fees: No fees to open or operate account
Currencies covered: Local receiving accounts in 11+ global currencies, payout to 130 countries
Currency conversion: Exchange rates have a low markup from 0.4% – 1%
Other notable features: Business friendly features like bulk payments available
Barclays International
Barclays International offers foreign currency accounts which are aimed at high wealth individuals who would like to open an account in GBP and access personal banking services. These accounts are held in the Isle of Man, and provided through Barclay's specialist international banking division. As Barclays is a large global bank, you'll also be able to access a range of other products like overdrafts, investments and advice about mortgage products which may be available to you.
Fees: No monthly fee if you maintain a minimum balance of 100,000 GBP or currency equivalent – 40 GBP/month fall below fee may apply if you fail to maintain this balance
Currencies covered: Accounts available in EUR, USD and GBP; you can also trade in up to 60 different currencies
Currency conversion: Exchange rates have a markup which varies by currency
Other notable features: Minimum opening balance is 100,000 GBP in either this account or other eligible Barclays products
How to open a GBP account in the US
Opening a GBP account with a specialist online service can usually be done easily online or on your mobile device. If you'd prefer to look for an account with a physical bank you may need to visit a branch to get started. In either case, the process to open a GBP account in the US is usually similar:
Choose the best provider for your needs
Register for your account online, through the provider app, or in a branch
Give your personal and contact information
Complete the required verification steps
Fund your account – and you're ready to go
When you open your account you'll need to prove your ID and residential address. The exact documents you need will vary depending on the account type, but can include:
Government issued photo ID
Proof of address – a utility bill or bank statement in your name for example
Business registration documents if you're opening a business account
Go To Wise
Go To Revolut
GBP account with debit card
If you're looking for an account to hold British pounds, with the bonus of a convenient way to spend your GBP balance, it may be worth exploring alternative options such as Wise or Revolut. Open your account online or in app, and order a debit card to directly spend from your GBP balance. Simply add funds to your account in USD or your preferred currency and begin spending British pounds – often with low fees and a great exchange rate, too.
Wise account & card: Hold 50+ currencies including pounds, and spend any currency you hold for free with your linked Wise card. Switch USD to GBP before you spend – or let the card convert automatically with the mid-market rate and low fees from 0.41%
Revolut account & card:

Hold 25+ currencies, and use your linked payment card to spend globally. All currency exchange uses the mid-market rate until you hit your plan limit – after that a fair usage fee of 0.5% may apply for conversion. Out of hours fees may also be added for conversion and spending while currency markets are closed.
Go To Wise
Go To Revolut
Foreign currency bank accounts in the US for GBP
While a few major banks in the US do provide foreign currency accounts, they typically target high-net-worth individuals, business owners, and corporate clients. However, as an alternative option you might consider opening an account with a digital provider such as Wise or Revolut. These digital platforms offer accessible solutions for individuals looking for flexible foreign currency accounts, with a convenient and user-friendly banking experience.
Here's our full guide to some of the best foreign currency accounts in the US. And finally, a quick summary of the providers we covered earlier, as a reminder:
Wise account:

Open an account online or in-app, to hold 50+ currencies including GBP, and get a linked card to spend in 170+ countries. Whenever you switch currencies to send or spend, you get the mid-market rate and low fees from 0.41%
Revolut account:

Choose from a range of account plans, depending on the features you need from your account. Exchange currency with the mid-market rate to plan limits, for sending payments or spending with your linked card – subject to fair usage and out of hours fees
HSBC Global Money Account:

Hold 8 currencies, no fee to open an account. Manage your money through a mobile app – there's no debit card, but you can send global transfers easily in a selection of currencies
Natwest:

Open accounts to hold and manage any of 25 currencies, with fees from the equivalent of 8 GBP/month. Account options include saving products as well as holding accounts, with a minimum balance from the equivalent of 25,000 GBP
Airwallex:

Business customers can open accounts in 11+ currencies, to get paid by customers and via platforms, and to send payments around the world in a good selection of currencies

Barclays international:

Accounts designed for high net worth individuals looking to deposit 100,000 GBP or more, with a  range of personal services to help you manage and grow your money
Go To Wise
Go To Revolut
How to open a GBP account online
You can open a UK account from the US, if you need to manage your money in pounds, but you're not a UK resident just yet. The easiest option by far is to open a GBP account with a provider like Wise or Revolut, to get set up online or in an app, to hold and exchange GBP, USD and a selection of other major currencies.
Here's how to open a GBP account with Wise as an easy example:
Download the Wise app or open the Wise desktop site
Register with your email, Facebook, Apple or Google ID
Complete the verification step
You're ready to send or receive a transfer, order a card or add a balance
Getting verified with Wise is pretty easy, and can be done from your phone. It's also an important step in keeping customers and their accounts safe. Here's what you'll need:
Proof of ID – like your passport, driving license or ID card
Proof of address – like a utility bill or government letter in your name
Business customers may need to add some additional documents and business information. But the good news is that the whole process can be managed online or in-app, without needing to leave home.
Go To Wise
What are the advantages of a GBP account in the US?
If you pay or get paid in British pounds regularly you may benefit from a GBP account.
A foreign currency account can make it easier to ride out fluctuations in currency exchange rates. Hold your GBP balance if exchange rates deteriorate and convert it to USD only once the rates have improved. Or, look to capitalize on good exchange rates by buying pounds sterling for future use when the rates look good, and holding them in your GBP account until you need them.
If you're a business owner or work with international clients in the UK, a GBP account can make it far easier – and cheaper – to get paid. Just give your GBP bank account details to clients and have them pay you with a local transfer.
It's free for them, and fast for you. Or if you're an online seller you can use your account to collect GBP payments from PSPs like Stripe and marketplaces like Amazon. Hold your balance as it is, or convert it back to USD using your preferred provider.
Conclusion: what is the best British pound account in the US?
A GBP account can make life easier if you need to hold, send, receive or spend British pounds. You'll cut international payment costs and can manage fluctuations in the exchange rate more easily. However, the main US banks don't have a great range of pound sterling accounts on offer, and the accounts available from UK based providers often have restrictive eligibility requirements.
You may be better off choosing an online provider which can offer a more flexible account with lower fees and no minimum balance requirement. Check out Wise and Revolut to see if either of these leading providers might suit your needs.
With Wise you can open a personal account for free, to hold 50+ currencies and exchange between them with the mid-market rate and low fees from 0.41%. Revolut has a selection of account options, including no-fee standard plans, and accounts with a monthly fee which have more features and fee free transactions.
Use this guide to kickstart your research and find your perfect GBP account match, whether you're a personal or business customer, freelancer or online seller.
Go To Wise
Go To Revolut
British pounds bank account FAQs
Can I open a GBP account in the US?
You can open a pound sterling account in the US – often the easiest way is using a specialist online service or a UK based global banking brand. Use this guide to start your research to find the perfect GBP account for your needs.
How much does it cost to open a GBP account?
Many GBP accounts are free to open with low, or no ongoing fees. However, the GBP accounts offered through global banks' international divisions may have high minimum balance requirements to avoid a fall below fee.
Which US banks offer GBP currency accounts?
There aren't many GBP accounts on the market from US banks, although some international banking brands might be able to help. One to check out is HSBC with a mobile account to hold and exchange pounds alongside a small selection of other currencies. Or, have a look at an alternative like Wise and Revolut, for a flexible low cost account you can do more with.
Can a foreigner open a GBP account in the US?
There's no legal reason why a foreigner can't open a GBP account from the US, but as banks set their own policies, and don't tend to offer a broad range of GBP products, you may find it tricky to find one that suits your needs. If you'd rather a simple online experience, you can use your US proof of ID and address to open a GBP account with a digital service like Wise or Revolut.
Can a US citizen have a GBP bank account?
Yes. A US citizen can open a GBP bank account with a major bank or a specialist provider. There aren't many GBP bank accounts on offer from US banks, so if you're still US based and looking for a way to manage your money in pounds, a specialist service like Wise or Revolut may suit your needs better.