The 6 Best Tools to Read and Calculate Exchange Rates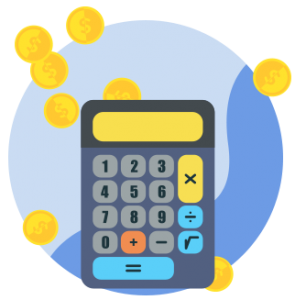 Reading and understanding currency exchange rates may not sound like the most exciting thing you could be doing with your time, but when you learn it could save you money, it suddenly becomes a bit more interesting. We'll break down the basics of understanding exchange rates and tell you what you need to know to help your money go further.
6 Helpful Tools to Read and Calculate Exchange Rates
Here are some super-helpful tools so you can find exchange rates and work out your conversions.
1. Exiap Currency Converter
Offers live exchange rates between currencies, shows historic graphs, a handy currency calculator tool, where to change foreign currency, cheaper ways to transfer money overseas and a tool to compare money transfer exchange rates.
2. Google for Exchange Rates
Did you know you can type something into Google like "What is one U.S. dollar worth in euros?" and it will come back with an answer and a calculator? Although you can't view lots of exchange rates at once using this method, it's great if you just want to get a quick calculation.
3. XE.com
XE is a money transfer provider and they offer extremely comprehensive data on exchange rates and currency charts. They provide up-to-the-minute exchange rates between any two currencies, and they also have a helpful currency converter.
4. Yahoo Finance
Yahoo Finance provides charts for every popular currency pair and some cryptocurrencies.
5. Wise (formerly TransferWise)
Wise is a very popular money transfer provider with low, transparent fees. They provide currency exchange rates, a currency converter and allow you to send money overseas quickly and easily.
6. X-Rates
X-Rates works a little differently to the other tools. With X-Rates, you enter the currency you're converting from in the tool and they tell you the specific exchange rate for that currency across dozens of other currencies.
Understanding What an Exchange Rate Is
Currency exchange rates are always between "pairs" of currencies, for example U.S. dollars and euros.
You will have different currency exchange rates between different currency pairs.
For each currency pair, there's the "base" rate, also known as the "Interbank" or "Mid-market" rate, which is the rate banks use to exchange currency with each other.
Currency exchange rates work both ways for converting currency, so if 1 EUR is worth 1.13 USD, then you'd multiple euros by 1.13 to see how much they'd be worth in dollars. Conversely, you'd divide U.S. dollars by 1.13 to see how much they're worth in euros.
The exchange rates between currency pairs change all the time, depending on world news, confidence in the markets, foreign exchange trading, economics and other factors.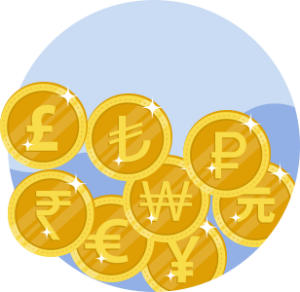 It's important to note that the base exchange rate and the rate you'll get when you want to transfer currency are likely to be slightly different. Banks and money transfer providers make money by offering you a worse exchange rate (known as the retail exchange rate), compared to the base rate.
Find a List of Currency Exchange Rates
Next, you'll need to find a list of exchange rates. There are plenty of places online that you can find exchange rates between currency pairs, and you'll also see exchange rates posted in places like airports and at the locations of money transfer providers like MoneyGram or Western Union.
How to Calculate Exchange Rates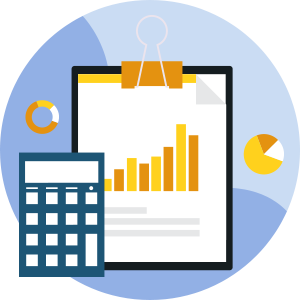 Calculating between exchange rates just requires a bit of multiplication or division. Once you have a list of exchange rates, and you know how much you want to convert, you can complete the calculation as follows:
Work out the currency pairs that you want to exchange between, for example EUR and USD
Look at the exchange rate between that currency pair, for example 1 EUR equals 1.125 USD
If you're converting from EUR to USD (left to right on the currency pair), multiply the amount you want to exchange by that value, for example 500 EUR times 1.125 equals 562.50 EUR
If you're converting from USD to EUR (right to left on the currency pair), divide by the amount you want to exchange by that value, for example 500 USD divided by 1.125 equals 444.44 USD
Help Your Money Go Further
The base exchange rate isn't likely to be the exchange rate that you get when you're sending money overseas. Banks add on fees and apply a poorer exchange rate so your money doesn't go as far. We've got a helpful tool that can tell you how much a recipient will get once you take all of the fees and exchange rates into account. Even better, we compare specialist money transfer companies who will almost always provide a much better deal than your bank. That's great for you, your recipient, and your pocket!
Your currency knowledge centre
How to Easily Receive Money from Overseas
There are 4 main ways most people receive money from overseas. Find out the most common fees, exchange rates and money traps to avoid.
Should You Use Wise (formerly known as TransferWise) to Wire Money Overseas?
Our biggest, most comprehensive look at one of the most popular money transfer companies in the world. All the information you need to make the right decision.
International Money Transfer Comparison and Reviews
Doing an international money transfer with your bank can cost you a lot more than its worth. By the end of this article, you'll find out how to transfer funds internationally without paying too much.