How to Safely Receive Money into the US from Overseas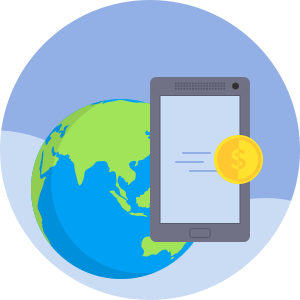 Lucky you, someone is sending you money from overseas. The question is, how exactly do you receive the money, especially if they're sending it in a different currency? You've got a few options, so we'll break them down so you can decide the best way to get at your cash.
The best way to receive money from overseas will depend on the amount of money you receive and how the sender decides to send your money to you. If they send it through their bank, the bank will probably charge the sender a fairly high fee, and you'll be stuck with a poor exchange rate. Fortunately, your sender isn't limited to just sending money through their bank, so you might want to suggest alternatives to them.
3 Best Ways You Can Receive Money Internationally
There are three main ways someone can send you money from their country:
We'll dig into each of these below.
1. Bank to Bank International Wire Transfer
A common way to transfer money is with an international wire transfer.
Your sender goes to their bank, enters your details, funds the transfer, then sends it for processing. Their bank converts the money, sends it over the banking network and it arrives in your account within two to five days after being sent.
Unfortunately, there are a couple of problems with international bank transfers—high fees and poor exchange rates.
Here's a quick summary of the various fees you and the sender will pay to make and receive an international money transfer: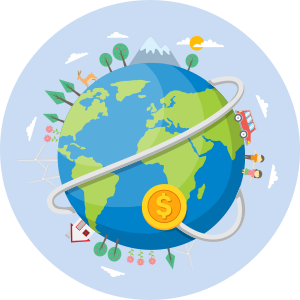 1. Fixed fee, payable by the sender, for making the transfer
This fee is applied by the bank every time the sender transfers money internationally. This is a fixed fee and typically runs to between $30 and $50 USD or equivalent.
2. Intermediary bank fees, payable by you on the amount received
When banks transfer money internationally, it's possible your currency exchange will be routed through one or more intermediary banks. Each of those banks will take a fee out of the transfer, normally between $10 and $20.
3. Receiving bank fees, payable by you
Finally, you'll normally need to pay a fee to your own bank when you receive money into your account. This is typically a charge of $10 to $20.
Poor exchange rates offered by the sender's bank
Banks don't generally offer competitive exchange rates to send money, with substantial differences between the base rate and the rate they offer to the sender. These exchange rates are often two to three percent worse that the base rate, and they can be even poorer than that.
The combination of all these charges means that you and the sender could be spending 3 to 5% more than you need to for receiving money from overseas. The currency provider, XE, did a comparison and found it can cost between $200-$300 more to exchange $10,000 euros to dollars through a bank than with them.
2. Specialist International Money Transfer Service
There's a better option than the banks—a specialist money transfer service. These businesses are designed specifically to help people send money overseas and they almost always offer lower fees and better exchange rates than banks. There are plenty of great money transfer providers out there. Plus, it's quick and easy for the sender to sign up so you can get more cash as a result. We really like XE, WorldRemit and OFX, depending on how much you're receiving.
XE is a currency transfer service with no minimum amounts of transfer fees

If your sender doesn't want to pay any transfer fees at all. Then XE is a great choice. They've been around for many years and the only money they make is from the exchange rate. They have comprehensive services for individuals and businesses, and they're an excellent suggestion for the person sending you the money.
OFX is a specialist foreign exchange provider with personalized services

If your sender wants to be talked through their options for sending you money, OFX is second to none. They have an excellent online experience and they provide superb customer service. Their currency transfers are fast and intuitive, they offer a better exchange rate than the banks and most transfers will be with the recipient in one to two business days.
WorldRemit has low fees and excellent exchange rates for amounts up to $10,000

WorldRemit are excellent if your sender is located in Asia, Africa, South America, and there's no minimum transfer amount. You can get customer support and they have a handy online calculator so you know exactly how much your transfer will cost. In many cases, you can also choose how you want to receive money—into your bank account, picking up cash at an agent location or even having money delivered to your home.
3. The TransferWise Borderless Account

Finally, we have one of the most convenient options of all, the TransferWise Borderless Account. TransferWise is a well known money transfer service offering low, transparent fees. They also have a super-helpful product called The Borderless Account.
The TransferWise Borderless Account allows you to receive and hold funds in any of 40 currencies, so you don't have to rely on your banks exchange rates. You can just keep an eye on how much your currency is worth and convert it to your native currency when it makes sense. You can even link it with the TransferWise debit card that's accepted around the world. Even better, you can automatically create full bank account details for many different countries and get paid directly into the account with a domestic transfer from that country. Much cheaper for you and the sender!
It's free for you to sign up for the Borderless Account, and the only fees you'll pay are when you exchange money between different currencies. Even then, TransferWise keeps those fees super low. Once you have your Borderless Account setup, just give the details to your sender, and TransferWise can do the rest.
Your currency knowledge centre
The Cheapest Way to Transfer Money Abroad Is Also the Easiest
It's not often you find a service that's both simple and cheap, but when it comes to sending money overseas, you get the best of both worlds.
The Absolute Best 6 Money Transfer Services this Year
We reviewed over 30 banks and online money transfer companies to give your our list of the best service to send money overseas.
How to Easily Receive Money from Overseas
There are 3 main ways most people receive money from overseas. Find out the most common fees, exchange rates and money traps to avoid.
General advice: The information on this site is of a general nature only. It does not take your individual needs or circumstances into consideration. You should look at your own personal situation and requirements before making any financial decisions.