Best ways to receive money internationally in 2023
If you're expecting a payment from overseas you're probably wondering about the best ways to receive money internationally in the US.
Moving money using a regular international bank transfer can come with high fees for the sender, and a recipient fee from your own bank. If the bank offers a poor exchange rate, or the payment is processed with SWIFT you could also end up with less than you expect in the end, due to high, hidden, or unexpected fees.
The good news is that international money transfer specialists such as Wise or OFX could offer lower fees and a better exchange rate – which means your sender pays less, and you get more in the end, too.
Go to Wise
Go to OFX
Best ways to receive money internationally
If you're expecting an international payment from a friend, customer or client, the good news is that there are several different ways you can receive money from overseas. Each has its own pros and cons so you'll probably need to do a little research to decide which payment method works best for you. We'll go into more detail about each option a little later – but here's an overview of the transfer types we'll cover to get us started:
Go to WorldRemit
Go to Wise
How to receive money internationally
The exact steps you need to take to receive your international payment will differ a little, depending on the payment method used. However, broadly speaking, you'll need to:
Research the different payment options available, looking at the fees, speed and convenience of each

Talk through the options with the person sending the payment, and explain which you prefer

Pass the sender the information needed to safely process the transfer (such as your bank details for a wire or specialist money transfer)

The sender will initiate the payment

You'll receive the funds, and can then withdraw or spend as you prefer
Before your payment is sent to you it's worth weighing up the different transfer options to make sure both you and the sender get the best available deal. Each option has its own benefits and drawbacks – we'll walk through key features around cost, convenience, speed and safety so you can talk to the sender about which method they prefer.
1. International money transfer specialists
If you want to receive money from overseas and have it deposited into your local USD account you can also do this through an international money transfer specialist like Wise, OFX and WorldRemit.
In this case you'll just give the sender your bank details and they'll arrange the payment via the specialist service you select.
Specialist services can typically be faster than direct bank transfers, and often offer better exchange rates too. That makes them cheaper for the sender, and can mean you see more of your money in the end.
Wise money transfer
Wise operates in many global markets and offers payments to 160+ countries, online and through the Wise app. It's known as a reliable and fast service with 16+ million customers, and a high 50%+ instant transfer rate. Learn more here: Wise money transfer reviews
Your sender can pay Wise using a local transfer in their home currency, and the funds will be converted using the mid-market exchange rate.
Wise fees are low and transparent, and your sender can instantly see how much the transfer will cost, what rate will apply, and how much you'll receive in USD.
Go to Wise
XE money transfer
If your sender doesn't want to pay any transfer fees at all. Then Xe Money Transfers can be a good choice. They've been around for many years and the only money they make is from the exchange rate. They have comprehensive services for individuals and businesses, and support a huge number of countries and currencies.
Go to Xe
OFX money transfer
If your sender wants to be talked through their options for sending you money, OFX is second to none. They have an excellent online experience and they provide superb customer service. Their currency transfers are fast and intuitive, they offer a better exchange rate than the banks and most transfers will be with the recipient in one to two business days.
Go to OFX
WorldRemit money transfer
WorldRemit offers international payments which usually have no minimum transfer amount. In many cases, you can also choose how you want to receive money—into your bank account, picking up cash at an agent location or even having money delivered to your home. Services vary by country, though, so your sender will need to check what's available when they set up the transfer.
Go to WorldRemit
TorFX money transfer
TorFX is a specialist currency broker which offers international payments through dedicated account managers. TorFX transfers have no transfer fee – instead there will be an exchange rate markup applied, which can be lower than the equivalent markup used by a traditional bank.
Go to TorFX
2. An online multi-currency account
One easy – and cheap – way to get paid from overseas is to open an online multi-currency account with a specialist provider. Depending on the account you select you may be able to access local bank details for a range of currencies which your sender can use to pay you by local transfer. This is often free for them – and you.
Once funds are in your account you'll be able to convert them to whichever currency you need, to withdraw, send or spend how you like. Here are some top providers to consider.
Wise multi-currency account
Best for: Individuals and businesses looking to get paid conveniently in 10 currencies, into an account which can hold and exchange 540+ currencies
How to receive money with Wise: Open your Wise account online or in the Wise app, and get local bank details for 10 currencies to get paid by local transfer from 30+ countries
Wise fees: Personal accounts are free to open; business customers pay a one time, low fee. No monthly fees or minimum balance, and low, transparent fees for transactions
Wise exchange rate: Mid-market rate with no markup
Speed: 50%+ of transfers made with Wise arrive instantly; local transfers into Wise accounts are usually far faster than a regular bank international money transfer
Go to Wise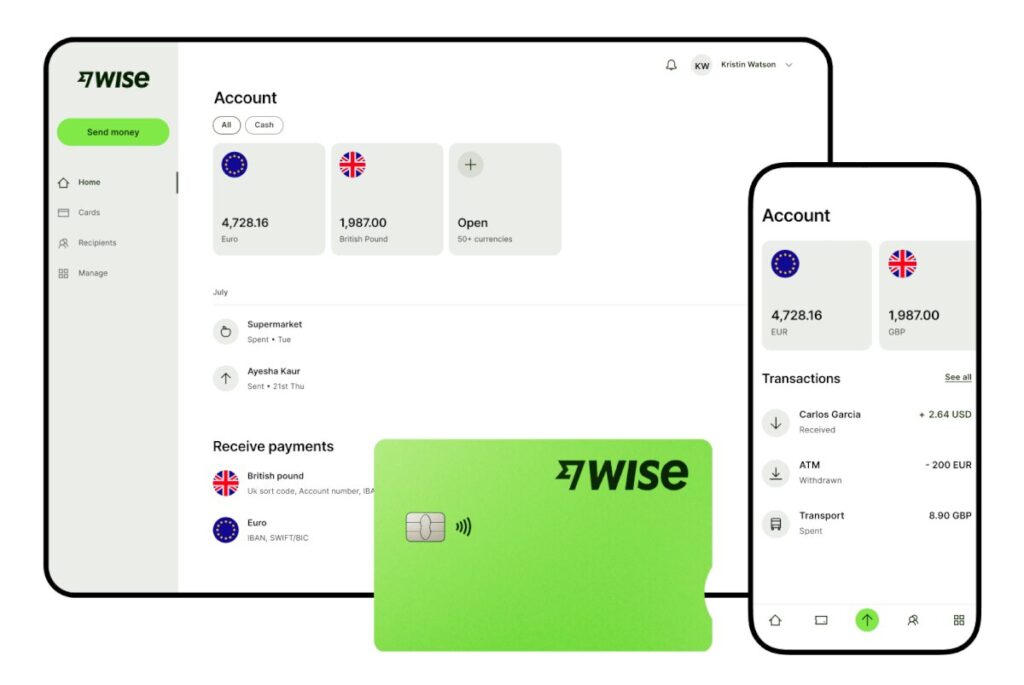 Revolut multi-currency account
Best for: Personal customers looking for a way to manage their money, budget, save, and exchange around 25 currencies all online and in the Revolut app
How to receive money with Revolut: Standard Revolut accounts have no ongoing maintenance fees – or you can trade up to a higher account tier to unlock more features for a monthly fee. Accounts come with local bank account details for selected major currencies, and SWIFT details to get paid by SWIFT transfer from elsewhere. You can also receive money from other Revolut accounts without paying any fees.
Fees: Up to 16.99 USD/month for higher tier accounts; different account tiers have different levels of no-fee transactions, with fair usage service fees after that
Exchange rate: All accounts come with some currency exchange using the mid-market rate; higher account tiers have unlimited no-fee exchange. If account plans include a limited level of no-fee exchange a fair usage fee may apply once you hit your limits; out of hours and exotic currency fees may also apply
Speed: Transfers between Revolut accounts can be instant; SWIFT payments to your account can take 3 days or so
Go to Revolut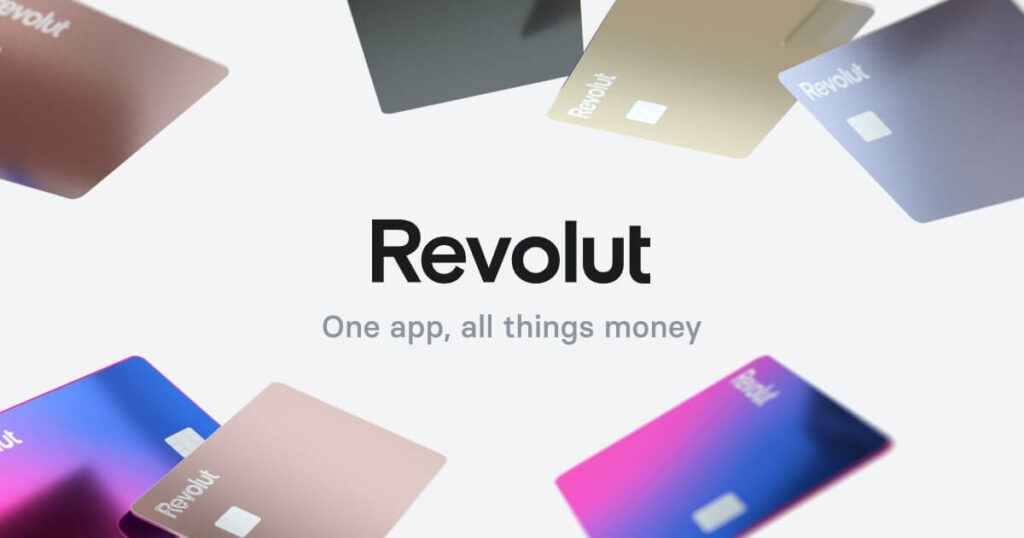 OFX for businesses
Best for: Online sellers and business owners who need to get paid from 7 profitable international markets
How to receive money with OFX: Open your OFX Global Currency Account online and activate local bank details for 7 currencies. Use these details to get paid by clients and make withdrawals through PSPs like Stripe and marketplaces like Amazon
Fees: No set up fee, no monthly fee, no fee to access local account details
OFX exchange rate: Exchange rates may include a markup which will be disclosed prior to confirming your transaction
Speed: Fast payments, OFX transfers may arrive in just a day or 2
Go to OFX
Foreign currency accounts from traditional banks
Some US banks also offer foreign currency accounts you could use to receive money internationally. This can be an attractive option if you want to hold an account with a bank that has a physical branch network. However, the foreign and multi-currency account options from traditional banks are often somewhat limited in terms of the currency options, with higher fees than those available from online specialists. Many banks also limit their account options to business customers only.
Learn more: Best foreign currency accounts in the US
3. Making a bank-to-bank international transfer
Sending money through a regular bank might seem like an easy and familiar option. However it's worth talking through the pros and cons with your sender to balance out if it's worth it for your international transfer.
Bank-to-bank international transfers are reliable and can often be arranged online. The exact options available depend on the sender's own bank – but it's worth noting that the fees for sending a payment with a traditional bank can be high and unpredictable. Fees can include the following:
Fixed fee – a transfer fee paid to the sender's bank
Intermediary bank fees – third party intermediary fees may apply if your money is transferred through the SWIFT network
Receiving bank fees – fee to have the money deposited in your local US account
Poor exchange rate – exchange rates are likely to include a markup which is a hidden fee tucked away in the rates offered by banks
To illustrate the type of fees you'll run into let's look at how it works when you send or receive a payment in the US, with a few major banks:
Bank
Fee to send an international payment
Fee to receive an international payment
Chase International Wire Transfer
Online international wires sent in a foreign currency – 5 USD per transfer, waived for payments of 5,000 USD or more

Online international wires sent in USD – 40 USD per transfer

Banker assisted international wires – 50 USD

Exchange rate markups apply on all payments sent in foreign currency

15 USD

Fee may be waived if the transfer was sent from another Chase account

Bank of America International Wire Transfer
45 USD if sent in USD

No transfer fee if sent in a foreign currency – exchange rate markups will apply

Incoming international wire fees vary by account type
Capital OneInternational Wire Transfer

(Essential Checking, High-Yield Checking, Essential Savings accounts only)

40 USD in a foreign currency – exchange rate markups may also apply

50 USD if you're sending in US dollars

15 USD
Learn more: Best bank to receive international wire transfers
4. Cash pick-up
If you're looking for a super quick and convenient way to receive money internationally in the US, having your sender choose a provider which offers cash pick-up might work. In this case, your sender can arrange the payment online, in person, by phone or using an app – depending on the specific provider selected. They'll be able to find an agent location close to home in the US, and then you can go collect your money in cash – often instantly.
There are quite a few options for cash collection in the US – however, it's worth noting that the fees for the sender can be high, and the exchange rates offered aren't usually the best. Compare a few to pick the right one – here are a couple of market leaders to consider.
Western Union
Western Union has a huge agent network of over 550,000 locations globally, with branches available throughout the US. Your sender will be able to set up a payment online, in person or through the Western Union app, paying by cash, card or bank transfer.
Once they've arranged the payment they'll need to give you a reference number which you take – along with your government issued ID – to a local agent, to collect your money. Western Union has several different service options, including Money in Minutes – which allows for instant cash collection around the world.
Fees for cash collection services with Western Union can be high – and it's also worth knowing that the exchange rate will vary according to the specifics of the payment, and will include a markup on the mid-market rate.
Read Western Union Review
Remitly
Your sender will be able to arrange a Remitly payment online or in the Remitly app, and have it sent to you for cash collection. Exactly what services are available may vary based on where your sender is located, though. If cash pick up is an option the sender will be able to see this when they select the US as the destination country.
Remitly works with agents to help people collect cash transfers – so you'll then be able to visit one close to you to get your money, often in just a few minutes.
Go to Remitly
5. Home delivery
Many of the same providers which offer cash pick-up options for international payments can also offer home delivery of cash. This service is typically available in more isolated or rural areas where the provider doesn't have such a strong agent network.
Because the US has agent locations throughout the country, home delivery is seldom offered here.
If your sender is able to find a provider which will arrange home delivery to the US, getting your money is super simple. All you'll need to do is wait at home for a courier to arrive, and show your government issued photo ID to take delivery of your payment.
6. Mobile wallets
If you have a mobile wallet through a provider like PayPal or Cash App your sender might also send you money this way. Getting paid into your mobile wallet is easy and usually fast – as long as you already have a wallet with the provider your sender selects.
Mobile wallet payments can often be arranged with just an email address or phone number. That makes them convenient – but they can also come with high fees.
Unfortunately many mobile wallets like Zelle and Venmo can't be used for international payments just yet, and CashApp only supports transfers from the UK. Make sure your sender picks a mobile wallet which has international reach to get your money this way.
Related: Best apps to receive money internationally
Fees for receiving money internationally
The total cost paid to receive money internationally does vary by the method and provider used to process the payment. Who pays the costs – sender or recipient – can also vary. It's useful to know that the fees involved in international payments are likely to cover 2 or 3 different types of charge:
Upfront transfer fees – usually shown to the sender before confirming the payment
Exchange rate costs – which can be the highest fee of all – more on this below
Third party fees – including bank intermediary fees and charges from your own bank to receive a payment
Third party fees are a particular problem if you're having money sent to your bank account. In this case there are often extra costs which are associated with the SWIFT network – the network used to process most international bank payments.
Under the SWIFT system, the sender's bank will work with up to 3 different intermediary banks to process the payment – and each intermediary can deduct a fee when they process the transfer. The full costs are not always known upfront which can make it tricky to predict how much you'll get in the end.
Specialist international money transfer services like Wise often cut out the SWIFT network entirely. With Wise, for example the sender will make a local transfer in their home country, to the Wise account there. Once that's landed, Wise will then transfer the agreed amount from their local USD account here, which means no money really has to cross borders, and so there's no need for intermediaries to get involved.
How long does it take to receive an overseas transfer?
International payments sent to your bank account using a traditional SWIFT transfer can take 3 – 5 days to arrive.
Specialist services which avoid the SWIFT network can often have your payment deposited into your bank account much quicker – some transfers are almost instant, and many will arrive in a day or two.
If you're getting a payment for cash collection, and the sender pays with a card, it can often be collected in minutes.
What information do you need to give to the sender?
The exact information you need to give the sender will depend on the transfer method you agree on. However, it's important to make sure you give all the details required to process the transfer, to avoid unnecessary delays or problems.
Here's what you need to receive money from abroad into your bank account:
Your full name and address as shown on your bank account
The name and address of your bank, and its BIC/SWIFT code
Your account number and account type (checking or savings)
A reference or message to include on the transfer to help you identify it
If you're collecting your payment in cash you'll need to give your sender:
Your full name as shown on your government issued ID document
What exchange rate will I get?
The exchange rate used to process your international payment will make a big difference to the overall cost of the transfer, and how much you receive in the end.
Most providers add a markup or margin to the rate you'll find on Google. That's an extra fee which can push up the costs of the payment. Even when a bank or provider says they offer fee free international payments, they'll usually wrap a fee into the rate so they can make a profit themselves.
Banks in particular could add an extra 3% or so charge onto the exchange rate passed on to customers. That doesn't sound like a lot, but it would be an extra 300 USD charge on a payment of 10,000 USD – probably more than the upfront transfer fee initially paid.
Before your payment is sent, talk to the sender about the exchange rate that'll be used. Many specialist providers such as Wise or OFX can offer a better rate than the bank – which means your sender can cut their costs dramatically.
Here's a quick look at the way some different specialist services set their exchange rates:
Wise exchange rate: mid-market exchange rate with no markup
Xe exchange rate: competitive rates which include a small markup on the mid-market exchange rate
OFX exchange rate: small markup added to the mid-market exchange rate – often this is lower than the markup used by a bank
WorldRemit exchange rate: variable rates which can change depending on the specific details of the payment, small markups are used
Go to Wise
Go to OFX
Safest way to receive money from overseas
Security is important when picking a way to get paid from overseas. All of the providers and services we've mentioned in this guide are reputable, regulated and safe to use. Here are a few common sense ways to keep yourself and your money safe when receiving an international transfer:
Make sure the sender uses a regulated and licensed provider

Double check all the details you pass the sender, such as your bank account and routing number 

Ask the sender to check if any third party fees may be deducted as the transfer is processed – this can mean you get less in the end

Confirm who will pay any charges involved with processing the transfer, so there are no surprises
Here's a quick look at the safety features of some of the key providers we've picked out in this guide:
Is Wise safe to use? Wise is FinCEN registered in the US, and overseen by regulators globally everywhere it offers services. Wise money transfer and account products have robust verification processes, secure log in methods and 24/7 manual and automatic anti-fraud protocols
Is OFX money transfer safe? OFX is a reputable and established money transfer and currency service, which is overseen by dozens of regulators globally. OFX has a 24 hour phone number you can use if you ever have security concerns and also operates industry level processes in the background to keep customers safe 
Is Xe money transfer safe? XE is a licensed money transmitter in the US and covered by global regulators wherever it offers services. Customer support is available from US based teams so you can check in if you have any security issues
Is WorldRemit safe? WorldRemit is a safe, reliable and trusted service which is suited to personal payments. It's fully regulated and licensed for its services and uses a good selection of automatic and manual security processes to keep accounts and payments safe
Is Revolut safe? Revolut operates in the US through partnerships with reputable insured banks, and holds its own banking license in Europe. It's safe to use with robust security measures and processes in place
Go to WorldRemit
Go to Wise
Go to Revolut
Best way to receive international business payments
The best way to receive a business transfer from abroad will depend on the payment type, value and currency. However, you'll usually find you're best off picking one of the following options:
Have the sender transfer money directly to your bank checking account in USD using a wire or through a specialist money transfer service

Open a multi-currency account which you can use to receive payments from overseas in USD and foreign currencies conveniently using local account details 
Having the sender transfer money to your USD business account is convenient for you, but may mean the person initiating the payment has fees to cover. Suggesting that the sender uses a specialist service like Wise or OFX to process the payment may mean they save money, and you avoid possible third party fees which are deducted by banks processing SWIFT payments.
Receiving money to a multi-currency account gives you the option of charging customers in their local currency, as you can receive payments with local bank details. This is often the cheapest option for the sender and can be free for you too, depending on the account you pick and currency involved.
If you ever need to send or receive payments in a foreign currency, a dedicated multi-currency business account can help cut costs:
Wise Business account:

Open for a one time fee with no monthly charges, and get local bank details to be paid in 10 currencies. All currency exchange uses the mid-market rate, and accounts also offer 40+ currencies for holding and exchange, debit and expense cards, low cost transfers to 160+ countries and cloud accounting integrations
Revolut Business account:

Choose from a Free account which has no monthly charges, or pay a monthly fee to get full feature access and more no-fee transactions. Accounts can hold and exchange around 25 currencies, with options such as cash back on card spending available for some account tiers
OFX Global Currency account:

Get paid in 7 currencies, send money to contractors and suppliers, and access helpful support when managing multiple currencies, to reduce the risks of rate fluctuations 
Go to Wise business
Go to Revolut business
How to receive payments from international clients
Exactly what you need to do to receive an international business payment will vary a bit depending on the method you prefer to use. However, the basic steps are pretty similar. Here's a look at how to receive payments from international clients into a multi-currency account from a service like Wise Business:
Choose and open your preferred multi currency account. A verification step is usually needed to keep your account secure

Open a currency balance in the currency you want to be paid into – this can usually be done through an app

Get the local account details you need which will be available by logging into your provider business account

Give the bank details to the sender or include them on your invoice

Your sender will initiate the transfer and the money will be automatically deposited to your account 
Is there a limit to receiving money from abroad?
The limits applied on international payments are usually set by the providers processing the transfer, and can vary substantially.
For high value payments the sender will often need to provide more information to the bank about where the money came from in the first place. This is to comply with legislation, and protect customers from fraud or criminal transactions – but it can slow down your payment if the sender isn't prepared. If you're expecting to receive a high value international transfer, have your sender check the rules set by their preferred bank or provider before you get started.
Receiving large amounts of money from overseas
For personal or business reasons you may need to receive a high value overseas transfer. This can feel daunting, but it's safe to get paid from abroad as long as you pick a reputable service to process the payment. You may even find you get a discount on the fees you pay because of the value of the transfer.
Different services have their own maximum payment limits, but you'll find many that have very high transfer limits – or even no limit at all. If you expect to receive a high value payment make sure to take common sense steps like confirming the bank details your sender will use, and double checking what fees will be deducted as the transfer is processed.
Providers like Wise and OFX offer discounts for larger transfers, so you may find you get a better deal if you suggest your sender uses a service like these. Wise has discounts on the fees you pay when sending 100,000 GBP (or the currency equivalent) or more in a month, while OFX has customized rates for high value payments that you can see by logging into your account or calling their customer support line.
More information: Best ways for large amount of money transfers
Do I pay taxes when receiving money from abroad?
You don't usually need to pay taxes on money received from abroad.
However, you may need to report the income to the IRS. Whether or not you need to report a payment depends on the type of transfer, and the value. Check out all the details on the IRS website – or get professional tax advice if you're unsure.
Related: Best international bank accounts
Conclusion: Best way to receive international payments
Sending a payment with a traditional bank might seem like an obvious choice – but it's often slow and expensive. If you want to receive your money into a bank account, using a specialist service can cut the costs and mean you get paid faster, too.
Depending on your personal preferences and needs, you might also want to consider opening an online multi-currency account with a provider like Wise, or OFX if you're transacting on behalf of your business. These accounts often allow you to get paid from overseas in a range of currencies, with lower fees and better rates compared to bank transfers.
Before your sender processes your international payment it's well worth talking through the pros and cons of the different payment options outlined in this guide. Picking a provider with a great exchange rate, low fees and no sneaky hidden costs could mean your sender pays less – and you end up with more in the end, too.
Go to Wise
Go to OFX
Receiving money from abroad FAQs
What is the best way to receive money internationally?
There's no single best way to receive money internationally, the best value option will depend on the payment details. Compare specialist services like Wise, OFX and Revolut, to see which is best for your specific needs. Wise uses the mid-market exchange rate with low fees from 0.43% – which means low costs for the sender – or you can choose to get paid to a Wise account in 10 different currencies. OFX business accounts can receive transfers in around 7 currencies, and you may also want to consider Revolut for varied account plans you can use to receive transfers and access a whole range of other money management tools. 
How much does it cost to receive money from overseas?
If you're having a payment sent to your local bank account you'll often pay a receiving fee of around 15 USD. Check the terms and conditions of your account to confirm – or pick an alternative way to get your money, like an online multi-currency account, to cut out this extra cost.
How long does it take to receive an overseas transfer?
Overseas bank-to-bank transfers typically take 3 – 5 business days to arrive. However, if you send your payment with a specialist provider you could get your money faster – many specialists offer instant transfers which could also cost less than a regular bank.
Do I need to declare an international money transfer?
Whether or not you need to declare your payment to the IRS will depend on its value and the reason for the transfer. Check with a professional tax adviser if you're unsure.
Do I need a bank account to receive a transfer from overseas?
No. You can receive a payment in cash by choosing a specialist service, or you could open an online multi-currency account or mobile wallet to get paid that way instead.
Can I receive an international transfer in another currency?
To receive an international transfer in a foreign currency you'll need a foreign currency or multi-currency account. Specialist providers like Wise and Revolut offer flexible multi-currency accounts you can open online for free.