Charles Schwab International Wire Transfer: Fee, Rate and Transfer Time
The Charles Schwab Corporation is the 13th largest banking institution in the US, and globally, it has over 360 branches and 32.8 million customers. 
The Charles Schwab Corporation is the 13th largest banking institution in the US, and globally, it has over 360 branches and 32.8 million customers. 
But despite its size, Charles Schwab may not be the best option for making an international transfer if you look at the fees and exchange rate. 
In this guide, we'll cover everything you need to know about making international wire transfers with Charles Schwab, including fees and exchange rates. We'll focus on the Schwab Global Account, which is one of the options to make international payments with the bank.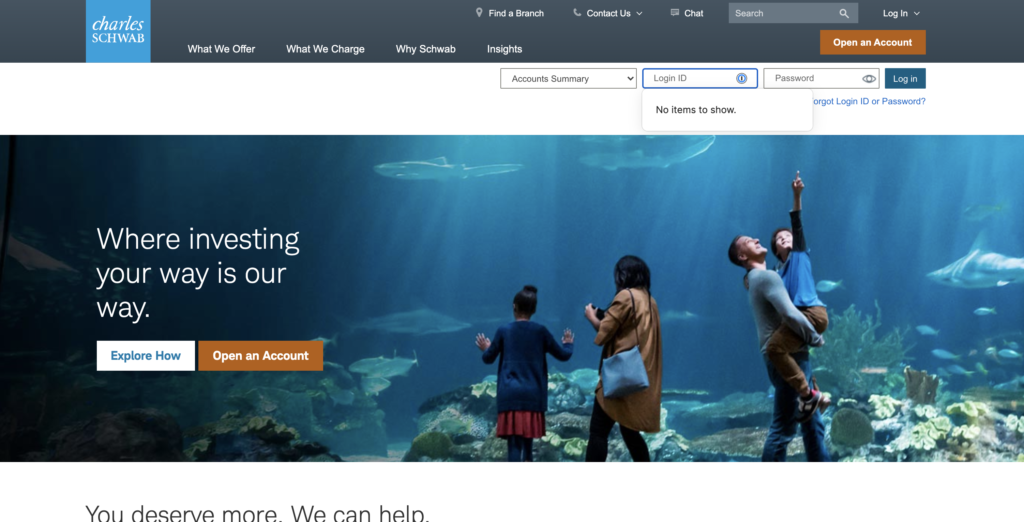 A cost example - sending $1,000 from the US to Canada
Before we do anything else, let's see how much it would cost to send $1,000 to Canada (CAD) using Charles Schwab bank. 
Provider
Fee
Time
Total cost
Charles Schwab
15 USD (online)

+exchange rate markup

1 working day
15 USD + exchange rate (1% currency conversion fee)
Wise
6.65 USD
instant-2 working days
6,65 USD
WorldRemit
2.99 USD + exchange rate mark up
up to 2 working days
2,99 USD + exchange rate markup
OFX
5 USD + exchange rate mark up
1-2 working days
5 USD + exchange rate markup
*25th November, 11:11am
Usually, banks and providers add a mark-up to the offered exchange rate for money conversion, which makes transferring money abroad more expensive for you. 
For example, Wise is one of the few providers in this table that transparently shows the full fees for the comparison and uses the mid-market exchange rate, the one you also see on Google, with no mark-up added. 
As you'll have seen from the table, sending money internationally with Charles Schwab can be quite expensive.
You can do a full provider comparison using the Exiap comparison calculator. 
Key info on transferring money overseas with Charles Schwab Bank
Transfer fees:

$15 to $25 USD (depending on transfer method) + exchange rate mark up

Speed of transfer

: next day⁹ (provided you meet the cut-off time)

Transfer maximum:

The information wasn't found on the bank's website but typically, banks have a maximum amount you can transfer, which may also depend on the recipient's country and its regulations.

Safety

: Charles Schwab has a full

online security policy

, including a

Security Guarantee

to protect your money.
Charles Schwab Bank international wire transfer fees
Here are the key fees you need to know about when sending money overseas with Charles Schwab Bank:
| | |
| --- | --- |
| Wire transfer | Fee |
| International transfer - online | $15 USD |
| International transfer - assisted (phone or branch) | $25 USD |
Remember that fees may vary depending on where you're sending money to, what type of account you have and other terms and conditions stipulated by the bank.
Charles Schwab Bank exchange rates
When you're sending cross currency payments, the exchange rate is applied by a bank. The bank often chooses their own rate, which can differ from the mid-market rate you'd find on Google or xe.com. This means that it can include a margin, which helps the bank make a profit but also makes the exchange rate more expensive for you. 
Ultimately, what this means is that it could cost you more to send a wire transfer overseas, and your recipient could receive less. 
At Charles Schwab, currency is exchanged in much the same way. Here's what the bank says in its terms and conditions:
"If your payment order requires us to convert one type of currency to another (for example, from U.S. dollars to euros), your funds will be exchanged for such other currency at the current rate of exchange according to our standard procedures. Currency exchange rates fluctuate over time, and you acknowledge and accept the risks of such fluctuations between the time you send us a payment order and the time the wire transfer is final."
The bank may also apply a fee of between 0.20% and 1% for currency conversion, depending on the amount sent. You'd need to send very large sums to get the lowest fees, while 1% is standard for amounts of under $100,000 USD.
Charles Schwab Bank additional fees
As well as the bank's own transfer and currency conversion fees, there may be additional charges involved in making overseas payments. 
This is because there's the possibility that other banks may be involved in the transfer, especially if the bank uses the SWIFT global payment network. Charles Schwab's terms and conditions state:
"Additional fees can be applied to a transfer by the receiving bank or an intermediary bank. We have no control over the intermediary or receiving bank's fee structure."
Need a cheaper alternative?
Here are a few of the alternative services you can use to make your international payment, which could work out cheaper than using Charles Schwab Bank. 
Wise
International transfer specialist Wise only charges one small transparent fee for overseas payments. The amount you pay depends on where you're sending to, the amount and currency. However, the fee is always available upfront, so you know exactly what you'll pay beforehand, and currency is always converted using the mid-market rate.
OFX
OFX doesn't charge a fee if you send money internationally, although a markup to the exchange rate is added to the currency conversion. You can access the exchange rate live on their website. To see the total cost of your wire transfer, you'll need to open an account first.
Remitly
Transfer fees at Remitly vary depending on whether you send in USD or the local currency. There's also an Economy Fee, and a higher Express Fee¹³ for when you need your transfer to arrive more quickly. All fees are based on the amount you send
WorldRemit
For certain amounts, WorldRemit claims that on average, its international wire transfer fees are up to 46% cheaper¹⁴ compared to certain banks. WorldRemit adds the fee to the total send amount. This means that if you want to send 1,000 USD, you will pay 1,002.99 USD.
How to make an international transfer with Charles Schwab Bank
The first thing to do is to make sure you have the right account. You'll need an active Schwab One account⁴, and only when you have this can you open a Schwab Global Account. This is a multi-currency trading account, but you can also use it for domestic and foreign wire transfers. 
Now, here are the main ways you can make an international wire transfer with Charles Schwab Bank:
Form⁹

- you can complete

this form

to verify a request for a foreign wire transfer, then send or fax it to the bank. 

Online¹⁵

- log into your Charles Schwab online banking and head to 'Transfers & Payments'. You should see an option for 'Wire Transfer'. Then, all you need to do is follow the prompts to set up your payment. 

Phone⁹

- you can call 1-800-992-4685 for assistance in setting up an international wire transfer
You can also find your local Charles Schwab bank here, in case you prefer setting up your transfer in person. 
How long does an international money transfer with Charles Schwab Bank take?
Charles Schwab provides next-day processing for international payments, but only if you submit your request before the cut-off time. These times vary depending on the currency, but here are a few examples:
9am - transfers in AUD, CAD, HKD and JPY

8am - transfers in GBP, EU and NOK 

2pm - transfers in USD
Can the transfers be sped up?
Charles Schwab Bank doesn't say on its website whether it offers an express or urgent international wire transfer service, although you can always contact the bank to find out.
Need a faster alternative?
Here's a quick look at average transfer times for other providers, in case you're in a hurry: 
Pros and cons of transferring money abroad with Charles Schwab Bank 
Pros:
You can transfer money using online banking 

The transfer fee is available upfront (although other fees may apply)

Processing times are quite quick (provided you meet the cut-off time)

There are multiple methods for setting up your transfer

Assistance from the bank is available if you need it
Cons:
The currency exchange rate given when you transfer money internationally, can contain a markup

For certain transactions, you may need to complete and fax over a transfer form - which can be slower and less convenient than making a payment via online banking.
What information do you need to make an international transfer with Charles Schwab Bank?
Nearly ready to send your first wire transfer with Charles Schwab? Make sure you have all of the following information ready:
BIC/SWIFT code for the receiving bank

IBAN (International Bank Account Number) or account number of the recipient

Recipient's full name

Recipient's address

Recipient bank's address.
The bank also requires:
Your Schwab Global Account Number

Your contact details 

Your signature.
There may also be additional information required for anti-fraud checks and other security processes. 
Charles Schwab Bank SWIFT code
If you're receiving an international transfer, you'll often need to provide the SWIFT code for your bank. This is an identifier code, which indicates where the payment needs to be routed to. 
In case you need it, the SWIFT codes for Charles Schwab Bank can be found here. The code varies depending on the local branch, so it's important to check that you have the right one.
Charles Schwab Bank international business transfers
Charles Schwab Bank offers a full range of accounts and wealth management services for businesses, organisations, investors and individuals. 
However, the Schwab Global Account is the only option for sending international transfers. We'll look at this account in more detail next. 
Does Charles Schwab Bank have multi-currency accounts?
The Schwab Global Account is designed for US investors looking to trade online in 12 international markets, in their local currencies. As we've already looked at, you can also use the account to make international wire transfers. 
There are no fees to open this account, nor are there any ongoing maintenance charges. The account minimum is $0 USD. However, other account fees and brokerage commissions apply.
Transfer limits and available countries
Charles Schwab Bank doesn't have information on transfer limits on its website, so you'll need to get in touch to find out more. We'll show you how to contact the bank next. 
Here are the countries and currencies you can send to with Charles Schwab:
| | |
| --- | --- |
| Countries | Currency |
| Australia | AUD |
| Belgium, Finland, France, Germany, Italy and the Netherlands | EUR |
| Canada | CAD |
| Hong Kong | HKD |
| Japan | JPY |
| Norway  | NOK |
| United Kingdom | GBP |
Charles Schwab Bank contact information
Have a question or need help with an international wire transfer? Here's how to get in touch with Charles Schwab:
Call a Schwab Global Investing Specialist on 800-992-4685²²

Call 877-519-1403 for general enquiries

Chat online via live chat

Visit a local branch -

find your nearest branch here
Is Charles Schwab Bank right for you?
If you want to send money overseas, and are also interested in international stocks trading, the Charles Schwab Bank global account could be a good option. If not though, you could find that you don't use many of the account features. 
There's no one-size-fits-all solution when it comes to international transfers, as everyone has different needs. But Charles Schwab isn't likely to be the cheapest option for sending money overseas, especially when you take into account transfer and currency conversion fees, exchange rate mark-ups and intermediary bank fees. 
Transfer processing speeds at Charles Schwab are quite quick, but you may have to fill in a form to set up your transfer in the first place - which can be quite time-consuming. 
It's always worth comparing a range of providers before sending money overseas with a bank, as there are likely to be cheaper and quicker options available. Plus, solutions like Wise or WorldRemit that use the mid-market exchange rate are likely to get you a better deal.
FAQs
You can either use online banking, or complete this form, to set up an international transfer. If you need help, you can visit a local Charles Schwab Bank or call up for assistance.
Between $15 and $25 USD depending on whether you send online or make an assisted transfer. There may also be intermediary bank fees and currency conversion charges. 
Transfers are processed the next working day, provided you meet the cut-off time for the country and currency. 
This doesn't appear to be a service offered by Charles Schwab Bank at present.
Most online companies do. When you have an account with any of the online money transfer services highlighted above, you can make transfers through their website, or via their iOS Apple and Android apps. However, some are easier to use than others. Click here to learn more about the best money transfer apps.
Sending money abroad? Compare exchange rates and fees