Chase International Wire Transfer: Fees, Rates and Transfer Time
Chase bank was first founded over 200 years ago, and now serves almost half of all US households. You can access checking and saving accounts, credit cards, loans and more. You can also make international payments from your Chase checking or business account. However, using Chase to send your payment may not be your cheapest option.
This guide walks through all you need to know about Chase international transfers, and also introduces some alternatives to consider which may be more convenient, less expensive and faster.
We will also look at some cheaper, easier to use, and faster alternatives such as Wise or WorldRemit.
Let's get started.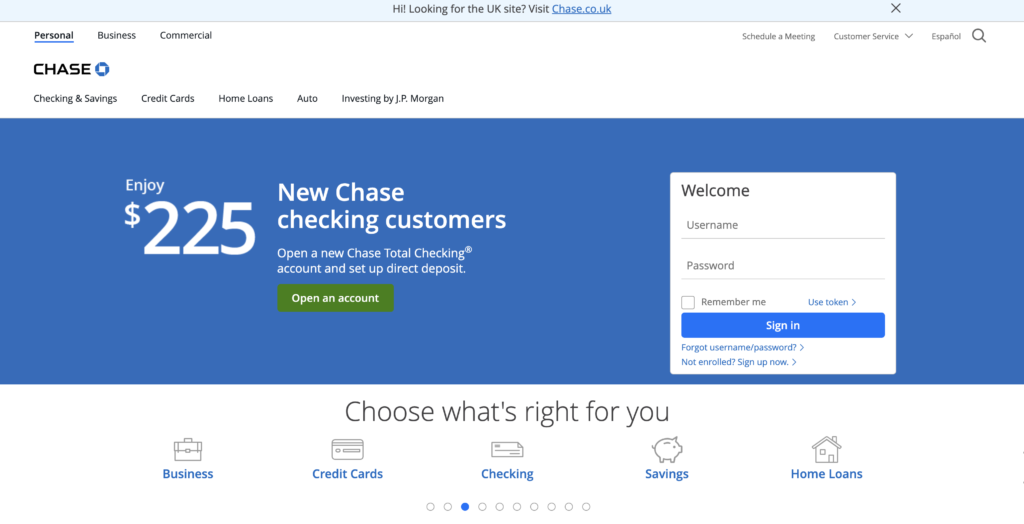 A cost example - sending $1,000 from the US to Canada
Before we do anything else, let's see how much it would cost to send a hypothetical transfer of $1,000 in USD to Canada. In this case the payment is arranged online - it's worth remembering that banks tend to charge significantly more when payments are set up in a branch.
| | | |
| --- | --- | --- |
| Provider | Fee | Transfer time |
| Chase | $5 USD + exchange rate mark-up + additional fees/commissions | 1 - 5 working days |
| Wise | $9.18 | Instant - 2 business days |
| WorldRemit | $3.99 + exchange rate mark-up | 2 - 3 working days |
| OFX | $0 + exchange rate mark-up | 1 - 2 business days |
*rates 6th December
Key info on transferring money overseas with Chase
Transfer fees:

5 USD for payments under 5,000 USD - no fee for higher value payments. Exchange rate markups apply, and transfers can incur third party charges

Speed of transfer:

Speed depends on destination - some payments can take up to 5 business days

Transfer maximum:

Maximum limits can vary by account type and destination country 

Safety:

Chase is a safe, fully licensed and regulated institution
Chase international wire transfer fees
Let's dive into the potential fees you'll come across when sending a Chase international transfer. 
Different account types may have slightly different fee structures - so you will need to double check the terms and conditions on your own account before you get started. The example fees below come from the Chase Total Checking Account:
Service
Chase fee

Make an international transfer online

5 USD for transfers under 5,000 USD in value

No transfer fee for higher value payments

Make an international transfer in a branch

50 USD

Make an international transfer to be paid in USD

40 USD

Receive an international transfer

10 USD - 15 USD depending on the payment type
Chase exchange rates
When you send a payment from USD to be deposited in an account held in a different currency, either your bank, or the recipient's bank will choose the exchange rate that's used. 
The rate won't usually be the same as the one you'll see on Google or Xe.com - that's known as the mid-market rate. The mid-market rate is used as a benchmark because it's the rate the bank will get when buying currency themselves. However, banks often add a markup - an extra fee - to the rate passed on to customers. Here's what Chase says about its exchange rates:
The foreign exchange rates we use are determined by us in our sole discretion. The exchange rate we use will include a spread and may include commissions or other costs that we, our affiliates, or our vendors may charge in providing foreign currency exchange to you.
That means that the Chase exchange rate includes a markup added to the mid-market exchange rate. The markup is an extra fee, which covers the costs and risks of processing the transfer, as well as a slice of profit for the bank. It's also useful to know that Chase sometimes uses different rates for different transfer types and customers:
The exchange rate may vary among customers depending on your relationship, products with us or the type of transaction being conducted, the dollar amount, type of currency, and the date and the time of the exchange, and whether the transaction is a debit or credit to your account. You should expect that these rates will be less favorable than rates quoted online or in publications.
Chase additional fees
Chase notes that extra fees may apply when you send an international wire:
Financial institutions may deduct processing fees and/or charges from the amount of the incoming or outgoing wire transfers. Any deductions taken by us, and our affiliates, may include processing fees charged by Chase
These extra costs could be levied by Chase, or by other banks involved in the payment. Often these extra charges creep in when payments are processed using the SWIFT network. 
Under SWIFT, banks work in partnership to pass payments along until they reach the right recipient account. Up to 3 banks can be involved in any transfer, and each can deduct a service charge as they move the payment. Technically, these are not Chase bank fees - but they may apply to your transfer if it's processed through SWIFT nonetheless.
Need a cheaper alternative?
Traditional banks don't necessarily offer the cheapest or most convenient service when it comes to international payments. Here are a few alternatives to check out and compare to Chase before you make your transfer.
How to make an international transfer with Chase
Typically, when you send a payment through your regular bank, you'll have 3 main options:
Arrange your payment online or in an app

Arrange your transfer in person at a local branch

Arrange your payment by phone
Sending money through your bank's online or mobile banking service is almost always cheaper than having a member of customer service staff help you, either in person or by phone.
Here's how to set up digital transfers either locally or internationally with Chase:
Log into your account online or open the Chase banking app

Click on the menu icon

Select

Account transfer

, and then

Schedule transfer

Choose the recipient for a repeat payment - or add a new recipient if it's the first time

Enter the details of the payment including the amount and currency

Schedule the transfer and add a note to the recipient

Tap

Transfer

and confirm the details are all correct

Your money's on its way
How long does an international money transfer with Chase take?
If you're funding your transfer from a personal account you'll be notified of the estimated arrival time when you set up the payment. Usually it's between 1 - 5 working days.
Other international wires are received 3 - 5 business days after you send them.
Can the transfers be sped up?
Chase doesn't offer an express wire payment service. However, to get your payment processed as quickly as possible, it's important to submit your transfer request before the bank cut off time. It'll then start to be processed on the same business day it's received. 
Cut off time is 4pm ET for personal customers, and 5pm ET for business customers. Payments will be processed on business days only - if you submit your transfer during a holiday, at a weekend or out of hours it'll start to be processed on the next working day.
Need a faster alternative?
Traditional banks don't always use the most efficient international payment processing systems. This can mean you incur third party fees, and may need to wait while your transfer is delivered. Here are a few alternatives if you're in more of a hurry:
Pros and cons of transferring money abroad with Chase
Pros:
Send to 90+ countries for personal customers, and 140+ for business customers

No transfer fee on digital payments over 5,000 USD

Set up payments using the Chase online banking system or app

Transfer directly from your Chase checking account

Branch service is available for customers who prefer it
Cons:
Chase exchange rates will include a markup on the mid-market rate

Third party fees may apply

Costs of setting up a payment in branch are higher than online
What information do you need to make an international transfer with Chase?
Before you set up your payment with Chase you'll need to gather some information to make sure your money arrives safely. The exact details you need may vary depending on where you're sending to, the payment value, and your account type - but usually you can expect to need:
Recipient bank's BIC/SWIFT

IBAN or account number of the recipient

Recipient's full name

Recipient's address

Recipient's mailing address
It's worth remembering that Chase may also need to ask for identification documents or other paperwork to process international payments. That's to make sure customers are kept safe, and to comply with international payment regulations.
Chase SWIFT code: CHASUS33
If you're expecting a payment into your Chase account, you'll need to make sure the sender has the Chase SWIFT code. This code is unique to your bank, and helps to guide your payment to your account without unnecessary delays.
Chase international business transfers
Chase offers a range of business and corporate banking solutions which are designed to fit different company types. The exact accounts available may vary based on your location. Popular Chase business checking accounts include:
Chase Business Complete Banking

Chase Performance Business Checking

Chase Platinum Business Checking
All business accounts offer ways to send and receive international transfers - but the terms and fees do vary between accounts.
Chase business transfer fees
The exact costs of sending a Chase business transfer can vary based on the type of account you have, and the value of payments you make. Some accounts also come with free transfers - although there may be a limit to the number of free payments you can make or receive.
To give an example, let's look at the costs of sending international wires from a Chase Business Complete Checking account:
Service
Chase fee

Make an international business transfer online

5 USD for transfers under 5,000 USD in value

No transfer fee for higher value payments

Make an international business transfer in a branch

50 USD

Make an international business transfer to be paid in USD

40 USD

Receive an international business wire

No fee
Transfer limits and available countries
You can send payments to 90+ countries as a Chase personal account holder - or 140+ if you have a business account. Transfer limits may vary based on your account type and the country you're sending money to. You'll be able to see the limits which apply when you schedule the payment through the online or mobile banking system.
Chase contact information
Here's how to get in touch with Chase if you have questions:
Visit a local Chase branch

Call customer service on 1-800-935-9935

Connect through Twitter, Facebook or Instagram
Is Chase right for you?
Whether or not Chase is the best option for your international payment will depend on your personal preferences, and the type of transfer you want to make. 
Sending money with your regular bank is a familiar option which can be reassuring - but it's often not the fastest or cheapest. Not only are there fees and exchange rate markups to consider, international payments with a bank can also include third party fees linked to the SWIFT network.
Use this guide to help you decide if Chase is the right provider for you - and check out a few alternatives too, so you'll know you're getting the best available fit for your needs. 
FAQs
You can send a payment with Chase online, in the Chase mobile app or by visiting a branch.
Chase international payments cost 5 USD if they're under 5,000 USD in value. There's no transfer fee for higher value payments - but exchange rate markups and third party fees may still apply.
You'll see how long your international payment will take when you set it up online or in the Chase app. Payments can take 3 - 5 working days depending on the destination country and the recipient bank's processes.
Chase only offers the option to set up international wires to bank accounts.
Sending money abroad? Compare exchange rates and fees