How to Close a UK Bank Account from Overseas: A full Guide Here
You might expect closing a bank account - especially if you're a non-resident - to be hard work. Actually, when it comes to UK banks, there's usually a simple enough way you can close down your account and transfer out your balance.
This guide covers all you need, including the account closure options and processes used by major UK banks.
Can I close a UK bank account from overseas? 💻
Major UK banks have options in place to allow customers to close accounts even if they're not in the country. This may mean you can close your account online using online banking, through your banking app or by calling the customer service team. Most banks also give the option of closing your account by mail, although this may take slightly longer.
Check out the options for your own account - we've set out the process for closing accounts from major UK banks below to give you a starting point.
How do I Close a US Bank Account in a Branch? 🏢
Closing your account in person is possible, too. In this case you'll usually need to visit your local bank branch with the following:
Completed account closure form (this can usually be downloaded from the bank's website)

Your photo ID - a passport or driving license for example

Any bank cards or checkbooks attached to the account
You'll need to confirm your reason for closing the account, and where you want your balance to be transferred to. There may be slightly different processes for some account types, or if you're closing an account on behalf of someone who has died. If you're in doubt, call the bank before you head out.
It's also worth taking a few steps before you finally close your account - for example:
Choose a new provider and open a new account to transfer your balance to

Move any direct debits, standing orders or other repeat payments to your new account

Check any outstanding payments have been processed from your old account

Withdraw or transfer your balance once you're sure all preexisting payments have been completed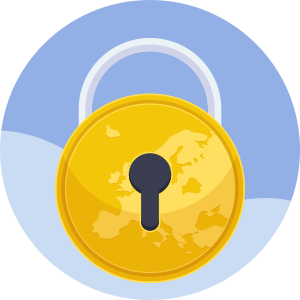 How much does it cost to close a bank account in the UK? 💰
There's not usually a fee for closing a bank account, although some account types may charge a penalty for early closure. This can happen if you've committed to a fixed term savings account for example, and need to withdraw your money before the term has expired.
It's also good to know that there are some other costs you might run into which are connected with closing your account. Here are some to think about:
If you withdraw your balance before outgoing payments have been processed you may run into overdraft or returned item charges

If direct debits or other ongoing payments are processed after you've withdrawn or transferred your balance you may face penalties

Closing a savings account early may result in a loss of interest payments or penalties

You may pay fees to transfer your money out to an account in a foreign currency.
1. Closing Lloyds Account - Step by Step
If you have a Lloyds current account you can only close it by phone or in person by visiting a branch. To do this:
Call 0345 300 0000 if you're in the UK

Call +44 1733 347 007 from outside the UK

Use the Lloyds branch finder to locate your closest Lloyds branch if you'd rather close your account in person
There are however some Lloyds accounts you may be able to close online. It's important to note that this is only possible if you have another account with Lloyds which you can transfer your balance to. The accounts you can close online are:
Cash ISA Saver

Child Saver

Club Lloyds Monthly Saver

Club Lloyds Saver (Annual or monthly)

Easy Saver

Instant Cash ISA

Online Saver

Premier Saver

Standard Saver
To close these accounts online you'll need to take the following steps:
Make sure your balance is £5 or less

Log into online banking

Go to your accounts overview list, and click

'More actions'

Click on '

Account services

'. Here you should find the option to close your account. If the option is not visible then you can not close your account online and will need to visit a branch or call customer services

Select the Lloyds account you want to transfer your balance to

You'll be asked to confirm the reason for closing the account

Click confirm once you've completed the form and you're done
2. How to Close a Barclays Account?
Barclays customers have a few options for closing accounts - the following are for current account holders, but there may be different instructions if you have another account type or if the account holder has died. Get the full details on the Barclays website.
Online/in app:
You can close a Everyday Saver account online through your normal banking service

Other accounts can be closed online but you'll have to send a secure message requesting the closure

Close accounts using the Barclays app through the live chat service or by initiating video banking
In writing:
Download the account closure form and complete it

Send to Barclays, Leicester, United Kingdom, LE87 2BB
By phone:
Personal account holders call 0345 734 5345 or +44 (0)247 684 2099 from outside the UK

Premier customers call 0800 085 1115 or +44 (0)161 869 8012 from outside the UK
In person:
Head to your nearest branch to close your account in person

You'll need a photo ID document

Take along your debit card and a checkbook if you have one with the account
3. How to Close an HSBC Account?
HSBC UK has a number of different ways to close your account from outside the country - or you can pop into a branch if you happen to be visiting.
Online/in app:
Log into online banking using your app or other device

Look for the option to chat with customer support 

Confirm your closure request - closing your account may take 7 days
By phone:
Call HSBC on 03457 404404 

Or use 03457 707070 for Premier Customers
By mail:
Print and complete the account closure form 

Mail your document to : Post Team Account Closure, HSBC Bank plc, Coventry District Service Centre, Harry Weston Road, Binley, Coventry, CV3 2BR
In person:
Print and complete the account closure form 

Take it along to your nearest branch to close your account in person
Ways to send money overseas after closing a bank account
If you're closing your UK account because you're moving abroad or back to the US, you may need to transfer your balance from British pounds to another currency. Doing this through your bank's standard service may be costly - not only in upfront fees, but also in hidden costs rolled into the exchange rates used. Choosing a specialist provider can mean you net a better deal. Here are some to consider.
XE
XE offers a global transfer service covering most world currencies. You can set up an account to model the costs of payments, and then initiate transfers right from your phone or computer. The charging system used by XE is a little different to the other providers we have highlighted above. Instead of charging a separate transfer fee, XE may wrap up their costs in the exchange rates on offer. This means you'll need to carefully compare this service with other options to assess if it's the best value for your specific needs.
Send 139 currencies to over 220 countries and territories

High level security and fraud protection for all customers

Get currency exchange alerts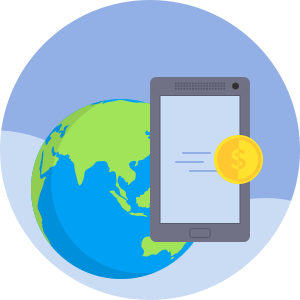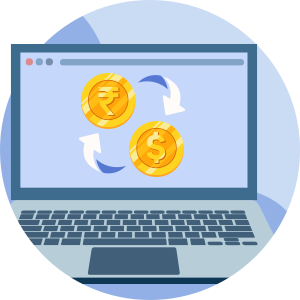 Wise
Wise offers low cost international payments from the US and all over the world. Transfers use the real mid-market exchange rate with no markups or hidden fees. Instead you just pay a low, upfront charge - and independent research has shown this can mean you pay up to 7x less than when you use an alternative like PayPal or your regular bank.
Set up and manage your account online or using the Wise app

Transparent service charge and no minimum transfer amount

All payments sent direct to your recipient's bank account - and you can pay with a local bank transfer or card

Scores 4.6/5 on Trustpilot
You can also open a Wise GBP account and keep balance in GBP for free. If you are interested in multi-currency accounts, here is our detailed guide: Best GBP accounts in the US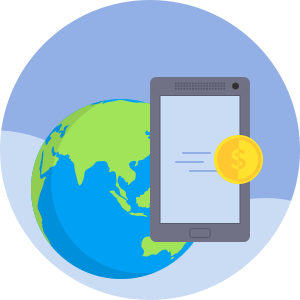 Revolut Account
To use Revolut you'll need to set up an account, which can mean signing up for a free standard plan or opting for an account with a monthly fee, which then comes with more features and benefits.
Most currency exchange with Revolut uses the mid-market exchange rate. There are however, caps on the amount of free exchange you can get based on your account plan, as well as extra charges for out of hours transfers, and an exotic currency charge if you need to convert your money to Thai baht, Russian rubles or Ukrainian hryvnia.
Different account plans suit different customer needs

Money management tools to help you budget, with simple ways to save money also available

Account options for kids to help teach them about money

Deal in crypto as well as foreign currencies
Compared to closing a US based account, shutting your UK bank account shouldn't be too tricky. Most major banks offer the opportunity to close your account online - or at least over the phone - which means not being in the country shouldn't be a problem. Use this guide to help you get sorted, if you want to close or upgrade your account for a better deal today.
Your currency knowledge centre
How to Easily Receive Money from Overseas
There are 4 main ways most people receive money from overseas. Find out the most common fees, exchange rates and money traps to avoid.
Should You Use Wise (formerly known as TransferWise) to Wire Money Overseas?
Our biggest, most comprehensive look at one of the most popular money transfer companies in the world. All the information you need to make the right decision.
International Money Transfer Comparison and Reviews
Doing an international money transfer with your bank can cost you a lot more than its worth. By the end of this article, you'll find out how to transfer funds internationally without paying too much.