Looking for the Cheapest Way to Send Money Overseas? 7 Options to Compare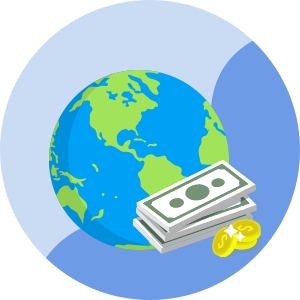 If you need to get a payment to someone overseas in a hurry you have a few options. You can choose to make the payment with your regular bank, or pick a specialist in international transfers instead. Often traditional banks can't offer an express payment service for international transfers - and a regular wire could take a few days to arrive. If time is of the essence, a specialist provider is often the better bet.
This guide walks through the things to think about when you need to send money abroad fast, and introduces a few providers to consider.
What is the fastest way to send money internationally?
The best way to get your payment into your recipient's hands fast can depend on a few things, including where you're sending it to, and how you want to pay for the transfer. You'll probably find it more convenient to make a payment online or using a mobile-enabled service, either through your own bank or a third party provider. That can save time on waiting in line at a bank branch, and mean you get a 24/7 service without delays.
Then comes the question of how you want to pay, and how you want your recipient to get the money in the end. Instant payment methods like cash and card payments are often the fastest way to send money abroad, rather than using a wire. Having your recipient get the money in cash locally might also speed the process up too.
All that said, different providers have different service times, and even payments which are deposited directly into your recipient's normal bank account can arrive fast on major currency routes.
What can determine the speed of a money transfer abroad?
The only way to be sure which international money transfer service is the fastest is to compare a few options. In most cases, the factors that matter are:
Where you're sending to

- major currency routes may be faster than more exotic or unusual destinations

Banking hours and holidays in the US and your destination country

- out of hours payments may take more time, and if you're sending for agent collection you'll need to check the agent you select is open when you need them

How you pay for your transfer

- cash or card payments can sometimes be quicker than a wire 

The value of your payment

- high value payments may be subject to checks or need additional documentation to clear

How your recipient gets the money

- collecting the transfer in cash at an agent location may take only a few minutes

How much you're willing to spend

- in many cases, the faster the service, the higher the fees

Whether you need a verified account to send money

- depending on the provider there may be a delay in getting your account set up if you're new to the service
How much does an instant money transfer cost?
Each bank or international money transfer service will have their own fee structure, which may include upfront transfer fees and additional charges wrapped up in the exchange rates applied. 
It's common for fast transfer methods to cost more than a service which may take a little longer. For example, paying for a transfer in cash, and then having your recipient collect in cash, is usually quick but can be expensive because there's a lot more manual labor required compared to online transactions.
Providers that send money overseas fast
Let's take a look at some providers to consider when you're researching the quickest way to get your payment where it's going.

Wise
Wise can help you arrange international payments to 80 currencies, which are set up online and delivered into your recipient's bank account directly. You'll always get the mid-market exchange rate with no markups which makes it easy to see the true cost of your transfer. And when you model your payment instantly online you'll also get an indication of how long it'll take to arrive. This is usually between a few seconds and a few hours depending on the currency route and payment method.
How much does it cost to send money with Wise?
Wise international payments use the real mid-market exchange rate with no markups. You just pay a low, transparent fee per transaction. You can check out the different options and costs for your transfer online - you'll usually find that paying with a card is the quickest way to get your money where it needs to be, while using an ACH is cheaper but could take a few hours to arrive. 


OFX
OFX payments can be made in over 50 currencies, to some 190 countries around the world. You'll need to pay for your transfer using a wire or ACH, which can mean it takes a little longer to arrive compared to some of the options we have outlined above. Once you initiate the transfer it will take a day or two to get your payment to OFX, and then another day or two, depending on the destination, for it to arrive with your recipient
How much does it cost to send money with OFX?
OFX does not charge a transfer fee, but there are likely to still be charges which are rolled up in the exchange rate that's offered for your transfer. Sending money abroad isn't free, so it's worth checking the rates available so you can understand where the fees are being applied. You'll also need to check whether your own or your recipient's bank may add their own charges for sending or receiving the wire or ACH payment in the first place.


Remitly
Remitly customers can send money for cash collection, to a recipient's bank or mobile money account, or even in some countries for home delivery. The time it takes for each service will vary, but cash collection and mobile money deposits are usually almost instant. Payments which are sent to the recipient's bank account may also be available within minutes depending on the payment method and destination.
How much does it cost to send money with Remitly?
The price you'll pay with Remitly will depend on the service you select. There are also Express and Economy options which let you choose to pay an extra fee for a quicker service in some cases. It's worth checking the exchange rates available, and comparing them with a few providers to make sure you get the best option out there for your transfer.

Western Union
Western Union is one of the most famous names in international payments, with a long history and broad service area. You can send money online or by visiting an agent near you, and have the payment delivered to a bank account or picked up in cash. When you set up your payment you'll be able to see the payment and delivery options available. Sending a transfer for cash collection using the Money in Minutes service - or transferring to someone's mobile money account - is normally the fastest route
How much does it cost to send money with Western Union?
Costs vary depending on which service you select. Model your payment online to see the range of options - although it's worth noting that there may be different fees and exchange rates available if you'd prefer to pay in person at an agent location. Western Union also makes money from currency exchange, which means you can expect to find a markup added to the exchange rate applied for your transfer.