How to Transfer Money with InstaReM: A Beginners Guide
Need to know how to transfer money overseas with InstaRem but confused? We have the answers you need in one article.
We understand that it can sometimes feel overwhelming for you to choose a money transfer service. To help you avoid that, let's simplify things for you. Read on to discover:
How do I transfer money with InstaReM?
It's easy to transfer money with InstaReM. They have an easy to navigate website and app and are transparent with their information and language when you sign up.
We've laid out the steps below for you to open an account and complete your transfer with InstaReM.
Step 1 - Register to open an account
Firstly you'll need to set up an account. To do this, simply google InstaReM or visit here to sign up. You will need to choose an Individual or Business account to open to transfer funds.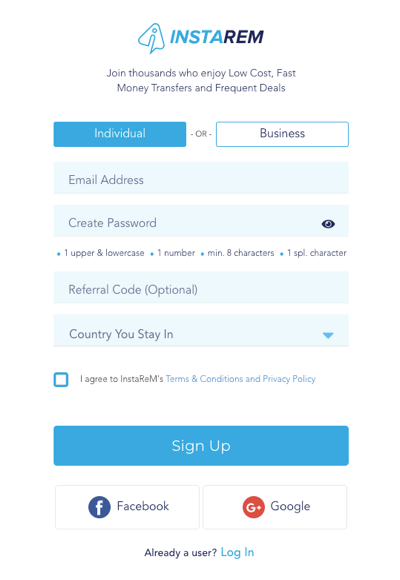 Step 2 - Enter personal details
When registering, you will need to input some personal details about yourself, including:
Name
Email
Date of birth
ID - Passport or Driver's License
Proof of address
Employment status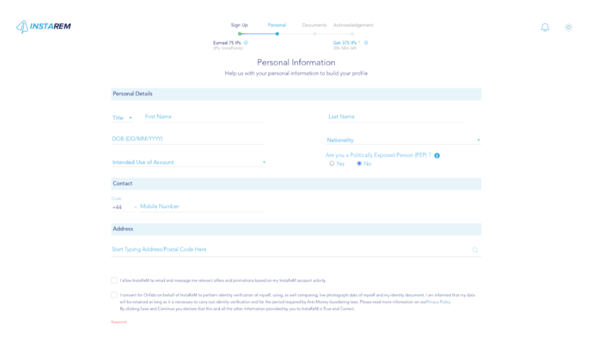 InstaReM will approve your account in 36 hours after you have entered and uploaded the above details. Following approval, your account is ready to go!
You can now send money internationally.
Step 4 - Setting up your international money transfer
Sign into your InstaReM account and enter the following details:
Your bank details
Your recipient's bank details
How much you wish to send
How much you wish your recipient to receive
Your currency route e.g. GBP-AUD
How to you wish to pay e.g. debit card, bank transfer and credit card
Tip: Bank transfer always takes longer, so if you are looking to utilise InstaReM's fast transfer process, we recommend you use your debit card.
You will then have the chance to to view all of the details of your transfer before proceeding. Make sure you're happy with:
Exchange rate
Transfer fee
How much you are being charged
How much your recipient is getting
Estimate time to complete transfer
InstaReM sources their exchange rates from Reuters and offers a zero-margin Fx rate on money transfers with certain currencies. This means that no mark-up to the exchange rate is applied, so you get the best rate possible when you send money with your chosen currency exchange.
Instead, InstaReM charges a percentage transfer fee ranging anywhere between 0.25-1% depending on the countries you're sending to and from and the method of payment. You can see this when organising your international money transfer.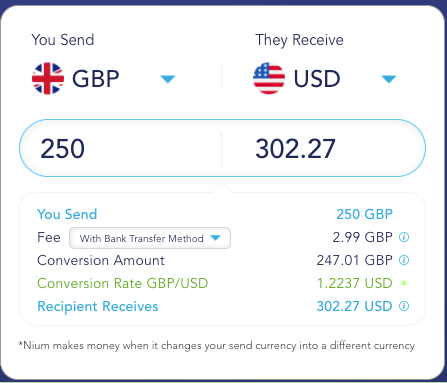 Note: This fee is sometimes removed if you're transferring over a particular amount or transferring within certain currency routes, making larger transactions more cost-effective for you as the customer.
Use our comparison tool to see if you can find a better deal on your money transfer.
Using InstaReM, you will be able to send money to or from 54 countries in total, although not all are available in both directions.
It's important you know your currency transfer route is supported before your sign up. To help, we've listed all of the supported countries for you.
You can send money from these countries:
Australia
Singapore
Hong Kong
Malaysia
Euro Zone
UK
India
Canada
US
You can send money to these countries:
Asia: Bangladesh, China, Hong Kong, India, Indonesia, Japan, Malaysia, Nepal, Pakistan, Philippines, Singapore, South Korea, Sri Lanka, Thailand, Vietnam
Europe: Austria, Belgium, Bulgaria, Croatia, Cyprus, Czech Republic, Denmark, Estonia, Finland, France, Germany, Greece, Hungary, Ireland, Italy, Latvia, Lithuania, Luxembourg, Malta, Monaco, Netherlands, Norway, Poland, Portugal, Romania, San Marino, Slovakia, Slovenia, Spain, Sweden, United Kingdom
North America: USA, Canada, Mexico
South America: Argentina, Chile, Colombia, Peru
Oceania: Australia
Transfer methods and restrictions
Transfer limits on currencies with InstaReM
With some currencies, you will also have transfer limits applied.
Generally, minimum transfer amounts are applied to most supported currencies with InstaReM and differ for Individual and Business accounts. Some popular currencies have individual limits such as:
UK and Europe: £200/€200
US and Canada: $50
Australia: $200
Maximum transfer amounts are only applied to a few currencies with most other supported currencies not having a maximum transfer amount. The main currencies this applies to are:
US: $1500. Note, this is only applied when you choose to transfer via ACH Pull Method. There is no limit applied to a bank transfer or bank wire transfer.
Malaysia: MYR 30,000
India: $5000 USD
Canada: $3000 per day
Read here for the full list of money transfer restrictions, both for the outward and inward flow of remittance.
What different payment methods does InstaReM support?
You have various methods of payment when organising your transfer with InstaReM.
You can organise your transfer using:
Electronic Funds Transfer (EFT), otherwise known as a bank transfer or wire transfer (open to everyone globally)
ACH Pull Method (US only). A payment transfer that goes through the Automated Clearing House Network
POLi (Australia only)
Debit Card (EU only)
PX (Malaysia only)
Note: InstaReM does not support money transfers with credit cards.
How long does it take to transfer money with InstaReM?
InstaReM has an excellent banking network and it's due to these relationships that InstaReM can market their faster transfer times. InstaReM say they can complete your transfer between 1-2 business days, which is quicker than the average time of other transfer providers.
Of course, this is always an estimate because it requires banks on the receiving end to approve the incoming transfer, which is something InstaReM has no control over.
If you want to use InstaReM, they are completely safe and secure when transferring your money. With a great rating on TrustPilot (4.4 out of 5 stars), it is a reliable provider to look after your money transfer.
See their full list of licenses here.
How does InstaReM place with competitors?
Sending money with InstaReM is a good option as they stack up well against other competitive transfer services. Although potentially newer to the UK and US markets than others such as Wise or Revolut, charges are minimal and they have a great reputation based on strong customer service, a simple interface and competitive offerings.
Where InstaReM are really strong are:
Transferring money to or from 50+ currencies
Great TrustPilot rating - 4.4 out of 5 stars
Individual and business accounts
Zero margin exchange fees on certain currencies
Fast transfer - normally 1-2 business days
Great customer support
Where InstaReM falls behind is:
Not a highly used app - the likes of Wise do well because they have easy accessibility and a high level of trust from users through their app
Margin applied on some currencies as well as transfer fees
Some minimum and maximum limits applied to currencies when transferring money
Not all countries are supported and depends where you are sending from. Supports less currencies than other transfer services.
We hope you now have all the information you need to transfer money safely and securely with InstaReM. Happy exchanging!
Finally if you're looking for alternatives, why not have a look at our 5 Alternatives to InstaReM.