How International Bank Wires Work: Rates, Fees, and Transfer Times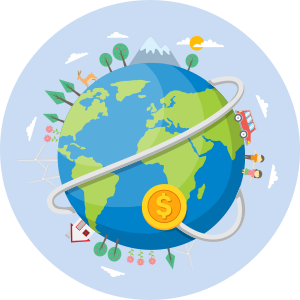 So, you want to send money to friends, family or someone else who lives overseas? Fortunately, when transferring your hard earned cash abroad, you've got plenty of options. One of the most popular is through an "International Wire Transfer." This is a specialist service offered by most banks that gives you a simple, safe and convenient way to send money overseas.
Wire transfers let you send thousands of dollars, or equivalent, to almost any other bank account in the world. Here's how you send an international wire transfer through your bank:
Set up a wire transfer online by nominating which account the money will come from
Enter the bank details of your person or company you want to wire the money to
Make sure you check and confirm the details including the currency and amount you're sending
That's it. The bank will debit your account for the US dollars and wire the foreign currency overseas
There's just one catch. International wire transfers through your bank are expensive—really expensive.
With high fixed fees and poor exchange rates, your money isn't going to go as far as you think. Once your bank has taken their cut, that means far less money for your recipient.
Fortunately, you have alternatives and by the time we're done, you'll understand the best and cheapest ways to wire money internationally.
Here's what you'll find in this article:
What is an international wire transfer?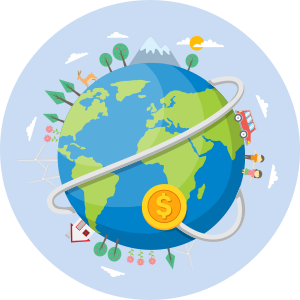 An international wire transfer is a service offered by almost every bank that lets you send money from your bank account to a recipient's bank account elsewhere in the world.
You can normally create an international wire transfer through your online banking services, enter the details of the person who will receive the funds, then pay for your transfer. Your bank takes care of processing the transfer then routes it to the recipient who receives the funds in their account.
International wire transfers are normally made using an international standard known as SWIFT—Society for Worldwide Interbank Financial Transactions. SWIFT allows money to travel between banks on the SWIFT network. It gives every bank a unique identifier that you can use to ensure your transfer gets to the intended recipient. So far, so good.
The Best international wire transfer services
If you just want to know the fastest, easiest and cheapest ways to send money overseas, we recommend using a specialist money transfer service. They give you all the benefits of an international wire transfer—speed, safety, security and convenience—without the high fees that banks will charge. Depending on how much you're sending and where you're sending the money, we recommend:
Remitly: US based online service that offers international wire transfers for a small fee
Wise (formerly TransferWise): One of the most popular currency exchange providers in the world with low, transparent fees, especially for smaller amounts but can also offer good fee discounts for large transfers.
WorldRemit: A great choice for sending amounts less than US$10,000, especially good for Asia, Africa and South America
Xe: A reliable service with no upfront fees
Revolut: A great choice for sending money to friends and family overseas
OFX: A specialist foreign exchange service with superb customer service
Are International wire transfers safe?
International wire transfers are normally very safe. Providing you have the right recipient details and you're using established banks, your money should arrive safely at its destination. Once the money arrives in the recipient's account, it is normally as "Cleared Funds." This means the recipient should be able to access and use the funds immediately.
It's rare for wire transfers to hit problems, but it does happen. If a hacker or thief gets access to the recipient's account, they could potentially receive the funds then immediately withdraw them or send them elsewhere. If you're wiring large amounts, it's worth talking to the recipient to get extra security in place for the transfer and for the recipient to double check no one else has access to their bank account.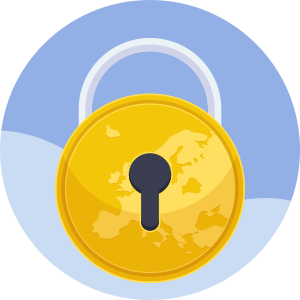 When is a wire transfer not a wire transfer?
Generally, an international wire transfer refers to sending money directly between banks, but that's not always the case. When someone asks you to wire them money, they may be referring to using a bank, or they may not mind how they get the money, so long as they have access to the funds. If that's the case, you have a good alternative—specialist currency exchange providers.
These are businesses that focus on converting money between currencies and getting it to the recipient in a fast and safe way. Even better, these types of money transfer businesses often have much lower fees than the banks. We'll get into that a little bit later.
Your best options for sending an international wire transfer
You've got four main options for sending an international wire transfer:
Through your bank's online banking services
In person at a bank branch
Over the phone by calling your bank
Via a specialist money transfer service
Let's get into it.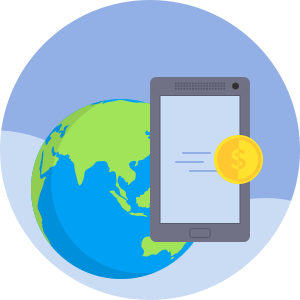 Send an international wire online through your banking portal
Start by logging into your banking software through your bank's website. Once you're there, look for a section on making international money transfers. If you can't find it, check the "Help" section on the bank's website or give customer service a call.
Once you've done that, check how much you can send. Some banks put daily or monthly limits on your transfer amounts. Next, you'll want to setup the details of the person receiving the funds. We'll let you know what those are below. Choose how much you want to send and the currency you want to exchange money into.
Your bank will then tell you how much they'll charge for the transfer and your exchange rate. U.S. banks typically charge fixed fees of between US$30-50 and you'll also get a worse exchange rate than you might elsewhere. Overall, expect to pay around 5-7% more for a transfer than through a specialist provider. Confirm how you want to pay for your transfer, this will typically be directly from your bank account.
Finally, check all of the details are correct, especially the recipient details. Once that's done, confirm your transfer and the bank will process your money and send it to your recipient.
Send an international wire in person at a bank branch
Some banks may require you to visit a branch. You'll need to bring along your banking details and identification, together with details of the recipient.
In-branch transfers are similar to online transfers, except you'll be providing the details to another person instead of filling in a form online. You'll go through the same process for transfer limits, recipient details, fees and exchange rates, funding your transfer and final confirmation.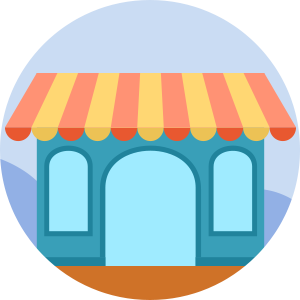 Send an international transfer over the phone
Some banks let you contact their call-center to make an international wire transfer. These work in a similar way to in-branch transfers, and you'll just need to follow the instructions of the customer service agent.
Use a specialist international money transfer company
Our recommended option is to use a company that specializes in international currency exchange. These businesses are focussed on helping you send money overseas quickly, safely, and cheaply.
Using a currency transfer provider is fast and simple. You'll need to create an account, but once you've done that you can start sending money in fewer than 24 hours. You normally have multiple ways to pay including directly from your bank account or with a credit or debit card. Specialist providers are fully regulated, and, in many cases, the recipient can get money directly into their bank account, pick it up as cash, or take advantage of other ways of accessing their funds.
You can review different international money transfer providers, and choose the best for your needs. Some stand out for their speed, or lower costs and some are known for faster transfers:
The recipient information you'll need to make a wire transfer
You'll need to provide information about the final recipient of your funds. Details you'll need to provide typically include:
Their bank's name and address
Their bank's SWIFT code (normally available from the destination bank's website)
Your recipient's name and address
Your recipient's bank account details, including routing number / sort code and account number
You may also need to provide an International Bank Account Number (IBAN) or a bank identifier code (BIC)
In some cases, you can also provide a short message to the recipient
International wire transfer fees from the big U.S. banks
We warned you above about the high fees that U.S. banks charge for international wire transfers. These fees do vary depending on if you make a transfer online, in a branch or over the phone. Here are the typical ranges of fees for the most popular U.S. banks:
Bank of America: $35 to $45 per wire transfer.
Chase: $40 to $50 per wire transfer.
Citibank: $35 to $45 per wire transfer.
US Bank: $50 per wire transfer.
Wells Fargo: $30 to $45 per wire transfer.
That's not the only fee you'll pay. Banks hide other fees in the exchange rate they offer.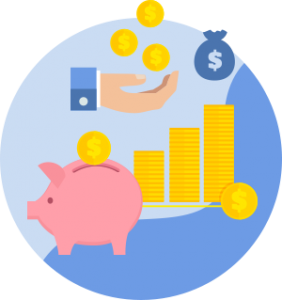 International wire exchange rates from U.S. banks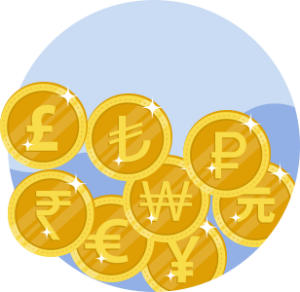 Many U.S. banks provide worse exchange rates than the base exchange rate, typically between 2-4% worse than you might get elsewhere.
Combine the wire transfer fees with the exchange rate, and you could be overpaying for your transfer by around 5-7%. So on a $1,000 USD transfer, you'll pay US$50-70 in wire transfer and exchange rate costs.
Other Fees for making an international wire transfer
If you think you're done with fees, we're sorry, but you're not. There are likely to be some other payments that will be charged to the amount you're transferring. These charges come from intermediate banks and the recipient's destination bank.
Intermediate banks are the bank systems your international wire transfer will pass through on the way to the destination bank. Each intermediate bank will take their cut, typically of around $10 - $20. Finally, the destination bank will often charge an incoming wire fee to deposit money in the recipient's account. This also typically runs to $10 - $20.
How long international wire transfers take
The speed of an international wire transfer varies depending on the countries and countries you're sending money between, when you send the transfer and some other factors. Typically, an international wire transfer will arrive at the destination bank between 2 and 4 business days after its sent. For more information, check out: How long it takes to wire money overseas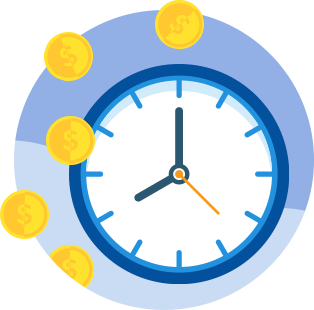 International wire transfer limits
Some U.S. banks put limits on the total amount you can send in a transfer, in a day or over another period of time. These vary widely between banks and you can find your transfer limits by logging into your banking software or by calling customer service.
Wiring large amounts of money internationally
The best ways to send a large amount of money depends on several factors:
The countries and currencies that you're sending money between.
How you're paying for the transfer, as some methods cost more.
The fees and exchange rates charged by the bank or provider you're using.
How the beneficiary wants to get their money.
When you take all of this into account, the best and cheapest way to send money overseas is by using a money transfer service. For amounts of less than $20,000, that provider is likely to be Wise (formerly known as TransferWise). They offer a fast, secure, transparent, and cheap money transfer service. For larger amounts, OFX is a good choice. They're a specialized money transfer service with good rates the more you're sending.
Related: The Best Ways to Send a Large Amount of Money Overseas
Receiving a wire transfer from overseas
If you want to receive money from overseas, you'll need to provide the sender with your bank's details, your name and address and your bank account information. Remember that the transfer will take a few days to get to you and that you may need to pay an incoming wire fee.
Related: How to Safely Receive Money into the US from Overseas
The final verdict on wire transfers
Well, this has been an epic journey! Let's bring things together with some final recommendations.
Wiring money overseas with your bank
If you're going to use your bank, make sure you understand exactly what the fees and exchange rates will be. There's not really a "best" bank for international wire transfers, as they'll all charge between $30-50.
To help your money go further, send larger amounts of money so the fixed fee won't take up as much of the total amount. Alternatively, try an online money transfer service.
Wiring money overseas with a money transfer service
Sending money with an international money transfer service is fast, easy and less expensive than the banks. If you're sending money overseas, you can't go wrong with Wise (formerly TransferWise), and if you're sending large transfer, then OFX can be a good choice.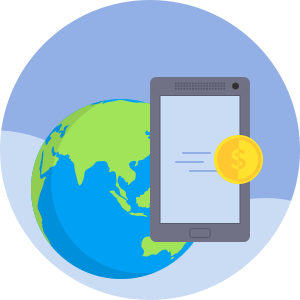 Your currency knowledge centre
How to Easily Receive Money from Overseas
There are 4 main ways most people receive money from overseas. Find out the most common fees, exchange rates and money traps to avoid.
Should You Use Wise (formerly known as TransferWise) to Wire Money Overseas?
Our most comprehensive look at one of the most popular money transfer companies. All the information you need to make the right decision.
International Money Transfer Comparison and Reviews
Doing an international money transfer with your bank can cost you a lot more than its worth. Find out how to transfer funds internationally without paying too much.