6 Best Money Transfer Services To Send Money Internationally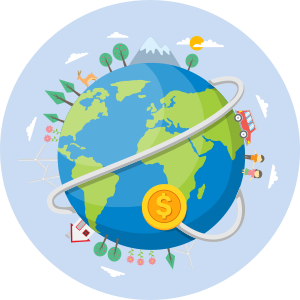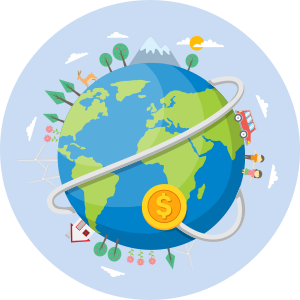 Finding the best money transfer services in the US can be challenging. Especially when transfer fees and charges to various worldwide destinations aren't obvious.  Don't worry, we've done the hard work for you and shared the top companies below, together with a quick overview and their advantages and disadvantages. We reviewed over 30 banks and online money transfer companies to give you our list of the best service to send money overseas.
List of categories for the best global money transfer services

Best overall online international money transfer company
With a 9.1/10 rating on TrustPilot and positive reviews, TransferWise is a strong service for online money transfers. It's a great option if you want a hassle-free and low cost way to send money overseas. They offer an easy to use online service and mobile app and are ideal for sorting out your international money transfer straight away.
TransferWise also offers you the best exchange rates — identical to the base, interbank rate. They then charge a small, percentage-based service fee. In comparison after comparison, TransferWise are either the top, or in the top three best priced currency exchange company.
It's very fast and easy to create an account.
Their service charge is low, fees and pricing are transparent.
You can pay via bank transfer, credit or debit card.
There's no minimum transfer size.
Can't pay for your transfer via cash or cheque.
There's limited customer support, interact only by email or through their website.
If you're transferring over $40,000, their service charge can make them less competitive.
They don't support all global currencies.

Best fee free money transfer service
After 20 years, OFX is one of the oldest money transfer companies and they have the expertise to go with it. OFX pride themselves on trying to take the mystery out of foreign exchange and offering rates that are better than the banks. They do transfers from over 190 countries in more than 55 currencies, but are especially good for sending money to the UK or Australia. OFX recently removed all flat fees for US customers and only make money from currency exchange rates.
Well-established brand and safe service.
No flat fees for US customers.
Their rates are often better than the banks, especially for larger transfers.
24/7 phone support.
They have a minimum transfer amount of $150 for single and $250 for recurring transfers.
Receiving or intermediary banks may charge fees on transactions.

Best money transfer exchange rates
As we've suggested, TransferWise gives you the most competitive exchange rates of all, because the rates they offer are identical to the base or market exchange rate. In other words, you won't find a better exchange rate anywhere, which is awesome.
Instead of offering you a bad exchange rate, TransferWise simply charge a small, percentage-based service fee. Even with this fee though, they're consistently better priced than pretty much any other international money transfer service.
They offer the best exchange rates available.
It's very fast and easy to create an account.
They're loved by customers, scoring 9.1/10 on Trustpilot.
You can pay via bank transfer, credit or debit card.
There's no minimum transfer size.
Can't pay for your transfer via cash or cheque.
There's limited customer support, interact only by email or through their website.
If you're transferring over $40,000, their service charge can make them less competitive.
They don't support all global currencies.

Best instant funds transfer company
WorldRemit is an online money transfer company that focuses on remittances. They're especially good for transfers to countries like India, Vietnam and the Philippines, and regions in other parts of Asia, Africa and South America.
Two million users online use WorldRemit and they pride themselves on being able to transfer money quickly and conveniently.
Website is easy to use, and you can set up an account very quickly.
WorldRemit has competitive rates, and a lot of the time these will be better than what you'd find a your bank.
They don't have a minimum amount you can transfer.
24/7 support available in nearly 20 countries worldwide.
Can easily get an accurate quote for your transfer using their online calculator.
Maximum transfer size of $10,000 and is even lower for some currencies.
Don't offer support for businesses.
Their transfer fee is not fixed, so it can change between different currencies.
WorldRemit are unable to offer financial advice.
Not all transfer methods are available in all countries. For example, there's no cash pick up when you send money to India.

Safest money transfer company
Currencies Direct has been around since 1996, so they know a thing or two about sending money overseas! Not only are they a well-established brand, they are also one of the biggest and most trusted international money transfer companies with a 4.8/5 rating on TrustPilot. They are completely regulated and have correct licenses in every country they operate in.
In addition to their money transfer service, Currencies Direct offers a wealth of reliable information on exchange rates, including currency price history, news and more. Currencies Direct don't charge a fee for sending money, instead they make a profit by offering you a slightly worse exchange rate than the base rate.
Currencies are part of a larger global conglomerate of money transfer services
No additional fees for sending money overseas.
There's no minimum transfer amount.
Excellent online, phone and email support
Their website is quick and easy to use.
You can't pay for your transfer using a card, cash or a cheque.
You can't use them if you live in Arkansas, Alaska, Arizona, Colorado, Iowa, Maine, Ohio, Oklahoma, Vermont, Washington or West Virginia, because they don't have licences for these states.
They don't support all global currencies.

Best bank for international money transfers
CitiBank is your best choice to exchange currency if you want to make an international wire transfer through a bank. Even though their fixed fee ($25) for a transfer is higher than many competitors, they offer much better exchange rates than other banks. This means that as long as you're transferring a decent amount (say, more than $1,000 USD) your money will go further than with most other high street banks.
While banks can be convenient, we still suggest you look at alternatives, so you can save money.
It's easy to send money internationally to another bank account or to Citibank accounts.
CitiBank offers competitive exchange rates, compared to other banks.
CitiBank charges a relatively high, fixed fee of $25 for most international money transfers.
Transfers can take up to five days for processing and receipt.
FAQs
The money transfer companies that offer the mid market rate are the ones that have the best exchange rate. These companies typically also charge a service fee so depending on how much you are sending, they might not be the cheapest option. Click here to compare the exchange rates, fees and total costs of safe and reputable money transfer companies.
Unfortunately there isn't one money transfer service that is always the cheapest. It really depends on what currency you are sending, how much you are sending and how the person in the other country is going to receive it. To compare your options and find a cheap option, click here.
Using a money transfer service usually involves 3 steps:
Setting up your account. Make sure you have some I.D. handy as most services will ask for something to identify you
Entering the details of the person you are sending the money to
Paying the money transfer service for your transfer
Once you've paid for your international money transfer, the money is sent overseas.
There are several factors that affect how long it takes for money to reach your recipient. It can take anywhere between 2 minutes and 2 weeks but most international wire transfers are completed in 2-3 days. To find out more, click here.
Most online companies do. When you have an account with any of the online money transfer services highlighted above, you can make transfers through their website, or via their iOS Apple and Android apps. However, some are easier to use than others. Click here to learn more about the best money transfer apps.
Your currency knowledge centre
How to Easily Receive Money from Overseas
There are 3 main ways most people receive money from overseas. Find out the most common fees, exchange rates and money traps to avoid.
International Money Transfer Comparison and Reviews
Doing an international money transfer with your bank can cost you a lot more than its worth. By the end of this article, you'll find out how to transfer funds internationally without paying too much.
International Bank Wires: Your Best Options in 2019 Compared
Wire transfers let you send thousands of dollars, to almost any other bank account in the world. There's just one catch. Transfers through your bank are expensive—really expensive.
General advice: The information on this site is of a general nature only. It does not take your specific needs or circumstances into consideration. You should look at your own personal situation and requirements before making any financial decisions.