Navy Federal International Wire Transfer: Fees, Rates and Transfer Time
Navy Federal was founded in 1933 to meet the needs of members of the military, veterans, DoD employees and their families. These days, Navy Federal is one of the biggest credit unions in the US with 10 million member-owners, and offers a broad range of services to individuals and business owners.
You can make international payments with Navy Federal - but it may not be the fastest or cheapest way to get your money where it needs to go.
This full review covers everything you need to know about Navy Federal international transfers, and also introduces some alternatives, such as Wise or WorldRemit to consider which may be less expensive and more convenient to use.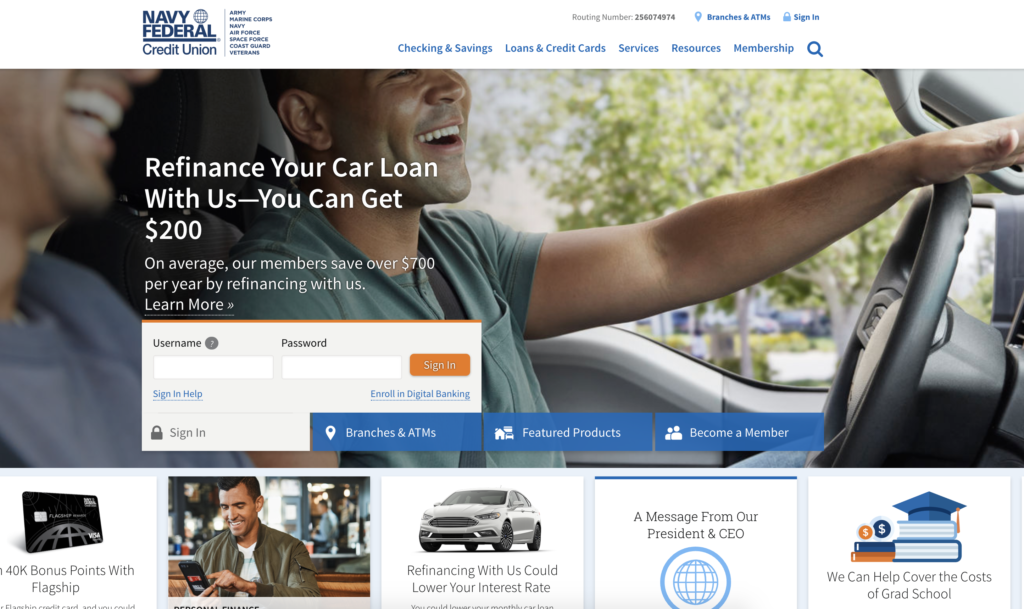 A cost example - sending $1,000 from the US to Canada
Before we do anything else, let's see how much it would cost to send a hypothetical transfer of $1,000 in USD to Canada. 
| | | |
| --- | --- | --- |
| Provider | Total cost | Transfer time |
| Navy Federal Credit Union | 25 USD + exchange rate markup + other costs/commissions | 5 - 7 working days |
| Wise | 9.18 USD | Instant - 2 working days |
| WorldRemit | 3.99 USD + exchange rate markup | 2 - 3 working days |
| OFX | Free + exchange rate markup | 1-2 working days |
Key info on transferring money overseas with Navy Federal
Transfer fees:

25 USD + exchange rate markup + potential third party fees

Speed of transfer:

5 - 7 business days 

Transfer maximum:

May depend on account type and destination country - payments over 5,000 USD in value must be confirmed in writing

Safety:

Covered by National Credit Union Administration (NCUA), deposits are insured to 250,000 USD/depositor
Navy Federal international wire transfer fees
The exact fees you'll pay when you send an international transfer with Navy Federal may vary depending on the details of the transfer - do double check the costs before you confirm your transfer.
| | |
| --- | --- |
| Service | Navy Federal fee |
| Make an international transfer  | 25 USD |
| Receive an international transfer | Free |
Navy Federal exchange rates
Navy Federal works with a dedicated correspondent bank - usually Wells Fargo - to arrange international payments. The correspondent bank will set the exchange rate used, which won't be the same as the rate you see on Google or in a currency converter. 
The rate you get from a Google search is known as the mid-market exchange rate. This is the rate banks get when they buy currency themselves. However the mid-market rate is seldom passed on to customers. Instead banks and other currency services typically add a markup - an extra fee - onto the mid-market rate to calculate the rate they offer their customers.
Here's what Navy Federal says about the exchange rates available when sending money overseas:
"Navy Federal partners with our dedicated correspondent bank to provide exchange rates for converting funds. This rate factors the cost of exchanging the funds in addition to the actual exchange rate."
Navy Federal additional fees
When you complete an international payment request form for Navy Federal, you'll see a note advising you that the recipient bank may impose their own fees. These will be deducted from the transfer before it is deposited in the recipient's account.
Charges from third parties - like intermediary banks, or the recipient's own bank - usually appear when transfers are processed using the SWIFT network. The SWIFT payment system is used by most banks and credit unions to arrange international transfers. It's reliable and safe, but can also be expensive and slow, because each transfer involves up to 3 separate banks working in partnership to move the money. These intermediary banks - also known as correspondents - can deduct processing fees for the part they play in setting up the payment.
Navy Federal is not a member of the SWIFT network itself, but instead works through a partnership with Wells Fargo to access the SWIFT payment system.
Need a cheaper alternative?
Using a regular bank or credit union to process an international wire might not be the cheapest - or most convenient - option available. Here are a few alternatives you may want to compare to Navy Federal before you get started:
How to make an international transfer with Navy Federal
You can initiate an international transfer with Navy Federal in any of the following ways:
Complete the request form, send through online banking, and await a call back to confirm the transfer
Visit your local Navy Federal branch - check the branch offers international transfer services first
Call on 1-888-842-6328
Complete the request form and fax it to Navy Federal on 703-255-7739
Mail the completed request form to Navy Federal
If you're sending a payment of over 5,000 USD you must confirm it in writing by sending your request form by secure message, mail or fax - or you can visit a branch to set up your transfer instead.
The international payment request form is available on the Navy Federal website or online banking service, and can be downloaded or printed and completed in hard copy. 
How long does an international money transfer with Navy Federal take?
International wire transfers with Navy Federal take 5 to 7 business days to arrive. The exact delivery time will depend on where you're sending money to, and the processes in place at the recipient's own bank.
Can the transfers be sped up?
Navy Federal doesn't have an express payment service which can get your money moving faster. If you need to make an urgent payment, an alternative provider may make a better choice.
Need a faster alternative?
Specialist international payment services can often provide a faster service compared to regular banks and credit unions. Let's take a look at a few alternative options.
Wise: p

ayments can be instant - most arrive in 24 hours or less

TorFX:  s

ame day for major currencies, 2 working days for exotic currencies

OFX:

1 - 3 days

Remitly:

express payments can be deposited in minutes, Economy payments take longer

WorldRemit:

1 - 2 days

Western Union (for cash collection):

Usually instant
Pros and cons of transferring money abroad with Navy Federal
Pros:
Familiar and secure service

Initiate your payment online or by phone

Members who prefer an in-branch service can get help in person

Send money all around the world for the same fee
Cons:
High transfer fee

Exchange rates include a markup

Your money may take 5-7 business days to arrive

You can't complete the entire payment process online - you need to await a call back from a team member to confirm the transaction
What information do you need to make an international transfer with Navy Federal?
To complete the international transfer request form you'll need the following information:
Your name, address and account number

Your recipient's name and address

Your recipient's account type, account number, and IBAN/CLABE

Your recipient's bank's name, address, and SWIFT/BIC code

Correspondent or intermediary bank routing information if applicable

Transfer amount and currency

Whether the payment is to an account in your own name, or to a third party
Navy Federal may be obliged to check your identity for some types of transfer - in this case you'll be asked to provide ID documents like a driving license, and your payment may be delayed pending verification.
A note on Navy Federal and SWIFT
If you're expecting to receive an international payment into your Navy Federal account, the sender may request Navy Federal's SWIFT code. SWIFT codes are unique codes assigned to individual banks, and used to guide a transfer to the right bank or other financial institution. 
Navy Federal is not a member of the SWIFT payment network, but instead uses correspondent banks to process payments. That means that if you're getting paid from overseas you'll need to ask the sender to instruct their bank to use a correspondent bank to facilitate the payment into your Navy Federal account.
Navy Federal international business transfers
Navy Federal has several different business checking accounts, as well as savings accounts, credit cards and loans. The key business checking accounts on offer are:
Business Checking

Business Plus Checking

Business Premium Checking
These accounts are aimed at different business stages. The basic business checking account is perfect for new businesses, with no monthly fee to pay. The Business Plus Checking account is aimed at growing businesses with steady banking activity. You'll pay a monthly fee of 8 USD, but can add unlimited signers to the account.
Finally, the Business Premium Checking account is for mature businesses, with a monthly fee of 20 USD you can avoid by hitting a minimum daily balance of 5,000 USD.
Navy Federal business transfer fees
The final fee you pay to send or receive money through your Navy Federal business account may vary based on the account type, payment and destination country. Exchange rate markups and third party charges may also apply. Here's a rundown of the key Navy Federal international business transfer fees you should know about:
| | |
| --- | --- |
| Service | Navy Federal business fee |
| Make an international wire transfer  | 25 USD |
| International cash transfer | 14.50 USD |
| Western Union Quick Collect | 12.95 USD |
| Receive an international transfer | Free |
Transfer limits and available countries
The amount of money you can send through Navy Federal may depend on the type of account you have and the destination country. Any payment over 5,000 USD in value must be submitted in writing - and Navy Federal may need to see proof of identity to process the payment.
Transfers can be made to a broad range of countries around the world, with the exception of a handful of sanctioned countries where payments are not permitted.
Navy Federal contact information
Here's how you can get in touch with Navy Federal if you need help with your international transfer:
Phone support

Personal banking

: 1-888-842-6328

Business banking: 1-877-418-1462

In person service

Visit a local branch for face to face help

Online banking

Log into your account and send a secure message

Chat or social media

Connect on Facebook or Twitter, or through the chat service offered online and in mobile banking

Mail

Navy Federal

P.O. Box 3000

Merrifield, VA  22119-3000
Is Navy Federal right for you?
Sending an international transfer with Navy Federal is a familiar and secure way to make your payment. You'll also be able to get face to face service in a branch if you want to. However, it's worth being aware of the delivery times which can be up to 7 business days. The fees are on the high side too, at 25 USD plus an exchange rate markup.
If you'd prefer to send a transfer online, using a specialist service may be cheaper and more convenient as you'll be able to set up the entire transfer on your laptop or mobile device. 
Choosing the right provider for your international transfer comes down to your personal preferences and the specifics of the payment you need to make. Compare a few options before you get started to make sure you get the best available deal for your specific needs
FAQs
Chase only offers the option to set up international wires to bank accounts.
Sending money abroad? Compare exchange rates and fees