TD Bank International Wire Transfer: Fees, Rates and Transfer Time
If you live on the East Coast of the United States, you're probably familiar with the green TD Bank logo. With over $440 billion in assets and operations in 15 states and Washington D.C., it is one of the 10 largest banks in the United States in terms of total deposits. Even though approximately 9.6 million customers rely on TD Bank, they may not be the best option for international transfers. 
This article will provide you with everything you need to know about TD Bank international transfers, including how much is costs, how long it takes and how to make a transfer abroad with TD Bank. 
Plus, we will also look at some less expensive, easier to use, and faster alternatives such as Wise or WorldRemit.
So, let's get started.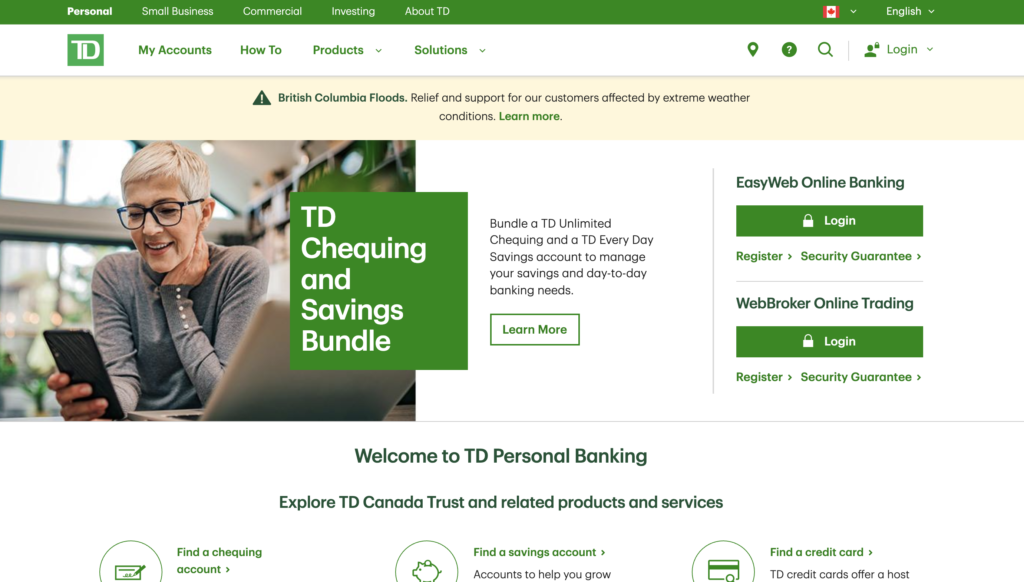 A cost example - sending $1,000 from the US to Canada
As a subsidiary of a Canadian bank, you might think TD Bank would be the best bank for sending money from the US to Canada.
Let's take a closer look and break down the costs. When it comes to international money transfer, you need to look at the total cost of your transaction. That implies the standard fee the banks have, plus the exchange rate mark-up. This can be calculated by comparing the rate the bank offers you with the mid-market rate, the same one you see on Google or XE.
| | | |
| --- | --- | --- |
| Provider | Transfer time | Total cost |
| TD Bank | 3-5 business days | 50 USD + exchange rate markup |
| Wise | instant - 2 working days | $6.65 |
| WorldRemit | up to 2 working days | $2.99 + exchange rate markup |
| OFX | 1-2 working days | $5 + exchange rate markup |
*rates 30th November
As you'll have seen from the table, sending money internationally with TD bank can be more expensive and can take longer than with other providers.
Usually, banks and providers add a mark-up to the offered exchange rate, or there may be unexpected commissions from third party financial institutions involved in your international money transfer. All these can only make transferring money abroad more expensive for you. 
Comparing more providers when you send money abroad should give you the best option for your international money transfer needs. 
For example, Wise is one of the few providers in this table that transparently shows the full fees for the comparison and uses the mid-market exchange rate, the one you also see on Google, with no mark-up added.
Key info on transferring money overseas with TD Bank
Transfer fees:

$50 at a branch office

Speed of transfer

: 3-5 business days

Transfer maximum: no maximum, amounts over $10,000 have to be reported to the IRS
Safety:

uses the SWIFT network, must be initiated in person at a local branch

.
TD Bank international wire transfer fees
| | |
| --- | --- |
| Incoming wire | $15.00 |
| Outgoing wire | $50.00 |
There may be additional costs such as fees charged by intermediary banks or fees charged to the recipient when they receive their funds.
| | |
| --- | --- |
| Wire transfer | Fee |
| International transfer - online | $15 USD |
| International transfer - assisted (phone or branch) | $25 USD |
Remember that fees may vary depending on where you're sending money to, what type of account you have and other terms and conditions stipulated by the bank.
TD Bank exchange rates
TD Bank sets their own  foreign exchange rates,  different from what you may see on Google or XE. Here's what they say about it on their own website:
The buy or sell foreign currency rates provided by TD Bank are determined by several factors including foreign currency markets and the currency involved. TD Bank rates differ from market (Interbank) rates that you may see on search engines or sources like WSJ/Bloomberg due to the risks associated with holding currency inventories in branch and market fluctuations
This means your transfer may end up costing you more than anticipated. You really won't know what rates to expect unless you call or email ahead of time. Ultimately, the margin they add to the mid-market rate means your recipient will receive less. 
Most of the providers add a margin to the exchange rate offered to their clients but the percentage it's very important, as it determines the total amount your recipient gets.
There are also some providers, such as Wise, which use the real exchange rate and don't add any mark-ups to it. In exchange, they charge a low, transparent fee, which is always visible before you make the transaction. 
TD Bank additional fees
International wire transfers are carried out using the SWIFT network. This is a secure network established to standardize international financial transactions. With SWIFT, your money travels between countries, but it usually doesn't travel directly from sender to receiver. Often there are intermediary banks involved. With additional banks come additional fees. If your money has to go through these intermediary banks, they will levy their own fees in addition to the $50 charged by TD Bank. 
You might be able to choose whether you, the recipient, or a combination are responsible for paying them, but the fees can add up, making it an expensive way to transfer smaller amounts.
How long does an international money transfer with TD Bank take?
An international wire transfer is a payment made from your bank account to the recipient's bank account. These international transactions are typically made via the SWIFT network if you choose the services of a traditional bank. 
It takes about 3-5 business days for the transfer to go through with TD Bank.
TD Bank is not able to offer an expedited transfer option, as the money passes through various institutions beyond their control.
Need a faster alternative?
What if you need to send money quickly? A medical emergency, for example. Or a family member who needs money instantly. You won't want to wait five days for your loved ones to get the help they need. Here a few options that can get your money there faster:
Pros and cons of transferring money abroad with TD Bank
Pros:
Secure:

TD Bank is part of the SWIFT network. This is a secure, uniform way for banks worldwide to send and receive financial transaction.

Person-to-person:

If you have a good relationship with your banker, you might appreciate a visit to your local branch. You get to speak to someone face-to-face and get your questions answered immediately, rather than waiting for an email.

No minimum or maximum amount:

The fee is the same whether you transfer $500 or $5,000.

Convenient conversion:

TD Bank can take care of the currency conversion for you before sending your money. That way the recipient knows how much to expect.
Cons:
Price:

If you only need to send a small amount or you make frequent transfers, the fees can really add up.

No online option:

You have to visit a branch in person, meaning you can't really do a wire transfer while you're traveling.

Slow:

Transfers can take 3-5

business

days, which means weekends and holidays don't count.
How to make an international transfer with TD Bank
First of all, you have to be a TD Bank account holder. In order to initiate an international transfer, you'll have to visit your local TD Bank branch office. Before you send the money, you'll have a chance to review the fees and exchange rate. 
At the moment, it's not possible to make an international transfer online with TD Bank if you're a US customer.
What information do you need to make an international transfer with Charles Schwab Bank?
As the wire transfer has to be set up during a visit to your local branch, you'll need to show up with all the necessary details. 
Here's what you need:
BIC/SWIFT

IBAN or account number of the recipient

Recipient's full name

Recipient's address

Recipient bank's address
Additional information or fraud checks may be required. Make sure to check with your bank before you go.
TD Bank SWIFT code
NRTHUS33XXX
The SWIFT code is a unique identifying code assigned to TD Bank in order to facilitate financial transactions between institutions in the SWIFT network all over the world. This code is necessary to ensure your transfer makes it to the right location
TD Bank international business transfers
TD Bank offers international business transfers through their worldwide network of correspondent banks. Wire transfers can be made in US dollars or in foreign currency.
The fee schedule depends on what type of business account you hold. Fees may also vary depending on what country you're sending money to and the terms and conditions of your agreement. Some banks may even allow you to negotiate a more favorable rate or give you special discounts for being a long-term customer or initiating larger transactions.
TD Bank business transfer fees
| | | |
| --- | --- | --- |
| Service | Business Convenience Checking Plus | Business Premier Checking |
| Incoming wire (domestic and international) | $15.00 | $15.00 |
| Outgoing wire (domestic) | $30.00 | $25.00 |
| Outgoing wire (international) | $50, plus exchange rate, taxes and correspondent fee(s) | $40, plus exchange rate, taxes and correspondent fee(s) |
Can I open an account with TD Bank as a foreigner?
In short, yes. Though if you don't have a social security number, you won't be able to do it online. Without an SSN, you'll have to go in-person to a local branch.
To open a bank account with TD bank as a foreigner you'll need:
Passport

U.S. mailing address (bring a piece of mail as proof)
Transfer limits and available countries
TD Bank can handle transfers to the following countries: Aruba, Australia, Bahamas, Bahrain, Barbados, Benin, Bermuda, Botswana, Burkina Faso, Canada, Cayman Islands, Cote D'Ivoire, Czech Republic, Denmark, Egypt, Ethiopia, European Union, Georgia, Ghana, Guinea, Guinea-Bissau, Guyana, Haiti, Hong Kong, Hungary, India, Israel, Japan, Jordan, Kenya, Lebanon, Macao, Mali, Mauritius, Mexico, New Zealand, Nicaragua, Niger, Nigeria, Norway, Poland, Saudi Arabia, Senegal, Singapore, South Africa, Sweden, Switzerland, Taiwan, Togo, Trinidad and Tobago, Tunisia, Turkey, United Arab Emirates, United Kingdom, Uruguay, and Yemen.
Is TD Bank right for you?
TD Bank might be the right bank for you if you're located on the East Coast of the United States, as you would have to visit a branch office in person if you want to transfer money internationally. If you travel a lot or make frequent international transfers, you may want to explore other options. 
TD Bank is a secure option for sending money, but the fees incurred during a SWIFT transfer can add up quickly. Plus, on top of the $50 fee for the transfer, there's also an additional markup on the exchange rate if you need to send currency other than USD.
Domestic transfers are easier to handle online with TD Bank, but at the end of the day, you'll have to think about your individual needs when choosing a bank.
It's always worth comparing a range of providers before sending money overseas with a bank, as there are likely to be cheaper and quicker options available. Plus, solutions like Wise or WorldRemit that use the mid-market exchange rate are likely to get you a better deal.
FAQs
Depends where that account is located. If you are looking to send internationally, you'll have to visit a branch office to initiate an international wire transfer. You'll need the recipient's name and address and the receiving bank's address and BIC/SWIFT code. If you don't use online banking, then a domestic wire transfer would be done in the same way. For transfers within the United States, it's much easier to enroll in online banking and use Send Money with Zelle.
The base fee for an outgoing international wire transfer is $50. However, this doesn't take into account the exchange rate markup or any fees assessed by intermediary banks involved in the SWIFT transfer. Furthermore, the recipient may be charged an additional fee to receive a wire transfer.
An international transfer typically takes 3-5 business days, depending on the currency you're sending and the country you're sending to.
With TD Bank's online banking system, you can transfer between different TD accounts or from a TD account to your external accounts. For example, you can transfer between savings and checking to make funds available on your debit card. They also use Send Money with Zelle to make it quick and easy to pay or request payments from friends and acquaintances.
Sending money abroad? Compare exchange rates and fees