The Best Ways to Send a Large Amount of Money Overseas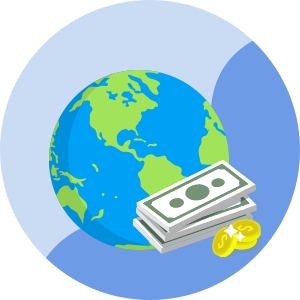 When it comes to sending large amounts of money to friends, family or others abroad, you've got plenty of choices. When you're looking for the best method for your international transfer, it's also important to understand how much you might be charged. Luckily, we've got the information you need.
When you take all of this into account, the best and cheapest way to send money overseas is by using a money transfer service. For amounts less than $20,000, that provider is likely to be TransferWise. They offer a fast, secure, transparent and cheap money transfer service. For larger amounts, OFX is a good choice. They're a specialised money transfer service with better rates the more you send.
The best ways to send a large amount of money depends on several factors:
The countries and currencies that you're sending money between
How you're paying for the transfer, as some methods cost more
The fees and exchange rates charged by the bank or provider you're using
How the beneficiary wants to get their money
While both Western Union and PayPal are popular choices, they can be expensive. Both charge high fees and you won't get the best exchange rates. These combined costs could mean you spend between 4-7% more on your transfer (or $40 to $70 on $1,000) than if you were to choose a less expensive alternative.
What about using your bank to send large amounts overseas?
Sending money with your bank through an international wire or bank to bank transfer is a bad idea. A bank transfer will attract high fees, typically around $40 per transfer. Additionally, the exchange rates you get will be somewhat worse than you can find elsewhere. Together, this can mean you pay around 5 to 7 percent more than using a specialist provider.
The Best Money Transfer Services for Larger Amounts
Specialist currency exchange providers typically offer lower fees and better exchange rates than you'll find elsewhere. We provide a super-helpful tool that compares all the best options for sending money overseas and recommends the provider where your funds will go the furthest.
We think the best way to compare is to look at how much a specialist provider would charge you to send different amounts.

Best fee free money transfer service
OFX takes the lead for the best company for transferring larger amounts of money for personal or business use. They pride themselves on trying to take the mystery out of foreign exchange and offering rates that are better than the banks and this is why they're a great option.
They also recently got rid of all flat rate transfer fees. Which means you can now send money overseas from the US with zero fees, 'no gimmicks, no catch'. The only cost you have to think of is OFX's exchange rate. But you'll be happy to know that OFX give better exchange rates the more money you transfer. And they always try to beat bank rates.
They do transfers from over 190 countries in more than 55 currencies and are especially good for sending money to the UK or Australia. There are minimum send amounts of US$150 for single transfers and US$250 for recurring transfers, but you can send as much money as you'd like with OFX.

Best money transfer exchange rates
TransferWise gives you the most competitive exchange rates of all, because the rates they offer are identical to the base or market exchange rate that you'll see on Google. In other words, you won't find a better exchange rate anywhere, which is awesome. There are multiple reasons why they're well-loved by customers.
One of them is cost. Instead of offering you a bad exchange rate, TransferWise simply charge a small, percentage-based service fee. This fee can add up on larger amounts, BUT the TransferWise service fee gets smaller (as a percentage) the more you transfer.
So even with this fee, they're consistently better priced than many other international money transfer services.

Best instant funds transfer company
WorldRemit is an online money transfer company that focuses on remittances, however maximum bank transfer limits do apply for bigger transfers. Fortunately, they're also a great company to use for sending larger amounts of money in other forms, like cash transfers. For instance, if you are sending money to Mexico you can send relatively large amounts of Cash Pick-up or Airtime Top-Up.
Why use them? Two million users online send money with WorldRemit and they pride themselves on being able to transfer funds quickly and conveniently. They're also good for cash pick-ups in multiple countries in Africa, Asia, Europe, Middle East and South America.

Safest money transfer company
The overall XE business has been around since 1993, so they know a lot about sending money overseas! Not only are they a well-established brand, but they are also one of the most trusted international money transfer companies with a 9.3/10 rating on TrustPilot. They are also completely regulated and have correct licenses in every country they operate in.
Aside from being a safe and reputable company to use, XE Money Transfer don't charge any flat fees for sending money. Instead, they make a profit by offering you a slightly worse exchange rate than the live rates you can see from their currency converter tool. Positively, they offer better exchange rates for larger amounts, which gives them the edge over banks.

Best bank if you really need to use one
CitiBank is your best choice to exchange currency if you really have to make an international wire transfer through a bank.
Even though their fixed fee (US$25-30 depending on your account) is higher than many competitors in the banking space, they offer much better exchange rates than others. This means that as long as you're transferring a decent amount (say, more than US$1,000) your money will go further compared to most other financial institutions.
However, taking into consideration all of the other options we've given you, wiring large amounts of money through your bank probably isn't the best or cheapest option around. All in all, while banks can be convenient, we still suggest you look at alternatives, so you can save money.
Your currency knowledge centre
How to Easily Receive Money from Overseas
There are 3 main ways most people receive money from overseas. Find out the most common fees, exchange rates and money traps to avoid.
Should You Use TransferWise to Wire Money Overseas?
Our biggest, most comprehensive look at one of the most popular money transfer companies in the world. All the information you need to make the right decision.
International Money Transfer Comparison and Reviews
Doing an international money transfer with your bank can cost you a lot more than its worth. By the end of this article, you'll find out how to transfer funds internationally without paying too much.
General advice: The information on this site is of a general nature only. It does not take your specific needs or circumstances into consideration. You should look at your own personal situation and requirements before making any financial decisions.