Wells Fargo International Wire Transfer: Fee, Rates and Transfer Time
If you're looking to transfer money abroad with Wells Fargo, you've come to the right place. This article will address everything you need to know about Wells Fargo international wire transfers. We'll cover how to initiate a transfer, how much it costs, and how long it takes your money to get there. 
Even though Wells Fargo serves one in three U.S. households and over 10% of small businesses in America, it may not be the most efficient or cost effective option for international transfers.
Should you decide that Wells Fargo isn't the right fit for you, there are many international money transfer alternatives available. Services such as Wise or OFX often prove to be much cheaper, faster, and easier to use compared to traditional banks. But more on that in a moment.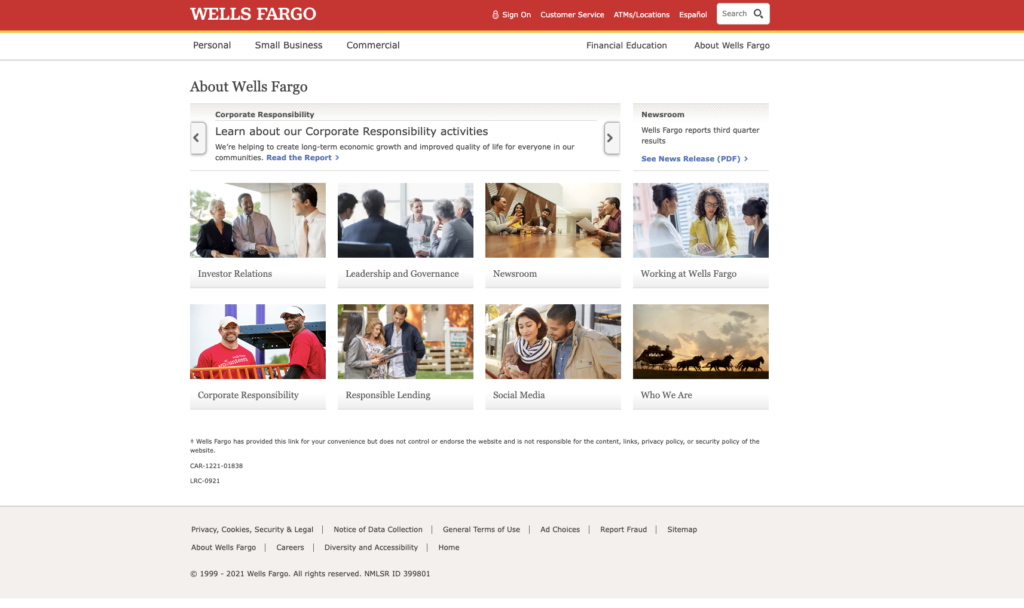 Wells Fargo international money transfer comparison
Before we get into the nitty gritty details of Wells Fargo international wire transfers, we're going to compare how much it costs to send money with Wells Fargo and how long it might take compared to specialist providers.
The number one item to consider when deciding how to transfer money internationally is total cost. The total cost has two components: 
the transfer fee 

the exchange rate markup
Many providers like to offer "free" or low-cost transfers as a way to attract customers. In reality, they just add a larger margin to the exchange rate.
Let's take a closer look at how much it might cost you to send $1,000 to Canada.
Provider
Total cost
Transfer time

Wells Fargo

$46.86 + possible fixed fee*

1-5 business days

Wise

$6.65

Instant - 2 business days

WU

 

$37.02

0-8 business days

OFX

$23.65

1-2 business days
**Fees and rates correct at time of research  - 8th December 2021, 16:10 GMT+2
*You can make international money transfers with Wells Fargo through their online service. They charge a fee for this service, and they also add a mark-up to the exchange rate offered. They don't disclose what the fee is until the time of your transfer, making it difficult to truly compare services. 
As far as fees go, the other services presented in the table above, are much more transparent. For example, Wise is the cheapest when it comes to total costs. You could save up to 46 USD just in exchange rate fees compared to using Wells Fargo. Wise uses the mid-market exchange rate and a transparent transfer fee and Wells Fargo adds a mark-up to the exchange rate they offer.
Wells Fargo international transfer fees
When you make an international transfer with Wells Fargo the total amount you pay could include 3 different charges:
Wells Fargo fixed fee

Exchange rate markup

Correspondent bank fees
Wells Fargo doesn't disclose their total fee up until the point of transferring. Even at that point, it's still not clear, as the lion-share of the fee is within the exchange rate, so unless you're going to compare that to the mid-market rate you won't know what the total cost is.
| | | |
| --- | --- | --- |
| Service | Domestic | International |
| Incoming | $15 | $16 |
| Outgoing | $30 | Fee disclosed at time of transaction |
| Repetitive outgoing | $25 each | Fee disclosed at time of transaction |
Wells Fargo exchange rate
Banks typically add a margin to the exchange rate and take the difference as profit.
Wells Fargo has this to say about their rate:
"Wells Fargo makes money when it converts one currency to another currency for you. The exchange rate provided to you is set by Wells Fargo in its sole discretion, and it includes a markup. The markup may be based on several factors, including without limitation costs incurred, market risks, services rendered, the client relationship, the transaction and our desired return… Also, different customers may receive different exchange rates for transactions that are the same or similar."
Small differences in the exchange rate can make a huge difference in the total cost of your transfer. Unfortunately, you can't see all the rates unless you're a customer and log in to your account. Even then, you won't know what it cost you unless you calculated the difference between that and the mid-market rate. 
Here's a quick recap of the USD-CAD exchange rate Wells Fargo used at the time of this writing, compared to other services:
Wise might be a better option as they use the mid-market rate with no added margin, and you can see the exact exchange rate on their website without logging into the service.
Wells Fargo additional fees
Wells Fargo international wire transfers may include additional fees charged by third parties or other banks. Often these fees appear during SWIFT transfers. 
The SWIFT network is a global financial messaging system that allows banks and other institutions to send money all over the world. When you transfer from one bank to another with SWIFT, the currency typically gets passed to several different banks on its way to the recipient. These banks may charge additional fees. Plus, it slows down the transfer, as the speed at which your money travels  depends on opening hours in different time zones or public holidays in different countries.
How long does a Wells Fargo international money transfer take?
When you transfer money abroad with Wells Fargo, it can take 1-5 business days for your recipient to receive their money. The time it takes depends on the country you're sending to.
Here's a quick recap of how fast Wells Fargo transfers your money compared to other services:
If you need your recipient to get their money fast, Wells Fargo might not be the right provider for you. In comparison, Wise or OFX can send your money abroad almost instantaneously in some cases.
Pros and cons of transferring money abroad with Wells Fargo
Pros:
Convenient:

If you're already a Wells Fargo customer, you can initiate an international wire transfer from your account online or via the mobile app.

Secure

: You will be sent a special access code in order to be able to process your transfer.

Currency:

You can send your money as foreign currency or in US dollars.
Cons:
Costs:

You won't be able to see the final fee until you're ready to initiate the transfer.

Speed:

It can take as long as 5 business days for the money to get to your recipient.

Exchange rate:

Wells Fargo uses the exchange rate to make money, so there's a margin added to the mid-market rate.
Compared to Wells Fargo, other providers such as Wise, OFX, and WU offer visible price calculators on their websites, making it much easier to make a transparent comparison and select the best provider. However, Wise is the only service that doesn't use the exchange rate markup as a way to make money.  
How to make an international transfer with Wells Fargo
Wells Fargo international bank transfers can be initiated several different ways:
Online:

sign in to your account and find the Transfer and Pay section and then select Wire Money.

Mobile app:

open the app on your phone and look for Transfer and Pay and then Wire Money.

Over the phone:

this option is only available if you've already completed a wire transfer agreement at a branch office.

In person:

visit your local branch.
You'll need to have all the relevant information on hand to initiate a transfer. Make sure to double check account numbers; once a wire transfer has been initiated, you cannot cancel it.
What information do you need to make an international transfer with Wells Fargo?
Here's what you'll need to transfer money abroad with Wells Fargo:
Name and address of the recipient
Name of the recipient's bank
A valid U.S. mobile number or secure ID device
Receiving bank's BIC/SWIFT code
Recipient's IBAN (international bank account number) 
Transfer limits and available countries
Wells Fargo restricts the amount you are able to send online for standard international wire transfers. You can review these limits in online banking before you initiate a transfer. If you'd like to send more money than allowed online, you will have to visit a local branch.
Wells Fargo also offers a global remittance program called ExpressSend. It works only for sending USD to select countries in Latin America and Asia. If you frequently send money to one of these countries, this service may be a good option for you.
| | |
| --- | --- |
| Wells Fargo ExpressSend Transfer limits | Amount |
| Minimum amount | $25 |
| Maximum daily amount | $5,000 |
| Maximum consecutive 30-day amount | $12,500 |
*Different countries and receiving banks may have separate daily limits. 
In addition to the countries supported by the ExpressSend service, Wells Fargo can send international money transfers in 20+ currencies.
Receiving money from abroad with Wells Fargo
When someone sends money from abroad to your Wells Fargo, you'll need to provide them with the following information:
Your account number

Your name as it appears on your account

Your bank name and address

SWIFT code
Wells Fargo SWIFT code
The SWIFT code for Wells Fargo is WFBIUS6S if you're being sent USD or an unknown currency. If you know you're being sent a foreign currency, then you can use the code WFBIUS6WFFX.
The SWIFT international payment network is a worldwide financial messaging system. The SWIFT code is necessary, as it indicates the final destination of the funds being transferred. SWIFT transfers often take longer, as the money may pass through several intermediary banks before arriving at the final destination.   
Conclusion
Wells Fargo is the leading middle market banking provider in the United States, so it makes sense that you may think they're the best option for sending money abroad. Other options do exist, though. Providers such as Wise, OFX, and WU can get your money overseas faster and more cheaply. 
However, not all online services are created equal. For example, Wise is the only service that doesn't add a margin to the exchange rate. This means the total cost of the transfer could be less than a fee-free service, such as OFX. And if you use a credit or debit card to transfer with WU, you could be hit with high fees. Take the time to compare services and select the option that works best for you.
FAQs
International wire transfer fees start at $30. To view the final cost of your transfer, you need to sign in to online banking or initiate a transfer in your mobile app.
Depending on the country and currency, international wire transfers can take anywhere from 1-5 business days.
There are several ways to initiate an international wire transfer. You can do it through online banking, the mobile app, over the phone (after completing a wire transfer agreement in person), or at a local Wells Fargo branch.
Sending money abroad? Compare exchange rates and fees