Find the Best Way to Send Money Internationally
Want to find the best time to transfer?
Never miss a great rate again! Choose to track the rate daily or set an alert for the rate you want and we'll let you know when to transfer.
It's easy to send money overseas with your bank, but it's also more expensive. US banks, like Bank of America or Wells Fargo, can charge between US$25-65 for a single international wire transfer. And for smaller transfers between major currencies, banks can charge over 5% per transfer.
Luckily there are many money transfer services that send money overseas, without the high price tag. In this guide we list 5 of the best and most trustworthy services to transfer funds internationally.
5 Best Ways to Make an International Money Transfer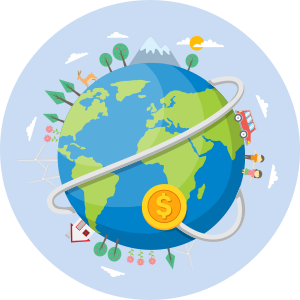 How To Choose the best provider to send money internationally?
There are plenty of ways to send money overseas from the US, from banks, to specialist international money transfer services and apps. Before you choose the best provider to send money internationally for your needs, consider:
Is the provider you're looking at licensed and regulated?

How long will it take for your money to arrive?

What are the transfer fees?

What exchange rate will you get?

How will your money be delivered to your recipient?

What funding options are available?

How user friendly is the service, and what do previous customers say about them?
1. Wise (formerly TransferWise)
- cheapest for transfer under US$7,000
It doesn't matter which bank or company you use - it's almost always cheaper to send money overseas online when compared to doing it over the phone or in person. We suggest Wise for online users who want to transfer amounts under US7,000 overseas. They are extremely competitive on exchange rates for international money transfers US$7,000.
With a simple website and seamless process, you can have the convenience of a bank transfer, without going to a branch. They also offer an easy to use mobile app and lots of ways to access customer service.
What are the fees?
Transfer fee: Small, percentage-based service fee
Exchange rate: Base, interbank rate (Google rate). No margin
Additional fees: Bank debit (ACH) is cheapest; then wire transfer; lastly debit and credit card or Apple/Google Pay
How to transfer money with Wise?
Create an online account and login
Tap in how much and where to. Enter your recipients details
Make a US local bank payment to Wise. Or you can use SWIFT, your debit or credit card or Apple/Google Pay
How long will it usually take?
Instant - 2 business days
2. OFX - excellent for money transfers over US$7000
OFX are a good option for online users who still want strong customer service over the phone. I don't know about you, but I'd feel much safer transferring larger sums of money overseas if I can talk to someone.
They also recently stopped charging a flat fee for US customers doing international transfers. Combined with a very competitive exchange rate for money transfers over US$7,000 it make OFX a great option for sending large sums of money overseas.
What are the fees?
Transfer fee: No flat fee or percentage-based money transfer fees
Exchange rate: OFX adds margin to market rate. The more you send, the better the rate
Minimum Transfer Amount: US$1,000 in the United States, £100 in the United Kingdom and AU$250 in Australia
How to transfer money with OFX?
Set up a free online account and login to get a live quote for your transfer
Enter recipient details including bank account, financial institution number, account number and branch transit number
'Finalize transaction' and pay using your bank account or wire transfer. Business customers can use direct debit
How long will it usually take?
1-5 business days
4. Wise - easiest for debit/credit card payments
So, can you pay for your money transfer using your debit or credit card? What about your mobile wallet (Apple/Google Pay)? The answer is 'yes'.
However, companies will usually charge you extra, which can make it more expensive especially for larger amounts.
What we like about Wise, is the extra fees are less than what banks, Xoom/PayPal or even Western Union will charge you. It's also easy to make payments on the Wise website or mobile app.
What are the fees?
Transfer fee: Percentage-based additional fees for debit and credit card payments. On average, it can cost you up to 3x more to send money to someone overseas if you use your credit card to pay for the transaction.
How to pay with my debit or credit card?
Usually a money transfer company will get you to enter your credit card details either online, over the phone, or in a branch. This includes:
your name
card number
expiry date
card verification numbers
How long will it usually take?
A bit longer, 3-5 business days
5. Citibank - cheapest wire transfers
Banks are almost always more expensive than companies that specialise in overseas transfers. They charge high fixed fees and worse exchange rates than you can get from our earlier suggestions.
We think it's vital for you to make a fair comparison though, so we recommend Citibank for a wire transfer. This is because they charge the lowest transaction fees and offer the best foreign exchange rates. As long as you're transferring a decent amount, your money will go further than other high street banks.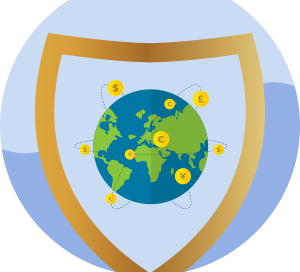 What are Citibank's fees?
Transfer fee: Fixed fee of US$25
Exchange rate: Citibank offer much better exchange rates than other banks, but still take a margin
How to transfer money with a bank?
Register your details. To transfer money internationally, you'll need to register first. Make sure you have valid ID like your passport or driver's license
Provide money transfer details. Your money transfer service will need to know the currency, amount, and the account or person you're sending money to
Pay for your transfer. Choose how you want to pay for the transfer. Your bank or money transfer service will then convert the money and send it overseas
How long will it usually take?
1-5 business days to clear funds
Looking for more expert advice on sending money internationally?
What is Needed for an International Wire Transfer?
The exact steps you need to take to transfer money overseas may vary slightly depending on the payment method you choose. However, broadly, here's what is needed for an international wire transfer:
Create an account with the provider you've selected, online, by phone or in person

Upload or show your government issued ID and proof of address for verification

Set up your payment by adding your recipient's details (more on that below)

Pay for your transfer - online payments can often be funded by bank transfer, credit or debit card - some providers also take cash if you visit an agent in person 

Get confirmation of your payment, and track its progress online or in an app
What details do I need from my recipient?
If you're sending a payment for cash collection, you'll probably only need your recipient's name as shown on their government issued ID. However, if you're transferring money to a bank account or sending an international wire, you'll need a little more:
Recipient's full name

Recipient's bank name and address

Recipient's bank account number

Recipient's bank BIC/SWIFT code
Sometimes other details are needed depending on the country, like a sort code for the UK or CLABE number for Mexico.
How to send large amounts of money internationally?
If you need to send large amounts of money internationally, you may need a few extra pieces of information or documentation, for security purposes. 
Banks and money transfer services are obliged to carry out verification to comply with US and global legislation designed to stop fraud and money laundering. That may mean you're asked for proof of the source of the funds, details about the reason for the payment, or additional ID.
Because of these additional steps, it may take a little longer to send large amounts of money internationally.
Banks vs Online Money Transfer Services
Specialist online money transfer services and apps can often offer a better service compared with traditional banks. Specialist providers have been built specifically for online international payments, which means they've invested time and money in coming up with innovative approaches to move your money faster and for lower fees. 
Here are some things to consider when you're deciding between banks vs online money transfer services:
Banks may have higher upfront transfer fees, which aren't always transparent

Online money transfer services may offer a better exchange rate compared with banks

Banks usually wire money through the SWIFT network, which can mean unexpected charges

Online money transfer services often have faster delivery times and a broader variety of payout options
How long does it take to send money internationally?
How long it takes to send money internationally depends a lot on the provider you choose, and where your payment is going. 
If you wire money internationally with your bank, it'll probably be processed through the SWIFT network, which may mean a transfer time of 3 - 5 working days. International money transfers services are usually quicker. Cash collection payments can be instant, and deposits to bank accounts may be instant or arrive in just a few hours.
Compare a few providers to see which has the fastest delivery time for your specific payment. Factors which can make a difference include:
Where you're sending money to

The currencies involved

Your own bank and the recipient's bank processes

Any public holidays in the US or recipient's country

Verification or security steps
Specialist international money transfer services and apps usually offer a delivery estimate before you confirm - and let you track your payment in real time.
What are the best international money transfer apps to use?
An international money transfer app can be the easiest way to get your money moving fast. Apps tend to be intuitive to use, and digital money transfer services allow you to sign up, get verified and send a payment without ever needing to leave home. 
Here are some of the best international money transfer apps on the market at the moment, to help you find the right one for you:
Wise

- send payments to 80+ countries, with the mid-market exchange rate and low, transparent fees. Transfers are fast, and available for individuals and businesses. 

Revolut

- Revolut customers can exchange currencies with the mid-market rate up to plan limits, and send payments overseas with low fees.

Remitly

- Remitly customers in any of the supported send counties can make personal payments on popular remittance routes to bank and mobile money accounts, and for cash collection or home delivery. 

OFX

- currency specialist OFX offers international payments for individuals and businesses, as well as a range of currency risk management options, with personal support over the phone if you need it.

Western Union

- Western Union has a huge network of agents spanning the globe, and offers a broad range of ways to pay, and to have your money delivered to your recipient.
Read more about the best international money transfer apps available for customers in the US in our full guide.
What is an international money transfer?
This is the way you transfer money from your bank account in the United States to an account held by someone you know in another country. International money transfers are popular for both large one-off payments and small frequent remittance amounts.
Learn more about how to make an international money transfer or how to track your transfer.
Are there minimum and maximum limits?
Yes. These limits will vary depending on how much you wish to transfer, the countries you send money to, and what method of transfer you are using (be it a bank deposit, mobile payment, or cash pick-up).
For instance, OFX have a US$1000 minimum transfer amount. In comparison, Wise have no minimum transfer amount, but a maximum transfer amount of US$10,000. Meanwhile, WorldRemit have a send amount per transaction of just US$5,000 for international wire transfers.
How do I safely transfer currency internationally?
If you want to keep your funds secure when you transfer large sums of money overseas, you have a few options. All the specialist providers we compare adhere to the strongest security standards and are fully regulated. They also strictly follow local and international laws to best service their customers.
Bank transfer — you can send directly between your bank and a bank in another country, but you will pay high fees
Online money transfer services — specialist providers like Wise are transparent, safe and fully regulated
Why do international transfer fees vary?
Different companies charge you different fees. When you send money abroad using your bank or international money transfer company, you could be charged fees in several ways:
They may offer a slightly worse currency exchange rate, also known as the exchange rate markup.
They may charge a fixed fee.
They may charge a commission or service charge, also known as a percentage-based fee.
Something else to bear in mind — if you're sending money to someone else's bank account, their bank may charge processing fees. A money transfer company has no influence on these fees, and you should speak to the receiving bank to understand how much they might charge.
Find out how much it really costs to send money internationally, and get the best rates.
What are the best international money transfer apps to use?
Most services have smartphone apps so you can access and make money transfers on the go. You can install these apps on Apple and Android devices, then use them to create, pay for and track your international money transfer.
Here are some of the best apps from our specialist providers.
Wise money transfer app
WorldRemit money transfer app
WorldFirst money transfer app (if you're transferring money outside of the US)
OFX money transfer app
Learn more about the best international money transfer apps.
What other common countries or currencies can I send money to from the US
The most common countries or currencies money is sent to from the US includes: Mexico (MXN), China (CNY), India (INR), Germany (EUR), France (EUR), South Korea (KRW), United Kingdom (GBP), Japan, (JPY) and Italy (EUR) and Australia (AUD).
What recipient information will I need to make a bank wire transfer?
To wire money from the US, you will need the following information about the recipient's account:
Recipient account holder name and full address
Account number you will be transferring money to
Swift / BIC code or Routing Number
How do I send money from my bank account in the US to another bank account overseas?
Send money from your bank account to another bank account overseas using these steps:
Find the wire transfer section from the website of your financial institution
Check any transfer limits there might be
Enter the recipient's bank details
Enter the amount and choose the currency you want to send your money
Pay the transfer processing fee - your bank can charge anywhere between US$30-80. Your recipient bank can charge as much as US$30 to receive the money.
Find out how long it will take for your transfer to arrive
Your currency knowledge centre
How to Easily Receive Money from Overseas
There are 3 main ways most people receive money from overseas. Find out the most common fees, exchange rates and money traps to avoid.
The Absolute Best 6 Money Transfer Services
Finding the best money transfer services in the US can be challenging. We reviewed over 30 banks and online money transfer companies to give your our list of the best service to send money overseas.
International Bank Wires: Your Best Options in 2019 Compared
Wire transfers let you send thousands of dollars, to almost any other bank account in the world. There's just one catch. Transfers through your bank are expensive—really expensive.
General advice: The information on this site is of a general nature only. It does not take your specific needs or circumstances into consideration. You should look at your own personal situation and requirements before making any financial decisions.