3 Cheaper Ways to Send Money from the USA to Ecuador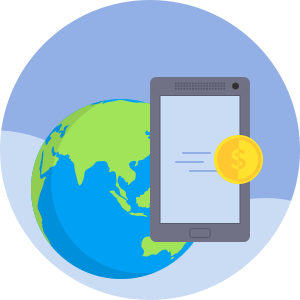 If you're looking for the best way to send money to Ecuador from the United States, use our list to find the cheapest, fastest way to transfer money online.
It can be time consuming to research money transfer companies and compare the best rate of foreign exchange. Our guide shows you which service has transparent fees, mobile apps and different delivery options to make your international money transfers easier.
The best money transfer services to send money to Ecuador from the USA

Remitly
Remitly accepts credit and debit cards, and with their Express option, money can be sent within minutes. Remitly have no minimum limit so it can be handy when sending small amounts to family or friends overseas.  What we like about Remitly is they are cheaper than Xoom/PayPal or Western Union. It's also easy to make payments on the Remitly website or mobile app.
How much does it cost to transfer funds to Ecuador?
Transfer Fee: "Economy" fees range between $3.99 to $99.99 depending on your amount. Their "Express" fees range between $5.99 to $104.99 depending on your amount.
Exchange Rate: The exchange rate you receive depends on the amount of your transfer and which country your money is being sent.
How long does it take?
It depends on which service you choose. It's faster with "Express" but you have to pay by card and the fees are higher. It's slower but cheaper with "Economy" when you pay by bank transfer.
Is Remitly safe?
Yes they are. They are fully licensed and authorised. Click here to see our full review of Remitly.
Best features:
The person can receive their money transfer by bank deposit, cash pick up, mobile money or home delivery
Money back guarantee if your money doesn't arrive on time
Same-day cancellation requests are possible
Easy to sign up and quick to transfer money on mobiles or laptops
How it works
Log into the Remitly website.
When you're ready for payment, just type your name, card number, expiry date and card verification details.
Bank transfers or SWIFT payments are also available to send money from the US.
Service details:
For help from Remitly and phone number: US-1-888-736-4859

Wise (formerly known as TransferWise)
If you prefer to transfer money online, Wise is one of the easiest ways to do it. It's incredibly simple to set up an account or make a transfer using their app. They also have the best exchange rates, because they offer the same market rate you see on XE or Google and don't add any hidden exchange rate mark ups.
How much does it cost?
Transfer Fee: 1.09 USD + 0.45% of your amount.
Exchange Rate: Wise gives you the best possible rate (google rate). They do not use a margin.
Additional Fees: Bank debit (ACH) is the cheapest; then bank wire transfer; followed by debit card and credit card.
How long does it take?
Your recipient will usually get the money on the same or next working day.
Is Wise safe?
Yes they are. Click here to see our full review of Wise.
Best features:
Quick online set-up
Transparent fees and offer the best rates online
Very fast transfers to a bank account
Simple cell phone app
How to transfer money with Wise in 3 steps
Create an online account and login.
Tap in how much and where to. Enter your recipients details.
Make local US payment to Wise, using a bank transfer, SWIFT, or your debit or credit card.
Service details:

Xoom powered by PayPal
Xoom is convenient for money transfers, but costly compared to other money transfer specialists.
How much does it cost to transfer funds to Ecuador?
Transfer Fee: Differs depending on amount and how you pay them. Paying them by bank transfer is free, but if you pay by card the fee is percentage based.
Get a quote: Click here to find out the cost to send money to Ecuador with Xoom.
How long does it take?
It will take 1-2 business days. Transfers submitted by 11 am EST on a bank business day will be delivered by 5 pm EST the next business day.
Is Xoom (PayPal) safe?
Yes they are. They are powered by PayPal, which is one of the oldest online payment platforms trusted for secure online money transfers.
Best features:
Safe, trustworthy, fully licensed and authorized company
Pay recipients bills or phone reloads via app
Regular status updates via text or email
How to transfer money with Xoom?
Sign up to an account and login.
Tap in how much and where to. Enter your recipients details. Enter how you would like to pay.
Recipient receives money in bank account or in cash available for pick up at agent location.
Service details:
Xoom help phone number: (877) 815-1531 (toll free) or +1 (415) 395-4225 from Ecuador

Are there any minimum or maximum money transfer limits?
These vary depending on which online money transfer company you use.
For minimum transfer amounts, XE and Wise have no limits. OFX have a minimum of US$150 per single transaction.
For maximum transfer amounts, Wise has maximum limits of US$50,000 for personal accounts. For business accounts they have a maximum limit of US$250,000 in unlicensed states and up to US$1,000,000 in licensed states.
OFX and XE have no maximum transfer amounts. Meanwhile, Xoom has a limit of US$50,000 over 24 hours if you have the required documents.
How do I keep my money online safe when I send it to Ecuador?
Safety is very important and all of the online companies above take their legal responsibilities very seriously. They take extreme measures to protect the sensitive data you provide them like your personal details and identification. However, it's still better to be safe than sorry. Here are some additional ways you can transfer funds safely:
Double check privacy policies and tracking process for your money transfer provider
Use a strong, long and unique password with a combination of uppercase and lowercase letters, numbers and symbols when you set-up your account
Ensure your money transfer service provides two-factor authentication, including SMS or email-based security code
What information do I need to send money to an Ecuadorian bank account from the United States?
To wire money from the US, you will need the following information about the recipient's account:
Recipient account holder name and full address
Account number you will be transferring money to
Swift / BIC code or Routing Number
How do I send money from my bank account in the US to another bank account in Ecuador?
Send money from your bank account to another bank account in Ecuador using these steps:
Find the wire transfer section from the website of your financial institution.
Check any transfer limits there might be.
Enter the recipient's bank details.
Enter the amount and choose the currency you want to send your money.
Pay the transfer processing fee - your bank can charge anywhere between US$30-80. Your recipient bank can charge as much as US$30 to receive the money.
Find out how long it will take for your transfer to arrive.
Do all money transfer companies have a mobile phone app?
Yes. When you have an account with any of the online money transfer services highlighted above, you can make transfers through their website, or via their iOS Apple and Android apps. However, some are easier to use than others.
What other common countries or currencies can I send money to from the US?
The most common countries or currencies money is sent to from the US includes: Mexico (MXN), China (CNY), India (INR), Germany (EUR), France (EUR), South Korea (KRW), United Kingdom (GBP), Japan, (JPY), Italy (EUR), Canada (CAD) and Australia (AUD).
Send money to and from the United States with these guides
Your currency knowledge centre
How to Easily Receive Money from Overseas
There are 3 main ways most people receive money from overseas. Find out the most common fees, exchange rates and money traps to avoid.
The Absolute Best 6 Money Transfer Services
Finding the best money transfer services in the US can be challenging. We reviewed over 30 banks and online money transfer companies to give your our list of the best service to send money overseas.
International Bank Wires: Your Best Options in 2019 Compared
Wire transfers let you send thousands of dollars, to almost any other bank account in the world. There's just one catch. Transfers through your bank are expensive—really expensive.