Wise Multi-Currency Account Review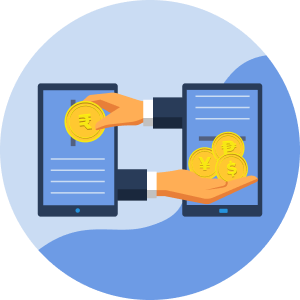 Wise was launched in 2011 and makes it cheaper, faster and easier to send international transfers, thanks to a radical new payment model. 
Today, Wise serves over 12 million personal and business customers with cross-border payments, and the Wise multi-currency account - the world's most international account. If you receive, send or spend foreign currencies, the Wise account can help you save money with low, transparent fees and the real exchange rate.
This guide covers all you need to know about the Wise Multi-Currency Account (formerly known as Borderless Account) to help you decide if it's right for you.
Multi-Currency Account is good for
People who travel regularly and need foreign currency
Fast currency exchange at the market rate you see online
Card has no international fees online or in person
Free monthly ATM withdrawals
Key features:
Price: No monthly fee, and low transaction charges - often the cheapest option available
Exchange rate: No exchange rate markup or foreign transaction fee applied
Speed: 80% of payments arrive within 24 hours and 45% of the total are instant
Convenience: make payments online or in the Wise app in just a few clicks
Transparency: full visibility on all fees, plus a delivery estimate when you make a payment
Security: Globally regulated, with manual and automatic anti-fraud processes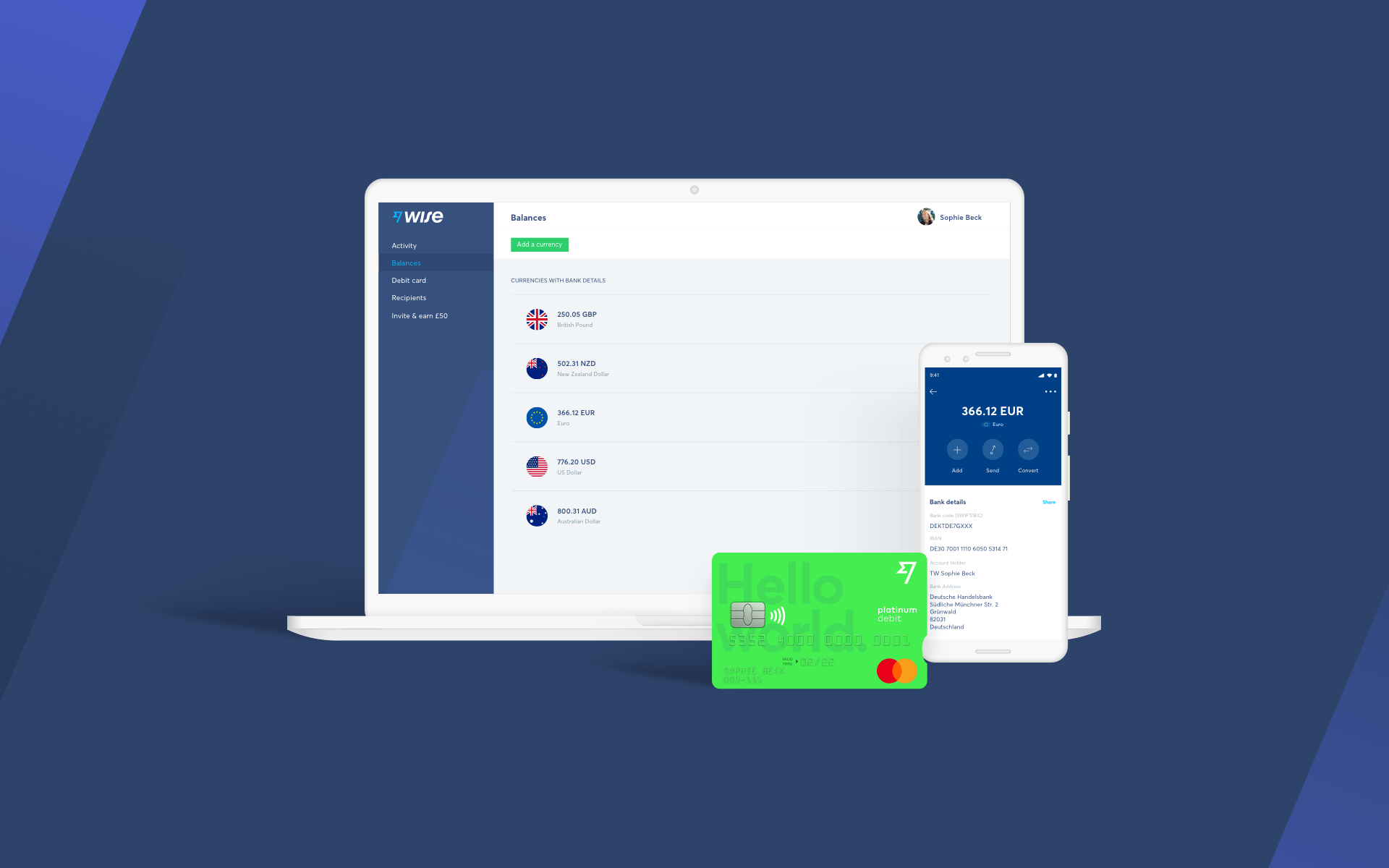 Pros and cons of Wise Multi-Currency Account
Hold and exchange 50+ currencies and see them all at a glance
Spend and withdraw in 200+ countries with your Wise debit card
Send money to 80+ countries
Get local bank details in 10 different currencies including EUR, GBP and CAD
Receive money fee free from 30 countries with your own local bank details
See account balances in a glance, and manage your account in the Wise app 
Instant transaction notifications for security
Safe and regulated provider in the US and overseas
Wise is not a bank - not all features you'd expect from a bank account are available
No cash deposits - You can't pay in cash to your account
No credit or overdrafts available
No interest on funds held in your Wise account
No branch network - service available online, in-app and by phone only
Transaction fees may apply
Overall: The Wise Multi-Currency Account (formerly Borderless Account) has a broad range of features, with no ongoing charges or minimum balance. Hold and exchange 50+ currencies, send payments to 80+ countries, and spend all over the world with the mid-market exchange rate using your linked Wise card. Unlike banks, Wise offers international payments and currency conversion with low, transparent fees and no exchange rate markup - so you can save up to 3x. Exiap readers can also get an exclusive, fee-free Wise promo code to bring down the costs even further.
What is the Wise multi currency account and how does it work?
The Wise Borderless Account is an easy, low-cost way to receive, exchange and send foreign currency payments. 
You can also spend and make cash withdrawals with your Wise international debit card, which is Google Pay and Apple Pay compatible for mobile payments around the world. Because Wise offers the mid-market exchange rate without markups, and without foreign transaction fees, you'll often find the overall costs are market beating - up to 3x cheaper than a regular bank.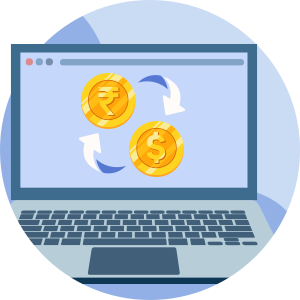 Receive money with Wise
When you open your Wise account you'll be able to access local bank account details for 10 currencies including USD, GBP, EUR, AUD and NZD. Give these account details to people who want to send you money from overseas, to receive payments into your Wise account fee free from 30 different countries.
Hold money with Wise
You can use your Wise Borderless Account to hold 53 different currencies, and you'll see all your balances in a glance on the Wise app or by logging into your account online. It's always free to spend any currency you hold with your Wise international debit card, and you can also exchange between currencies with the mid-market rate and low, transparent fees as and when you need to, in just a few clicks.
Wise is a fully authorized and regulated provider, which means your funds are safeguarded for security - no matter what currency you're holding.

Wise Multi Currency Account Supported Currencies
You can hold money in any of the following currencies in your Wise Account (formerly known as Wise Borderless Account):
Spend with a Wise card
Spend and withdraw in 200 countries with no foreign transaction fees, with a Wise international debit card. You can order your card for a one time fee of 9 USD, and add it to Google Pay or Apple Pay for easy mobile payments. 
Smart auto-convert technology means that you'll always pay in the local currency wherever you are. If you don't hold the right balance your card can convert it for you in the cheapest possible way, to make sure you don't get caught out by hidden fees applied by merchants using dynamic currency conversion. You'll also get instant transaction notifications when you spend and you can freeze and unfreeze your card in the Wise mobile app for security. Read more in our full Wise debit card review.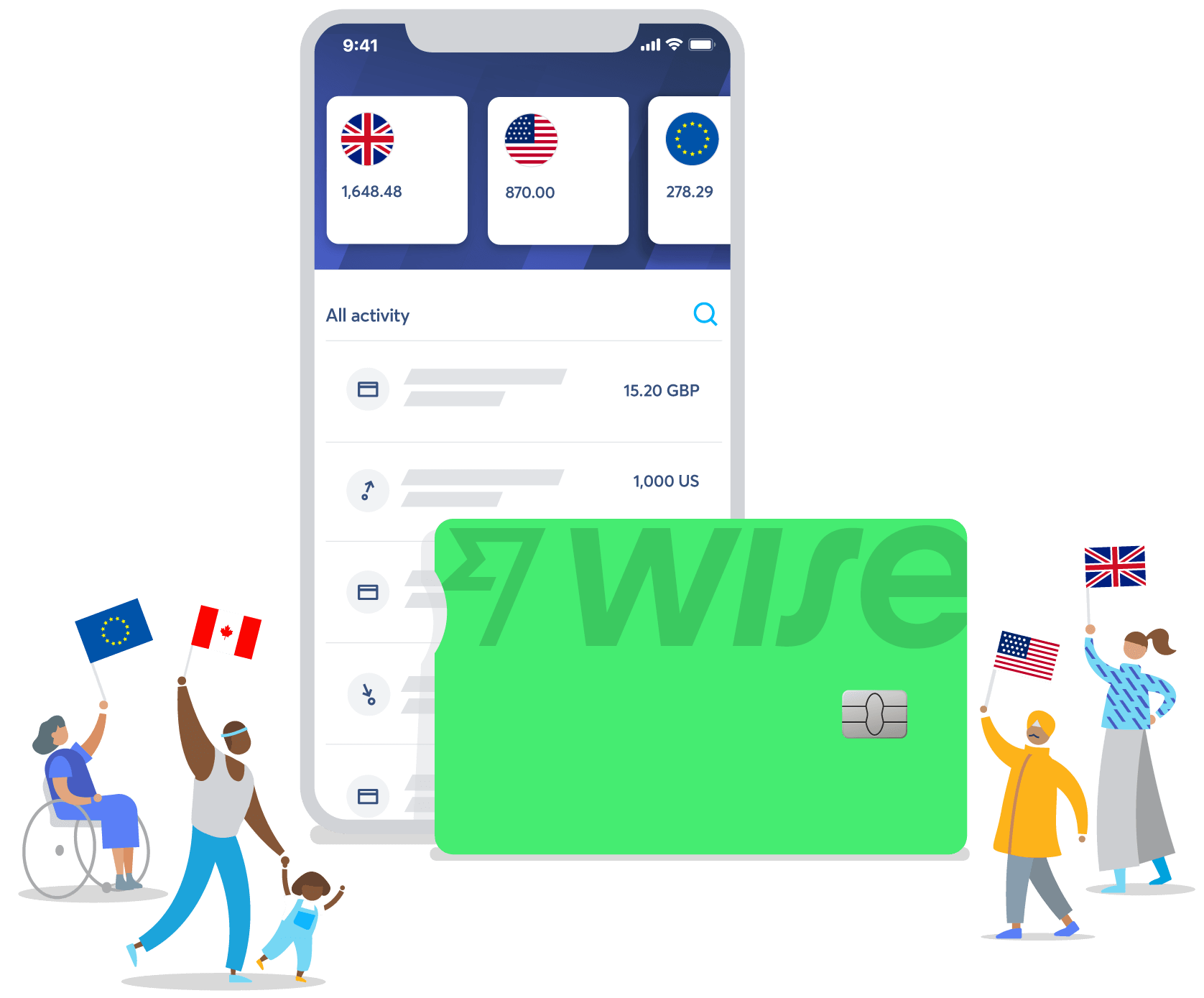 Transfer from your account
If you hold a Wise balance you can withdraw it to a local account or make international payments to 80+ countries. If you don't have the currency you need for your transfer, you'll get the mid-market exchange rate when you send your payment, with low, transparent transfer fees. Simply log into your account and tap Send money to get started.
Convert money on Wise
Within your Wise account you can convert between 50+ currencies instantly using the mid-market exchange rate with no markup. You'll just pay a small currency conversion fee which can be as low as 0.41% of the value of the transaction for major currencies.
Wise Borderless Account and Debit Card Fees
Here are the key Wise fees you'll want to know about when you open a Wise multi-currency account (Wise Borderless Account):
| Service | Wise fee |
| --- | --- |
| Open your Wise multi-currency account | Free |
| Hold 53 currencies | Free |
| Get local bank details for 10 currencies | Free |
| Hold a balance of over 3,000 EUR | 0.07% |
| Order a Wise debit card | 9 USD |
| Spend currencies you hold using your card | Free |
| First 2 ATM withdrawals up to 100 USD/month | Free |
| ATM withdrawals over 100 USD/month | 2% |
| Over 2 ATM withdrawals/month | 1.5 USD/withdrawal |
| Convert a currency using your card | Low fee from 0.41% |
| Receive money in AUD, CAD, EUR, GBP, HUF, NZD, RON, SGD and TRY | Free |
| Receive USD by ACH or bank debit | Free |
| Receive USD by wire | 4.14 USD |
| Send international payments | Low currency conversion fee from 0.41% + fixed fee which varies by currency |
Get a full rundown of the Wise multi-currency account and debit card fees here.
Is it safe to keep money in Wise?
Wise is FinCEN registered and licensed to operate in most US states. In other US locations, Wise offers services through a partnership with Community Federal Savings Bank. As a global business, Wise is also covered by regulatory authorities around the world. There are many different manual and automatic processes in place to keep customers and their money safe, including:
Customer funds are safeguarded and kept separately from Wise's own funds
Wise holds a fixed level of capital on hand at all times
Regular stress testing exercises to check plans and processes are robust
24 hour support with dedicated anti fraud teams and technology
Account verification processes and 2 factor authentication
Instant transaction alerts, with the option to freeze your card in the Wise app
Read more about Wise safety here.
Is Wise a bank?
Wise is not a bank, but for the services they offer, they're just as safe as a bank.
Wise is authorized to operate in the US independently, or through a partner, just like your normal bank will be. That means it's subject to the same regulations as other financial services providers, both in the US and in all the other countries it operates in. And as a financial technology company, Wise has built its services and platforms with security in mind, to keep customers safe while offering an intuitive way of managing your money.
Who is the Wise multi currency account for?
The Wise Multi-Currency Account (formerly Borderless account) can be opened by both personal and business customers, and suits a broad range of people.
Wise personal multi-currency accounts may suit customers who: 
Travel often, and need to pay for goods and services in foreign currencies
Shop online with international retailers
Get paid from overseas - freelancers and contractors for example
Pay regular bills internationally, like an overseas mortgage on a holiday home
Manage their money online and on the move
The Wise business account may suit customers who:
Pay suppliers and contractors based abroad
Manage payroll internationally through one off or batch payments
Receive money from customers and clients based overseas
Withdraw in foreign currencies from PSPs like Stripe or marketplaces like Amazon
Want to reconcile their international account with cloud-based accounting software
How to open a Wise Account
Opening a Wise multi-currency account (formerly Borderless account) is easy and can be done entirely online. 
Open the Wise homepage or app
Click Register
Follow the prompts to enter your personal details
Get verified
You're ready to go
Documents you'll need to open Wise Account (Borderless Account)
To comply with the law in the US and around the world, you'll need to get verified to open a Wise account. This helps keep customers and their money safe by preventing fraudulent or criminal use of accounts. The exact steps you need to take will depend a little on the account type you're opening, and the information you provide - but a member of the Wise team will always guide you through if you need help. You can also save and exit the process if you don't have everything on hand at first.
To open a personal Wise multi-currency account you'll usually need to provide your SSN or ITIN if you're a US resident. If you don't have an SSN you may also choose to upload an image of your personal ID document, such as a non-US issued passport, National ID card or driving license.
You may be asked to take a selfie with your documents to show your identity matches your paperwork.
Customers looking to open a Wise business multi-currency account will need to provide business documentation which can vary based on entity type, as well as the names, date of birth, and country of residence for any directors and shareholders who own 25% or more of the business.
How long does verification take
Account verification can happen on the same day or even instantly for many customers. The Wise service team aims to have all accounts verified within 2 days and will be in touch if any more information or documentation is needed to get your account up and running.
Wise Transfer Limits
Both individuals and businesses around the world trust Wise with high value international payments. As such, the Wise transfer limits are set fairly high, at the equivalent of about 1 million GBP per transaction for most currencies. If you need to send more you can always contact the customer service team for guidance.
Here are the Wise transfer limits for a few major currencies as an example:
| Sending  | Maximum payment |
| --- | --- |
| EUR | 1.2 million EUR |
| USD | 1.6 million USD |
| AUD | 1.8 million AUD |
| CAD | No limit |
| SGD | 2 million SGD |
Conclusion
The Wise multi-currency account offers flexible, low cost ways to hold, send and receive foreign currencies. Because Wise uses the mid-market exchange rate and low fees, the overall costs are often the cheapest on the market for international payments - and thanks to Wise's modern approach to processing payments, they're often among the fastest, too.
The Wise account is available to individuals, business owners and freelancers who need to pay and get paid internationally, and can make it cheaper and easier to manage money across borders.
FAQ
1. How much does Wise cost?
There's no cost to open a Wise personal account, and no monthly fees to pay. Some transaction charges do apply, which are low and transparent.
2. How long does Wise take to transfer funds?
Many Wise transfers are instant or arrive within 24 hours. You'll see a delivery estimate when you arrange your payment.
3. Is Wise safe?
Wise is a safe and fully regulated provider, registered with FinCEN and covered by a range of regulatory bodies overseas for enhanced consumer protection.
4. How does Wise apply exchange rates?
All currency exchange with Wise uses the mid-market exchange rate with a low conversion fee. This can be as low as 0.41% for major currencies.
5. Does Wise have a mobile app?
Yes. Get the Wise app on both Apple and Android phones. It's free to download.
6. How does Wise work?
Open a Wise account online or in the mobile app to hold, send and receive foreign currencies. You can also get a linked Wise debit card to spend and make withdrawals around the world.
7. How many currencies does Wise support?
Send payments to 80+ countries, hold 50+ currencies, and get bank details to get paid like a local in 10 currencies to your Wise multi-currency account.
8. How much money can I keep in my Wise account?
A limit may apply to the amount of money you can receive into and hold in your Wise account. However, even where a limit applies, it is set fairly high to allow customers to transact as much as they like. For example, if your Wise personal account has a routing number starting with 026, this may mean you can only receive up to 1 million USD per transfer.
9. Is Wise an international account?
Yes. Wise offers a multi-currency account which allows customers to hold, exchange, send and spend in a broad range of currencies.
10. Is Wise a foreign account?
With the Wise multi-currency account you can get local bank details for 10 countries including the US, the UK, Australia and Eurozone to receive payments fee-free from 30+ countries.
11. What is Borderless Account by Wise?
Borderless Account by Wise is the same as Wise Multi-Currency Account, the name has been changed from Borderless Account to Wise Multi-currency Account.
Your currency knowledge centre
Wise vs PayPal - Which is Better for Your Business?
Find out which is better for your business in our comparison guide of Wise (formerly TransferWise) vs PayPal. PayPal is a dominant player for receiving US payments, what does Wise offer when sending or receiving money from overseas?
The Absolute Best 6 Money Transfer Services
Finding the best money transfer services in the US can be challenging. We reviewed over 30 banks and online money transfer companies to give your our list of the best service to send money overseas.
5 Safe Money Transfer Companies Like Wise (formerly known as TransferWise)
Keen on Wise but like to keep your options open and find out more about its competitors? We have all the answers in this easy to read guide offering 5 money transfer companies like Wise.