Wise vs MoneyGram: Which One is Better?
If you need to send money overseas, or you're looking for ways to manage your money across currencies, you may have come across Wise and MoneyGram as popular and established payment providers. There's some overlap in the services offered by Wise and MoneyGram - but the options available do vary significantly. If you're struggling to choose, this guide is for you. We'll run through features, fees and exchange rates for Wise and MoneyGram to help you pick.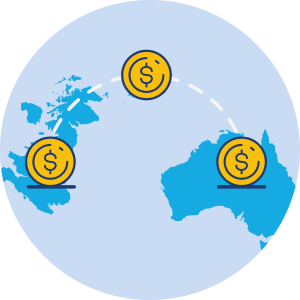 Wise (TransferWise) vs MoneyGram - The Important Bits
Safety: Based in the UK, licensed and well backed
Rates: Mid-market rate (real exchange rate)
Fees: Percentage based fee
Speed: 1-2 business days for most transfers
Currency conversion: Instant
Trustpilot rating: 133,796 reviews. Score 4.6/5 - Excellent 
Safety: Based in the US, fully licensed and secure
Rates: Vary by transfer specifics and include a markup
Fees: Fees vary by destination
Speed: Cash collection take minutes; bank transfers arrive the same or next working day
Currency conversion: Instant
Trustpilot rating: 12,891 reviews. Score 4.4/5 - Excellent 
Learn more about MoneyGram
Wise vs MoneyGram in three important ways:
Both Wise and MoneyGram can help customers move money internationally. Wise offers international cross-currency payments using mid-market rate to convert the money; MoneyGram adds a mark-up to the mid-market rate.

MoneyGram transfers can be also collected in cash. Wise is an online service only. 

Wise has also other features integrated, like multi-currency account and debit cards linked to the account; MoneyGram doesn't offer a card or

holding account options.
Wise and MoneyGram features in more detail
| | |
| --- | --- |
| Wise features | MoneyGram features |
| Fast online money transfers direct to your recipient's bank account | Send money direct to bank accounts, mobile wallets for cash collection or home delivery |
| Free multi-currency accounts to hold 50+ currencies | Large network of agent locations worldwide |
| Send money to 80+ countries and get local receiving accounts for +30 countries | Arrange payments online, in app or in person via an agent |
| Spend with your Wise Mastercard in 200 countries | One of the largest payment companies globally, established for 80+ years |
| Accounts available for business or personal use | FX solutions and money orders also available for business customers |
| Set up exchange rate alerts and target rates to transfer when the time is right for you | Exchange rates include a markup and vary by transfer details and destination |
| Website, app and support in 14 languages | Fees are calculated based on the service and destination country |
Wise vs MoneyGram - Features Conclusions
Wise
Wise - which used to be known as TransferWise - offers low cost international payments[1] and multi-currency account products to individual and business customers. You can arrange your transfer online or in the Wise app, and you'll always get the mid-market exchange rate with no markup or margin added. If you need to receive international payments, or manage your money across currencies, you can open a Wise multi-currency account to make switching currencies cheap and easy.
MoneyGram
MoneyGram has an 80+ year history and offers international money transfers online and in person through a network of agents around the world. MoneyGram transfers can be collected in cash, which means they can arrive in minutes - although this can push up the price of getting your money where it needs to be, both through higher fees and exchange rate markups. Business customers can also access FX solutions, check processing and money orders.
Let's take a look at some pros and cons of both Wise and MoneyGram.
Pros
Low, transparent fees for transfers and mid-market exchange rate

Personal and business accounts and payments available

All accounts are opened and managed online, with no monthly service fees

Local receiving accounts to get paid from 30 countries for free
Cons
Online and mobile service only - no branch locations
Transfer fees vary by destination and payment method
No cash pick-up options

Accounts are not interest bearing
Pros
Payout options include cash for collection and home delivery

Long established service

Huge agent network around the world

Send fast cash payments to 200 countries
Cons
Fees vary by destination and may not be the cheapest possible

Exchange rates also vary by transfer specifics and include a markup

Services vary by destination country

No holding account option
Wise vs MoneyGram fees and exchange rates
Services
Wise
MoneyGram
Setting up an account:
International money transfer

Fees:

Small fee, varies by currency

Exchange rate: Mid-market exchange rate

Fees:

Fees vary based on where you're sending money and the value of the payment

Exchange rate:

Rates vary by payment type and include a markup

Card fees

Request a card:

9 USD 

ATM withdrawals:

2 withdrawals, to a value of 100 USD free/month; 2% + 1.50 USD per withdrawal fee after that

Online payment fees: Free to spend any currency you hold

MoneyGram does not offer multi-currency card or account services

Multi-currency account fees

Open an account:

Free

Monthly fees:

Free
Which provider offers a better exchange rate?
No matter where you're sending money, the exchange rate will make a big difference to the overall cost of your international payment. Different payment providers have their own processes for setting the rates they offer customers. Let's look at how the exchange rates used by Wise and MoneyGram are figured out.
Wise
All Wise currency exchange uses the mid-market rate with no markup or margin. That applies when you send money, convert within your Wise account, or spend with your Wise card.
MoneyGram
The exchange rates applied by MoneyGram will vary according to a series of factors. How you'll pay and how you want your transfer to be received, as well as the value of the transfer can all make a difference. If you're not sure how you'll want to set up your MoneyGram payment it's well worth modeling a few different payment combinations on the MoneyGram app or website so you can see where the rates and fees are most favorable.
Let's look at a case study - sending 2,000 USD-GBP
To show how the Wise vs MoneyGram exchange costs work in real life, let's work through an example - sending 2,000 USD to a friend in the UK, to be received in GBP.
| | MoneyGram - 2,000 USD-GBP | Wise - 2,000 USD-GBP |
| --- | --- | --- |
| Fees: | | |
| Exchange rate:       | | |
| Recipient gets | | |
*Rates and fees correct at time of research - 27 October 2022
*Payments to be done by bank transfer, direct to a recipient bank account
Sending 2,000 USD to the UK - Wise vs MoneyGram
Here, the exchange rate given by Wise is the mid-market rate at the time of research. The MoneyGram rate is slightly less because of a markup - a fee added onto the rate used. 
If you're sending this payment and paying by bank transfer, MoneyGram won't charge an upfront fee, which makes this quite a reasonable deal overall. However, if you were to send a payment for cash pickup - still paying from your regular bank account - the MoneyGram rate drops significantly to 1 USD =  0.6849 GBP; and you'll pay a service fee of 4.99 USD, too. That's why it's worth checking all the possible payment combinations before choosing your provider
The verdict: You'll need to weigh up both the fees and exchange rates of both providers to see which works best for your payment. The Wise exchange rate is reliably based on the mid-market exchange rate and doesn't change based on the type of payment you're making. However, the MoneyGram rate can change depending on how you want to pay for your transfer, how you want it to be received, and the payment value.
Learn more about MoneyGram
Can I open a business account with Wise or MoneyGram?
Both Wise and MoneyGram offer services for businesses, however the products available are quite different. 
Wise business accounts offer a way to accept, make and manage multi-currency payments for your business. The service is all online and in-app, with the option to allow team members to access and use account features, and smart ways to integrate and cut admin, like batch payments and cloud accounting software reconciliations.
MoneyGram corporate services are tailor made for businesses looking to outsource tasks like payment processing, and offer a one stop solution for many types of business admin. Because MoneyGram is also involved in money order and check processing, you can access these services for your business by opening up a MoneyGram account and working with your dedicated account manager. 
Here are some key features of the business offerings from both Wise and MoneyGram. 
Hold 54 currencies and send payments around the world

31 USD one time set up fee for full account access, then no monthly charge

Payments can be 6x cheaper than regular banks and 19x cheaper than PayPal
50% of payments are instant or arrive in an hour
Invoice to local receiving accounts in 10 currencies to get paid easily from around the world
Cut admin time with batch payments
Integrate with QuickBooks or Xero accounting software

Give team members access
MoneyGram business features
Outsourcing services for businesses to cut admin time

International and domestic payments to 200 countries

Single point of service platform for all business transfers

Money orders and check processing for business

Biller solutions to let customers pay you more easily

Tailor made solutions for businesses, not an off the shelf package
| | | |
| --- | --- | --- |
| Feature | Wise speed | MoneyGram speed |
| Open an account | Verification usually takes about 2 working days | Identity verification is required on occasion, which may take a short time |
| Transfer time | Exact time depends on the currency and country - transfers on popular routes may be instant | Cash collection payments can be available in minutes, bank transfers may arrive the same or next working day |
| Converts money | Instant | Instant |
| | |
| --- | --- |
| Wise | MoneyGram |
| Wise accounts can hold 54 currencies, and receive local payments in 10 currencies | Send payments to over 200 countries and territories. MoneyGram advises customers to model their payment online to check availability and payout options. |

If you'd like to send money or create an account with Wise you'll be able to do so entirely online or by downloading the Wise app. With MoneyGram you can either make your payment online or in the app - or head out to an agent location if you'd like to pay cash.
In most cases you'll need to show ID to get your account up and running, and can then make payments by following the on screen instructions pretty easily.
Availability
Wise services are available in a range of countries - you'll be able to check what types of payments and accounts are available wherever you are, on the Wise website. Simply choose your country from the handy dropdown box to see what's on offer.
MoneyGram has a network of agents in 200 countries, as well as online and mobile services. Online services are not necessarily globally available, although in many cases you'll be able to send payments in person via an agent even in countries where the digital payment service is unavailable. You can check the availability in your region and country on the global MoneyGram website
Which service is the safest - Wise or MoneyGram?
Both Wise and MoneyGram are regulated companies with the correct licenses in place to do business in their countries of operation. The security measures you'll see include being asked for verification of ID when you open an account or arrange a payment - there are also technological solutions running in the background to help reduce fraud and other problems.
Wise
Wise is fully licensed for all its activities in the US and in other countries it operates in. There's a dedicated fraud team monitoring transactions and a 24/7 customer service operation to help if you ever experience a problem. You'll also find 2-factor authentication processes and instant notifications if there are transactions on your account. If you choose to get a Wise debit card you can also manage it in the app to lock and unlock whenever you choose to. Because Wise payments are all arranged and received digitally there's no risk of the money being lost along the way, as with cash payments.

MoneyGram
MoneyGram has leading edge security to protect digital payments - as well as procedures to make sure cash transactions are only collected by people with the full transfer details and proof of ID. That makes MoneyGram extremely safe for normal use. The one thing that's worth knowing is that money transfer services like MoneyGram are occasionally used by fraudsters and scam artists. They're targeted because cash payments can be received so quickly - and are then very hard to trace or retrieve. Exercising caution and only sending money to trusted friends and family members is just a sensible step to take when using any cash payment service.
Wise
Pay in:
Bank transfer

Card

Apple Pay
Pay out:
MoneyGram
Pay in:
Bank transfer

Card

Cash at agent location
Pay out:
Send direct to a bank account or card

Send for cash collection

Send to a mobile money account

Send cash for home delivery

FastSend for account or card deposits
Wise
Transfer money abroad

- individual countries may impose limits, model your payment online or in the app to check

Receive money

- unlimited in most cases. Some users will have a 1,000,000 USD/day receiving limit

ATM withdrawals

- set and manage your own limits in the Wise app

Card payments

- set and manage your own limits in the Wise app
MoneyGram
Transfer money abroad:

limits vary and are not published publicly

Receive money:

limits vary and are not published publicly

ATM withdrawals:

not applicable
It's worth noting that MoneyGram has limits in place to the number and value of transactions users can make over a daily, weekly, monthly and yearly basis. These limits vary, so the MoneyGram team advises that customers contact them if they get a limit error message when making a payment, to see what can be done to progress the transaction.
Customer support Wise and MoneyGram

Service: 27/7

Phone: Phone lines available

Live In-App chat support available

Website help: www.wise.com/help/

Website contact: www.wise.com

Support: In person service during agent opening hours, 24/7 email service

Phone: Available for fraud reporting

Live In-App Yes

Email: Yes

Website contact: www.moneygram.com
Wise vs MoneyGram - which one is better?
When you choose an international payment provider you'll want to spend a bit of time comparing options - so you can spend less money later. Because services, fees and exchange rates vary widely between payment companies, be sure to look at all the different variables when you choose.
There's no such thing as a best international payment provider - it all depends on the specifics of your needs and priorities
Wise is a good bet for consistent exchange rates and low fees, with fast service on international payments to bank accounts around the world. Wise is also your best pick if you want a holding account to manage currencies, send and receive payments - this isn't on offer from MoneyGram. 
However, if what's important to you is getting either a pay in or a pay out in cash, MoneyGram is a good option thanks to their global network of agents. If you're making a payment for someone overseas to collect in cash near them do check the coverage - but with hundreds of thousands of active agents around the world, MoneyGram may be well set to serve you.
Learn more about MoneyGram