Wise vs Xoom: Which One is Better?
If you need to send or receive international payments you may have heard of both Wise (TransferWise) and Xoom. 
Wise offers personal and business payments, and multi-currency accounts, to allow customers to send, spend and receive foreign currencies. Xoom is part of the PayPal group, and offers electronic funds transfers including bill payment and mobile phone reloads, around the world.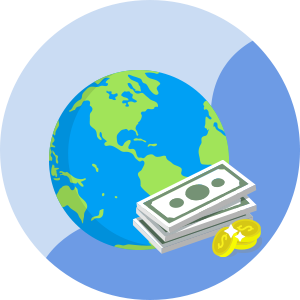 Wise (TransferWise) vs Xoom - The Important Bits
Safety: Based in the UK, LSE listed, licensed and regulated globally
Rates: Mid-market rate (real exchange rate)
Fees: Percentage based fee
Speed: Over 50% of payments arrive instantly
Currency conversion: Instant
Trustpilot rating: 169,000+ reviews. Score 4.5/5 - Excellent 
Safety: Based in the US, fully licensed, a PayPal Inc service
Rates: A markup will be added to the exchange rate
Fees: Variable fee, based on destination and currency
Speed: Most transfers arrive in minutes
Currency conversion: Instant
Trustpilot rating: 22,000+ reviews. Score 3.4/5 - Average
Wise vs Xoom in three important ways:
Xoom supports payouts to more countries compared to Wise
Wise offers business services, plus a multi-currency account and card to support 50+ currencies - Xoom does not have that option
Xoom offers payouts for cash collection, mobile phone top ups and bill pay - Wise does not
Wise and Xoom features in more detail
| Feature | Wise  | Xoom |
| --- | --- | --- |
| Send payments to | 80+ countries, 50+ currencies | 160+ countries |
| Multi-currency accounts | Available for 50+ currencies with Wise Multi-currency Account | No |
| Debit card available | Yes, Wise International Debit Card | No |
| Cash payout available | No | Yes |
| Mobile phone reload | No | In select countries |
| Bill pay | No | In select countries |
| Fully licensed and regulated | Yes | Yes |
| Open a business account | Yes, Wise Business Account | No |
Pros
Low, transparent fees for transfers and mid-market exchange rate

Personal and business accounts and payments available

All accounts are opened and managed online, with no monthly service fees

Local receiving accounts to get paid from 30 countries for free
Cons
Online and mobile service only - no branch locations

Transfer fees vary by destination and payment method

No cash pick-up options
Pros
Send money for cash collection or home delivery

Model your payment and see instantly how much it'll cost and how much your recipient will get

Backed by PayPal - one of the world's largest payment services

Pay with your PayPal balance or any payment method linked to your PayPal account
Cons
Senders must be in the US, Canada or some European countries

Services available including payout methods vary by destination country

No multi-currency account option or linked debit cards

Xoom can not be used for commercial purposes
Xoom was founded in 2001, and is now part of the PayPal family. You can use Xoom by logging into your PayPal account - making Xoom convenient for PayPal's 377 million account holders around the world. You can send payments to 160+ countries with Xoom.  Xoom is a person to person payment service only - you can not open a business account or make a commercial payment through Xoom.
Wise was launched as TransferWise back in 2011 as a low-cost international payment provider. These days, Wise has upwards of 13 million customers, and also offers personal and business accounts to hold and manage currencies, accept payments and spend using a linked debit card.
Overall
With Wise you can send payments to 80+ countries, in 50+ currencies.
Whether Xoom or Wise win for you will depend on the specific services you need.
Xoom offers fast and convenient transfers and can payout to bank accounts, for cash collection, to top up phones or pay bills. It's easy to use - and even easier if you have a PayPal account already. However, exchange rates and fees aren't market beating, and paying with a card can be particularly costly.
Wise is a specialist in transfers direct to bank accounts, and offers the mid-market exchange rate with low, transparent fees.
In our comparison, Wise international transfers came with better rates and lower overall costs compared to Xoom. If Wise supports payments to the country you're sending to, and you want your transfer to be delivered to a bank account, they may be your best bet.
Wise vs Xoom fees and exchange rates
All Wise personal accounts are free to open. There's a one time fee of 31 USD to open a Wise business account.
Wise has low transaction costs for the services you use - currency exchange is from 0.41%, and international transfer charges vary by destination and currency. Check out our Wise fees article to learn more.
It's free to open a Xoom account. Xoom's transfer fees vary based on:
Transaction type
Your payment method
The transaction value
The destination country
Which currency you pay with
Which currency the recipient gets
Overall your costs can include several different fee types:
Transfer fee
Exchange rate markup
Third party charges - if you pay with a credit card for example
Wise vs Xoom: which is cheaper?
Choosing an international payment specialist is almost certainly cheaper than sending money using your bank. However, as fees and rates do vary, it still pays to compare a few providers before you pick.
Let's look at how a few different payments from Xoom and Wise work out. This table looks at how much in USD it'll cost you to send a payment to a friend in GBP or EUR. Payments are funded by bank transfer and delivered to the recipient's bank account:
| Amount & Currency | Wise | Xoom | Winner? |
| --- | --- | --- | --- |
| USD>1000 GBP | 1,176.47 USD | 1,194.31 USD | Wise |
| USD>5000 GBP | 5,879.67 USD | 5,971.57 USD | Wise |
| USD>1000 EUR | 1,010.68 USD | 1,024.06 USD | Wise |
| USD> 5000 EUR | 5,050.84 USD | 5,120.32 USD | Wise |
*Fees and exchange rates correct at time of research - 31 August 2022
As you can see, on all our comparisons, Wise worked out cheaper. As Xoom's fees and rates vary by payout method, costs for a transfer for cash collection may vary - but Xoom's speed and convenience may make them a good pick for cash transfers even if they're not the absolute cheapest option out there.
Wise Vs Xoom: which is faster?
50%+ of Wise payments get to their destination instantly, and 80%+ arrive in 24 hours. However, the exact delivery time will depend on where you're sending money to, and how you want to pay. You'll see an estimated arrival time when you set up your payment.
Most Xoom payments can be available in minutes. However, some can take a day or two - delivery time depends on where you're sending money to, the way you pay and the way the transfer is paid out.
Xoom supports major payment routes which cover over 160 countries. Wise supports 50+ currencies, and lets you send payments to over 80 countries.
How each provider works
Xoom
To use Xoom you'll need to create an account or log in using your PayPal account. Using PayPal can be handy if you already hold an account, as your linked payment methods will transfer over so you don't need to add them again.
Once you're logged into your account:
Select the pay in and pay out currencies
Set either the amount you want to pay, or the amount you want the recipient to get
Check the pay out options, exchange rate and fees that will apply
Choose how you want the recipient to get the money
Click Send Now and enter your recipient's details following the on screen prompts
Confirm the payment and your money is on its way
Wise
To use Wise you'll need to create an account, and depending on the type of payment you want to make you might need to provide some ID for verification.
Once your account is up and running make payments online and in the Wise app:
Log into your account
Type in how much you want to transfer, or how much you need the recipient to get
Enter the recipient's details - bank account number or email
Check over the details
Fund your payment using a card or bank transfer
Confirm and your money will be on the move
Wise transfers are made through Wise's network of local bank accounts, so they arrive faster and don't incur intermediary fees. When you want to pay for your transfer in USD you'll send the money to Wise's local US account. Then Wise will make a payment of the equivalent amount in your preferred currency, from their account in the destination country.
Availability
Wise services are available to users in most countries around the world. There's a handy tool on the Wise website which lets you select the country you're in and check exactly what types of accounts and transfers are available there.
Xoom can be used to send payments from the US, UK, Canada and most countries in the EEA.
Which service is the safest - Wise or Xoom?
Both Xoom and Wise are fully licensed and regulated, and use both smart technology and dedicated service teams to keep customer money safe.
Wise is regulated by FinCEN in the US, and a range of other global regulatory bodies. For more information, check out Is Wise Safe?
Xoom is part of the PayPal group, and is regulated by the Federal Government, as well as various US state governments and agencies.
Ease of use
Creating an account: Create your account online or in app with both Xoom and Wise. With Xoom you can also log in with a PayPal account
Making a transfer: Xoom payments can usually be made using bank transfer, PayPal balance, credit or debit card. You'll see the funding options available when you set up your transfer. Wise typically allows bank transfers, card payments and Apple Pay payments
Ways to send money: Send payments to your recipient's bank account directly with both Xoom and Wise. Xoom also offers payments for cash collection, mobile phone reloads and bill pay services in select locations
Languages: Xoom services are available in 16 languages, with multilingual customer support. Wise offers 15 languages, plus multi-lingual support services
Minimum & maximum amounts: Wise sending limits can vary by destination country. Xoom limits are based on your account type - fully verified account holders can send up to 50,000 USD or currency equivalent by bank transfer daily, with a 100,000 USD 180 day maximum
ATM withdrawals: Wise accounts can come with a linked debit card for ATM withdrawals - Xoom doesn't have this option
Conclusion
Both Xoom and Wise have some interesting features which will suit different customer needs.
Xoom is extremely convenient and offers a way to get money to 160+ countries around the world. Transfers for cash collection are very fast and can be perfect if you're sending money to someone who doesn't have a bank account.
Wise on the other hand is a specialist in sending payments direct to bank accounts. On the payment routes it serves, Wise is generally cheaper with a better exchange rate compared to Xoom.
Finally, Wise has its international account which is also available for business customers, while Xoom is for personal transfers only. If you're a personal customer looking for an international debit card to avoid foreign transaction fees when you travel or shop internationally, this can be a good choice.
FAQ
Is Wise or Xoom cheaper?
For payments to bank accounts, Wise is cheaper, as it offers the real exchange rate with no markup, and low transfer fees.
What is the difference between Wise and Xoom support?
Wise is a specialist in international transfers to bank accounts, with the mid-market exchange rate and low, transparent fees. Xoom also offers international transfers to bank accounts, as well as payments for cash collection and home delivery.
Is Wise or Xoom faster?
80% of Wise transfers arrive in 24 hours. Xoom cash collection transfers are usually available in minutes, while bank transfer times vary based on destination. Both offer an estimated delivery time when you arrange a payment, so you'll be able to compare the speed for your particular transfer.
How many currencies do Wise and Xoom support?
Wise supports payments in 50+ currencies to 80+ countries Xoom supports payments to 160+ countries.
Can I open a business account with Wise or Xoom?
Wise offers business accounts and services - Xoom does not.