Starting a Business in USA as a Non-Citizen: A Full Guide [2023]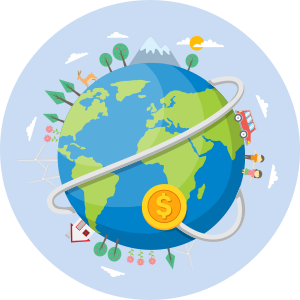 Whether you're in the US as a resident already, looking to move to start your US based business, or considering opening a company as a non-resident, this is for you.
Check out our full guide to starting a business in the US as a non-citizen, for all you need to know about the basic steps for setting up your US based business, no matter where in the world you are right now.
The first thing you'll need to do is to decide the business entity type that will suit your needs. Company structures in the US may not be exactly the same as they are in your home country, so it's worth spending a bit of time researching business entity features and rules. The most common options are:
Limited liability company - LLC

C-corp

Partnership

Sole proprietor

S-corp
Of these, non-resident and non-citizen business owners who want to limit their personal liability tend to gravitate towards LLCs and C-corps. Unlike partnerships and sole proprietor models, your business funds are treated as separate to your personal money - and there aren't any restrictions to foreign ownership to worry about.
Do I need a Visa to open a business in the US?
You'll need to be legally resident in the US, and permitted to work and invest, if you want to set up your visa from within the US. It's also possible to set up your business as a non-resident, through an agent, without entering the US. In this case you wouldn't need a visa.
Requirements for getting a Visa
While there are a few visa options for investors in US businesses, the E2 visa type is a common choice. This is offered to people outside the US looking to enter the country to invest in a business, or those who are already in the US wanting to change status to an investor visa.
The processes for application, as well as the documents needed, vary depending on your situation. However, you'll need to:
Be a national of a country with which the US has an active treaty of commerce and navigation

Have invested, or plan to invest a substantial amount in a US based business

Enter the country with the intention of building this business - meaning you either own 50% or more, or are a manager of the company
Which State will I register my business in?
This is an important question as it may make a difference to the rules you have to operate by, and the taxes you need to pay. If you're based in the US it's standard to base your company in the state you live in. Although this is not mandatory it's often the cheapest and simplest option overall.
If you're a non-resident, you have other options, as you can choose where you base your company taking into consideration the type of business, where you expect your sales to be coming from, and the regulations in different states.
As with anything legal, there are complex considerations to go through here, which makes it important to take professional advice if you're unsure where to select. That said, Delaware, Wyoming and Nevada are popular state choices for people setting up US businesses as non-resident owners - and can be good places to start your research. This is based on factors including ease of doing business, taxation and dispute resolution processes.
How much does it cost to register a business in the USA (as a foreigner)?
The costs of opening a business in the US can vary widely depending on where you choose to base the business and the entity type you select. You'll need to check out costs including:
Registered agent charge if you need one

State filing fee to register your company, plus any foreign qualification filing fees from other states in which you do business

Any state annual fees for the state in which you register

Federal registration fees - these do not always apply and will depend on business type

Any required licenses or permits according to your business activity
The US Small Business Administration (SBA) suggests that the average state fee to register a business could come in below 300 USD, but costs do vary widely based on state and business structure
How to register a business in the USA? (as a non-citizen)
The exact process needed to register your business will depend on where you're basing it and the type of industry you're in. We'll run through the basic steps for most scenarios below, but you'll want to do your own research to make sure you're clear on how the rules impact your specific business type before you get started.
1. Select a business location
Where you register your business - as we saw above - can make a big difference to how you manage your company and how you need to report and file taxes. The SBA suggests that you consider factors including business expenses, state and local taxes, available incentives and zoning considerations if you will have a physical property for your business
2. Choose a name
Select a name that suits your brand and tells your customers what you do. You can then register your name at state level, and if you want to, you can also choose to protect it at federal level with a trademark. Don't forget to also secure the name for your company website, social media and other channels.
3. Register with a state
The process for registering your business at state level can involve a simple online registration - or you may need to physically hand in paperwork. Check out the details so you know what to expect in your location.
It's worth noting that not all entrepreneurs need to register - if you're doing business alone and under your legal name you may not have to register anywhere, but if you choose to skip registration you could lose out on liability protection, tax and legal benefits.
4. File for Foreign Qualification
Your business will be considered to be engaged in domestic trade only in the state where you register - if you're also active elsewhere you'll need to file for foreign qualification. Separate filing is needed for each state in which you operate, and a fee will apply each time.
5. Fill in the state documents and pay the fees 
Each state will have a different process for registering a business, which will also vary based on entity type. Check the details wherever you've selected to form your company. In almost all cases you'll have to provide:
Business name and location

Details of ownership and management

Registered agent information

Corporations will need to state the number and value of shares issued
6. Register with local agencies
Check with your local government whether any further registration is needed for your entity type. Sometimes licenses, permits or further registration is required, including recording your DBA - doing business as - name.
7. Get a bank account
Your final step before you can get started will be to open a business bank account. This is needed to keep your personal and business finances separate, and should be a high priority as soon as you're ready to send or receive payments on behalf of your company.
Check out the range of business accounts out there - these may be from traditional banks or online alternative providers. Account features and fees vary widely, so doing some research to pick the perfect partner for your business is essential
Sending international business payments? Check out these providers
If you need fast and convenient international business payments, you might want to try some alternatives to traditional banks. These online providers help you move money overseas safely, quickly and affordably.

Wise
Wise international business payments use the real mid-market exchange rate with no markups and no hidden fees. That can mean you save significantly compared to using a regular bank. All payments are arranged online and deposited into your recipient's account directly for convenience. You can also open an online business account to hold and manage 54 currencies, all with no monthly costs, no minimum balance requirements, and no hidden fees.
Want to learn more about Wise? Click here for our full review.

TorFX
TorFX customers can open an online business account to get currency exchange and international transfers. There are also options like business funding and business health checks for account holders, which can be arranged through your account manager.
Starting a US based business makes a lot of sense, both for people already in the US who have spotted a great opportunity, and for non-residents looking to take advantage of the open and stable business environment there. Setting up a company isn't simple anywhere in the world, so you'll need to do some research to find the exact route you need to take to get started, based on your personal situation. However, it's good to know that there's lots of information and resources out there to help you set up your US based business, even if you're a non-citizen or non-resident. Use this guide to kickstart your journey - and good luck!
General advice: The information on this site is of a general nature only. It does not take your specific needs or circumstances into consideration. You should look at your own personal situation and requirements before making any financial decisions.