The Best Places to Buy Japanese Yen in the USA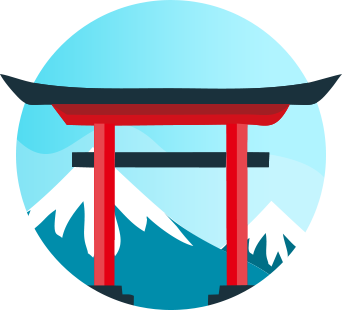 Traveling to Japan? Whether you're heading off for work or leisure, you'll need a way to buy Japanese yen, so you can pay for things when you're in Japan. This guide runs through some popular ways to buy yen with USD such as Wise travel card, buying online and airport. We'll cover them in detail including the costs, advantages and disadvantages of each, so you can pick the best one for you.
How to buy Japanese yen online, at a bank or on the move
The best way for you to buy Japanese currency will depend on your personal preferences, how long you have until your trip, and whether you'll be spending mainly in cash or with a card as you travel. 
The options available all come with their own features and fees - and many travelers prefer to have more than one way to access and manage their travel money, including a mix of cash and cards for convenience. Read on to learn more, and to pick the best way to buy yen before you go.
Quick Summary: Best Way To Buy Japanese Yen
Getting a travel money card like Wise card, and adding USD for buying yen when you travel may get you lower fees and a better exchange rate compared to using a regular bank credit or debit card

If you want to take cash with you to Japan, you may want to order Japanese yen online and have the cash delivered to your home conveniently before you leave

Try to avoid buying JPY cash at the airport - this can often mean higher overall fees and a poor exchange rate

Yen travel money card
Travel money cards are a safe and convenient way to spend in Japanese yen (JPY) - and if you pick the right one they could help you save on currency conversion, too. Top up your card balance in dollars and convert those dollars to yen to spend in stores and restaurants, or withdraw cash from ATMs when you need it. Easy.
Wise debit card
The Wise travel money card could get you a better yen exchange rate and lower fees compared to your bank. Spending on the card will use the local currency if you have it in your Wise account - no matter where in the world you are. And if not, the card can simply auto-convert your money at the real rate, for a small fee.
You can also withdraw yen from an ATM whenever you need them - giving you the safety of spending with a card, and the convenience of cash.
It's free to open a Wise account, with a one time fee of 9 USD for the Wise debit card. Converting USD to JPY costs just 0.5% with Wise - making this a cheap and convenient way to get your hands on travel money for Japan.

How to buy Japanese Yen online
Often this is the best way to buy Japanese Yen (JPY). It is faster and cheaper buy your Japanese yen online. The USD to JPY exchange rate is better online and give you more Japanese yen for your US dollars. You can reserve your order, pick it up in a store or even have it delivered to your door.
Currency Exchange International (CXI)
Currency Exchange International specializes in providing foreign currency exchange at great rates with superior customer service. CXI owns and operates more than 30 branch locations across the United States and offers online foreign currency ordering through its website.
Buying foreign currency online for home delivery is easy with CXI. Select from more than 90 foreign currencies and receive it as soon as next day. Available in most areas.

Buying Japanese Yen at bank
You can buy Japanese yen with dollars at major banks like Wells Fargo and Bank of America. You will need to be a bank customer already and can order it online easily.
Banks do offer a wide range of currencies that you can buy but make sure you spend your foreign currency overseas because you might not be able to convert it back to dollars when you get back home. In some cases, you can choose to receive your order in small, large or mixed denominations but it is subject to availability.
Currency exchange services offered by the bank might not offer the best JPY to USD rates but they are convenient, particularly if you are an existing customer. When you buy Japanese yen from the bank you can pay with credit card, cash or from one of your bank accounts.
Foreign Currency Exchange
Money changers can be the cheapest way to buy yen . The problem is, it can be a hard to find them outside of the city and they regularly run out of less common currencies.
Often the exchange rates are on a board facing the front of the shop, so finding the USD to JPY rate is easy. Ask what transaction fees they charge for the foreign exchange and if it cost more to pay with credit cards.
Money Tips
The exchange rates are better in major cities. So it can be worth going there if you're exchanging more than $2,000
Always ask for a better rate. We've found you can often get a better deal just by asking, particularly if you're buying more than $1000

How to buy Japanese Yen at airport
Yes, you can buy currency at the airport. But that doesn't mean you should. While it's convenient, it's also very expensive. You will receive less JPY for your USD at the airport.
Most airport currency exchange services accept cash and credit cards.
Money Tips
Ordering Japanese yen online and picking it up at the airport is much cheaper than buying it in person
If you've run out of time before your trip, it's might be better to buy your yen when you get to Japan, or use your cards instead
Conclusion: Where to get Yen in the US
There are quite a few ways to buy yen in the US, so you'll be able to pick the option - or combination of options - which suits your preferences and needs.
Here's a quick summary of the key options for buying yen with USD:
Get a yen travel money card:

order a travel money card in advance, top up in USD, and convert to yen for spending and withdrawals as you travel

Buy JPY cash online:

use a specialist service to order JPY cash and have it delivered to your home, before you travel

Get Japanese yen at your bank:

if your bank has a foreign exchange service you may be able to order JPY cash online and collect at a local bank branch

Use a foreign currency exchange:

in major cities you'll often find physical exchange stores and kiosks you can walk into to exchange USD cash - but they won't always have all currencies available, so calling in advance is essential

Buy yen at the airport:

collecting your JPY at the airport is possible, but often an expensive option, with higher overall fees and rates which include a steep markup
FAQs on how to buy Yen
How to convert USD to Japanese Yen online?
Often the most convenient way to convert USD to yen is to get a travel money card from a specialist service like Wise, top up in USD, and convert in your account online or through an app. Using a specialist service can also mean better exchange rates and lower overall fees compared to using your regular bank.
Where can I exchange dollars for Japanese yen?
Exchange dollars in cash for yen at a foreign exchange service or using your bank. Or order a travel money card, to add USD direct from your bank, and withdraw cash in JPY when you arrive in Japan - this can be a more secure and convenient option.
Is it better to get Japanese yen in the US or Japan?
You'll be able to get JPY cash on arrival in Japan, by making an ATM withdrawal. This can also mean a pretty fair exchange rate and relatively low fees, depending on your card provider. However, many people also want to carry JPY cash - so aiming to buy a small amount of JPY in the US, and then use a card for spending and withdrawals once in Japan can be a good choice.
Where to buy yen in the US?
Buy yen in the US by getting a travel money card, using a specialist foreign exchange service or your own bank, or picking up cash at the airport. The fees you pay for each service can vary widely, so do compare a few, looking carefully at both the commission charges and the exchange rates available.
What is the best rate to buy Japanese yen?
Exchange rates change all the time depending on market conditions - so the only way to find the best rate for your needs is to compare a few options including both conversion fees and commissions, and the exchange rates available. Use the Exiap comparison tools to give yourself a headstart, and to see which providers might suit your needs. 
Want to find the best time to buy?
Simply use our free email alerts to track the JPY rate daily. Or set the rate you want and we'll email you when it's time to buy Japanese yen.