COMPARE INTERNATIONAL MONEY TRANSFER EXCHANGE RATES AND FEES
Find the Best Way to Send Money to the US from Germany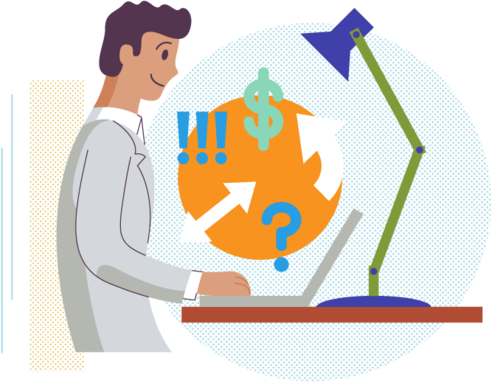 Sending money from Germany to the USA can be complicated, confusing and full of hidden fees (particularly if you use a local bank to send money to a US bank account).
There are dozens of money transfer services to choose from, but each one offers different exchange rates, transfer fees and products.
To help you find the best way to transfer your money to the USA, we've reviewed over 30 money transfer services and picked the top 4 based on their exchange rates, transfer fees, and ease of use.  Most importantly, these top 4 companies can be used in both Germany AND the USA.
Need to send money to Germany from the US instead? Learn more here.
Some of the best money transfer companies to send money from Germany to USA

OFX
OFX (formally know as Ozforex) is a good option if you're sending money online. They have offices all over the world and recently stopped charging a flat transfer fee to customers in the USA.
How much does it cost to transfer funds to the USA?
Transfer Fee: Free transfers from the USA. If you're sending the money from outside the USA, a flat fee may still apply for smaller amounts.
Exchange Rate: OFX add a margin to the exchange rate when you convert your Euro (EUR) into US dollars (USD). This means the rate you receive will be different to the mid-market or wholesale exchange rate you find on most online currency converters.
Minimum Transfer Amount: US$150 for single transfer; US$250 for recurring transfers or regular payments.
How to transfer money with OFX
Create a free online account and login to get a live quote for your transfer.
Enter your recipients details including the name on the bank account, bank routing code (ABA/ACH) and account number.
'Finalize transaction' and pay using a bank or wire transfer.
Transfer times
Your recipient will get the money in US dollars into their account in 1 business day.
Is OFX safe?
Yes they are. Read on for more information on the safety measures at OFX.
Best features
Easy online set-up
Great exchange rates and lock-in rate for larger amounts
24/7 phone support
Service details

TransferWise
For transfers to family or for expats living overseas, TransferWise is one of the cheapest (and most popular) money transfer services. This is because they are one of the few companies that offer the mid-market, wholesale exchange rate you see on Google or xe.com.
Their transfer fees are transparent and easy to calculate and their Borderless Account makes it ideal for expats living in the USA and receiving money from overseas.
How much does it cost to transfer funds to the USA?
Transfer Fee: 1.06 EUR + 0.41% of the transaction amount.
Exchange Rate: TransferWise gives you the best possible rate for currency transfer. They do not use a margin.
Additional Fees: Bank debit (ACH) is the cheapest; then bank wire transfer; followed by debit card and credit card.
How to transfer money with TransferWise
Create an online account, login and set up your first transfer.
Tap in how much and where to. Enter your recipients details.
Make local US payment to TransferWise, using a bank transfer or your debit or credit card.
Transfer times
Your recipient will get the money in US dollars (USD) directly from TransferWise's local bank account within 0-1 business days.
Is TransferWise safe?
Yes they are. To find out more about TransferWise read our full review here.
Best features
Quick online set-up
Transparent fees and offer the best rates online
Very fast transfers to a bank account
Simple cell phone app
Service details

XE Money Transfers
XE is one of the larger money transfer services. It owns xe.com which allows you to check the mid-market exchange rate on just about any foreign currency in the world. They also provide strong customer support over the phone, which is important when sending large amounts of money overseas. Importantly, XE offer better exchange rates the more you transfer.
How much does it cost to transfer funds to the USA?
Transfer Fee: Fee free with no minimum transfer size.
Exchange Rate: The exchange rate you receive depends on the amount of your transfer.
How to transfer money with XE?
Set up account online or over the phone.
Tap in how much, where to and which currency.
Pay XE and they will transfer the funds to your recipient's bank account.
Transfer times
Allow 1-4 business days for international money transfers.
Is XE safe?
Yes they are. They are licensed as a Money Transmitter by the DFS in New York and registered with FINTRAC.
Best features
Fee free transfers and minimum amounts for international money transfers
Well known and trusted brand, scores 4.7/5 from Trustpilot
Rate alert set up available
Service details
For help from XE and phone number: US: 1-877-932-6640

WorldRemit
If you're looking to send small amounts of cash from Germany to the USA, WorldRemit is a great option. They offer competitive exchange rates and more flexible delivery options than PayPal, Western Union or MoneyGram. WorldRemit specialize in small remittances and transfers which make them perfect for personal international money transfers.
How much does it cost to transfer funds to the USA?
Transfer Fee: EUR 3.99 per transaction fee.
Exchange Rate: WorldRemit add a margin to the exchange rate. Click here to get an indicative exchange rate to send money from Germany to the USA.
Maximum transfer amount: EUR 40,000.
How to transfer money with WorldRemit?
Create an online account and login.
Tap in how much, how you want to transfer (bank deposit or Airtime top-up) and where to. Enter your recipients details.
Make local payment to WorldRemit using a bank account, debit card or credit card.
Transfer times
Delivery times vary depending on your method of transfer. For a wire transfer they will get US dollars in 3 business days.
Is WorldRemit safe?
Yes they are. Learn more about how trustworthy WorldRemit are.
Best features
Offers bank deposits and Airtime top-up
Easy online platform and cell phone app
Transparent costs with accurate calculator tool
24/7 customer support
Service details
Are there any minimum or maximum money transfer limits?
These vary depending on which online money transfer company you use.
For minimum transfer amounts, XE and TransferWise have no limits. OFX have a minimum of US$150 per single transaction.
For maximum transfer amounts, TransferWise has maximum limits of US$50,000 for personal accounts. For business accounts they have a maximum limit of US$250,000 in unlicensed states and up to US$1,000,000 in licensed states.
OFX and XE have no maximum transfer amounts. Meanwhile, Xoom has a limit of US$50,000 over 24 hours if you have the required documents.
How do I keep my money online safe when I send it to the USA?
Safety is very important and all of the online companies above take their legal responsibilities very seriously. They take extreme measures to protect the sensitive data you provide them like your personal details and identification. However, it's still better to be safe than sorry. Here are some additional ways you can transfer funds safely:
Double check privacy policies and tracking process for your money transfer provider
Use a strong, long and unique password with a combination of uppercase and lowercase letters, numbers and symbols when you set-up your account
Ensure your money transfer service provides two-factor authentication, including SMS or email-based security code
Do all money transfer companies have a cell phone app?
Yes. When you have an account with any of the online money transfer services highlighted above, you can make transfers through their website, or via their iOS Apple and Android apps. However, some are easier to use than others.
When do I need a Swift or BIC code?
To transfer US dollars (USD) into a local bank account, a swift code or BIC (Bank Identifier Code) is usually required. The Swift code helps identify each bank and the code is unique to the bank. It is a combination of numbers and letters. The major banks are Chase - CHASUS33, Wells Fargo WFBIUS6S, Bank of America BOFAUS3N . Alternatively, you may need the banks ABA routing number. You can use a bank code finder to search or find a SWIFT or ABA routing number.
Send money to and from the United States with these guides
Your currency knowledge centre
How to Easily Receive Money from Overseas
There are 3 main ways most people receive money from overseas. Find out the most common fees, exchange rates and money traps to avoid.
The Absolute Best 6 Money Transfer Services
Finding the best money transfer services in the US can be challenging. We reviewed over 30 banks and online money transfer companies to give your our list of the best service to send money overseas.
International Bank Wires: Your Best Options in 2019 Compared
Wire transfers let you send thousands of dollars, to almost any other bank account in the world. There's just one catch. Transfers through your bank are expensive—really expensive.
General advice: The information on this site is of a general nature only. It does not take your specific needs or circumstances into consideration. You should look at your own personal situation and requirements before making any financial decisions.