A Guide to Opening an International Bank Account in 6 Easy Steps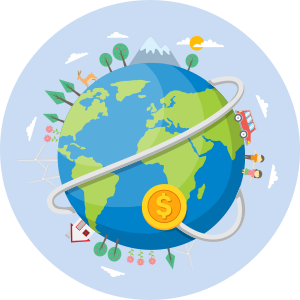 If you're relocating, planning to spend an extended period traveling, or heading away to study abroad, you might be considering getting an international bank account. International bank accounts may be foreign currency accounts set to the currency of your destination country only, or multi-currency accounts which let you manage a broad range of currencies in the same place. In either case, choose the right account for your needs and you can cut transaction costs and manage your money more efficiently.
.
When it comes to opening a foreign bank account, you'll have two major options, broadly speaking:
Opening an account with a high-street bank 

Opening an account with an international digital providers
This guide covers all you need to know about opening an international account - and helps you figure out whether an account with a traditional bank, or an online provider, might work best for you.
6 easy steps to open an international bank account with a traditional bank:
While every bank will have a slightly different process to open an account, the steps you'll take to get started are usually fairly similar. Check your preferred bank's process before you start your account application - here's what you'll usually have to do:
Step 1. Choose and contact the bank
Doing some research to find the right bank and account type is essential. Take a look at the international accounts on offer from some of the big global banking brands available in the US, like:
Citibank

Capital One

HSBC 
Once you've decided which bank might suit your requirements, get online or in touch to check the process for applying for an account.
Step 2. Choose the package suitable for your needs
The next step is to pick the right account for you. It's worth noting that international accounts from traditional banks often come with strict eligibility requirements such as minimum balance or salary levels, and monthly fees. However, in exchange you can often access wealth management services, rewards and priority treatment.
Step 3. Fill in the application
Complete the application form online or in hard copy, and start to gather the paperwork and evidence you might need to support your application.
Step 4. Provide the necessary documents
All banks need to follow verification processes, so you'll have to provide documents either by scanning and uploading them if you can apply online, or by visiting a bank branch. Different accounts will have different requirements, but you'll usually need:
Proof of identity - a passport, driving license or other government issued photo ID 

Proof of address - a utility bill or government correspondence in your name, usually from within the last few months

Proof of minimum funding or salary, depending on the eligibility requirements for the account
Step 5. Fund the account
Traditional bank accounts aimed at expats and international travelers will usually require a fixed minimum deposit. Once you've finished the application process the next step will be to add funds to your account to meet this benchmark.
Step 6. Start using the account
You're ready to start using your account. You'll be able to set up online or mobile banking, order a bank card and begin to manage your international account in your preferred way.
6 easy steps to open a foreign account with digital providers:
While traditional bank international accounts are often aimed at high wealth individuals looking for personal advice and investment support, digital options are usually more flexible. Signing up can be done online or using your mobile device - here's how.
Step 1. Choose a provider
Check out the account providers and options which may suit you. You might not be as familiar with digital account providers as you are with the more famous high-street banks - so doing some research is the only way to find the one that suits your needs. We'll highlight some providers to consider a little later. Pick a provider and the account that works for you, looking at the fees and features along the way.
Step 2. Sign up for an online account
As digital banks exist only online you won't need to visit a branch to open your account. It'll often only take a few minutes to get started by applying online and entering your personal details.
Step 3. Provide the requested info
Digital banks and account providers aren't the same as traditional banks, but their account opening processes are often just as rigorous as banks because they're regulated in the same way as any other financial institution. Therefore you'll need to provide identification documents and details, just as you would a regular bank - but in this case you can do so by uploading images of your paperwork instead of presenting it in person at a branch.
Step 4. Wait to get verified
The account provider will check over your documents to verify your account. This shouldn't take long but you won't be able to use your account fully until you get the go ahead from the provider.
Step 5. Fund the account
Add as much money as you choose to your account balance. Online accounts are usually flexible about how customers operate their accounts, so it's common to find no minimum balance requirement. 
Step 6. Use the account
You're all done. Operate your account online and in the provider app, order a linked card if you haven't already got one, and you're good to go.
Online providers to open an international account with [USA]:
While online providers are relatively new compared to physical banks, they're usually regulated in the same way, meaning your money is just as safe. Here are a few providers to check out.
Depending on the country you want to open an account in, you have a few options:

Wise
Hold 54 currencies in your Wise international account, send payments to 80 countries, and spend with your linked card in 200+ countries around the world. Whenever you need to exchange currencies with Wise you'll get the real exchange rate with no markup and no hidden fees, which can make this account 3x cheaper than regular US bank accounts. Get 10 different receiving accounts to get paid like a local in USD, GBP, EUR and other major global currencies, and only ever pay a low, transparent fee for currency conversion.

Remitly Passbook
Remitly Passbook is aimed at immigrants in the US - although any US citizen or resident can open an account. Add cash from your bank account or have your salary or other direct deposit payments added to your balance, then send international remittances, and get a linked Visa card for spending and withdrawals.

Wise
Wise UK accounts are up to 6x cheaper than some local UK banks when it comes to sending and spending money overseas. Hold 54 currencies, get local bank details for 10 currencies, and send and spend money all over the world using the real mid-market exchange rate. Use your linked debit card to shop online, make withdrawals, or spend in person no matter where you are, and avoid foreign transaction fees every time. There's just a low, transparent fee for currency conversion instead.

Monzo
Monzo is a UK based bank which operates digitally - so you can open your account using just your phone. There are a range of account options from current accounts to business accounts and even products for young adults, and because it's a fully licensed bank you can also get overdrafts and loans if you want them. Although you can't hold foreign currencies in your Monzo account, you can use your linked Mastercard anywhere in the world to spend and make cash withdrawals.


Revolut
Choose between 4 different plan types, including a fee free standard plan option, to hold and manage up to 30 currencies. Revolut account holders can also get spending analytics, buy and sell cryptocurrencies, and spend internationally with a linked debit card. All account types come with some free transactions, but these are more limited for the free and lower cost plans. Upgrade to get higher transaction limits and unlock more perks.
Not ready to Buy? Get rate alerts with our exchange rate tracker
Choose to receive regular updates on the exchange rate or set up alerts, so we can let you know when to buy.